The latest version of Hulu Plus Android app has adults and kids sections that are very well organized. Every video has a synopsis that you can preview before you start watching. You can limit kids' access using the lock for kids' function and thus restrict them from accessing adult shows.
The Hulu app for android download is not only simple to access and install but also comes with an array of benefits. They include instant access, live stream, playlist, and auto play features; all of which complement the unlimited gallery of high-quality videos and movies. Therefore, Hulu is undoubtedly your one-stop streaming service for all your entertainment needs.
Apart from streaming content, you can also use your Hulu plus app for android to download videos and movies. However, you will need a Hulu downloader for that and that is why we recommend iTube Studio. It is an amazing software that lets you download videos from Hulu and hundreds of other sites to your hard disk. Therefore, it allows you to scan through Hulu and save your favorite videos for offline watching.
Key Features of This Hulu Downloader:
Can download and record videos from Hulu and 10,000 more other sites.
Allows for batch downloads with one single click.
Can convert videos to any format.
Can block ads.
Part 1. How to Download Hulu App for Android
Hulu plus android app download is pretty easy. This section will give you a step-by-step guide on how to go about the whole process. Note that your device should be running Android 4.0.4 and above and you should have reliable WiFi, 4G, or 3G internet connection.
Step 1: Go to your home screen. Most Android mobile devices feature a home screen like the one below.
Step 2: Tap on the Google Play Store icon This step should lead you to Google Play Store platform from where you can do the Hulu plus android app download. Note that some devices have the icon on the home screen (check out the image in step 1) for easy access.
Step 3: Search for Hulu Type "Hulu" and then select the app with the following symbol. The main difference between Hulu and Hulu plus is that whereas the former can only be viewed on a computer device (smartphone, tablet, laptop, laptop or PC), the latter is more flexible and can be viewed on other devices like PlayStation, Xbox, Blu-rays TV set and other media players like Amazon Fire and Nexus player.
Step 4: Install Tap the install button to install the app on your device. To log into you account, select "Log In" and then enter your credentials as prompted. Your device will be activated.
Part 2. How to Stream Hulu Videos/Movies on Android
After completing the Hulu app for android download installation, you can start streaming videos and shows from your device instantly. Below is a guide on how to do it.
Step 1: Install flash video browser The firs thing that you need to do is install flash video browser. Without it, you won't be able to play the videos and instead, you will get the following error message. The application will allow you to access Flash content.
Step 2: Try Hulu, Sign up, or log in Now start Hulu on your device. If you are a first timer you can try the app for one week by clicking on the "Try Hulu Plus" button. The trial period is completely free but once the period elapses you will be required to sign up and subscribe to the service or to log into your account. To do so, simply select "Log In" and enter your credentials.
Step 3: Browse or search content To browse Hulu content, click on the "Browse" option of your Hulu plus android app download when you launch it. It is found at the top right section of your Hulu home screen. Next to it is a search option that you can use to look for a particular show or video.
Part 3. How to Download Hulu Videos for Android
Step 1: Download and run the program
Start by downloading and installing the program on your Mac. Once that is complete, open it and you will see the following interface. Click on "Record Video" to open the video recording window.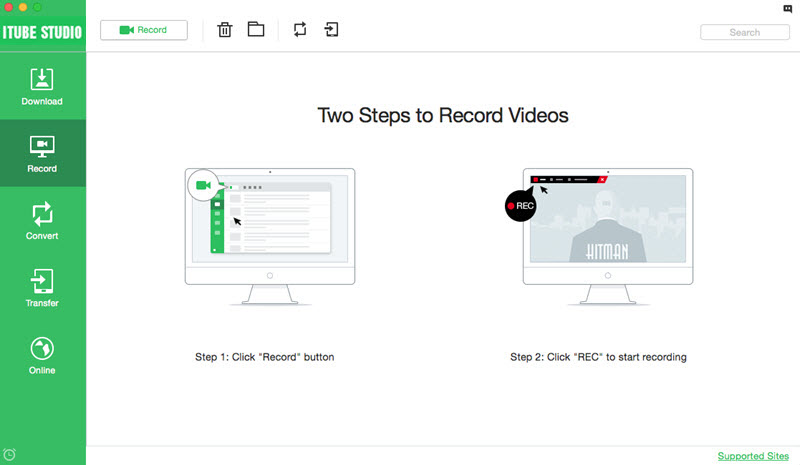 Step 2. Start recording Hulu videos
Visit Hulu and find the video that you want to record. Play it and then click the "REC" button to start recording it.
Step 3. Convert the Hulu video
If you want to convert the downloaded video to a different format (like MP4), click on the "Downloaded" tab and then proceed to the "Add to Convert List" button beside the video. Then in the "Convert" tab, click on the "Convert" or "Convert All" button to select the output format that you want and then click "OK". There you have it – a comprehensive guide on how to install Hulu App for Android and use it to stream and download videos and movies.