More and more Android phone and tablet users would like to enjoy nice videos, movie trailers, and play games on mobile devices. To make it more convenient, Andorid users can install YouTube playlist downloaders for Android on phone and then they can download videos from YouTube and other online videos and enjoy them offline anywhere and anytime. In order to choose the most reliable App to stream and download videos, we here list the top 5 best YouTube playlist downloaders for Android for you.
This software supports to download YouTube playlist in one click and transfer the videos to Android phone directly.
It supports to convert downloaded videos or local videos to any format you want for different media devices.
It can download videos from more than 10,000 video sites in 3X faster speed.
It also can record online videos from different sites including Netflix, BBC iPlayer Live, Vimeo, Hulu, iTunes and more.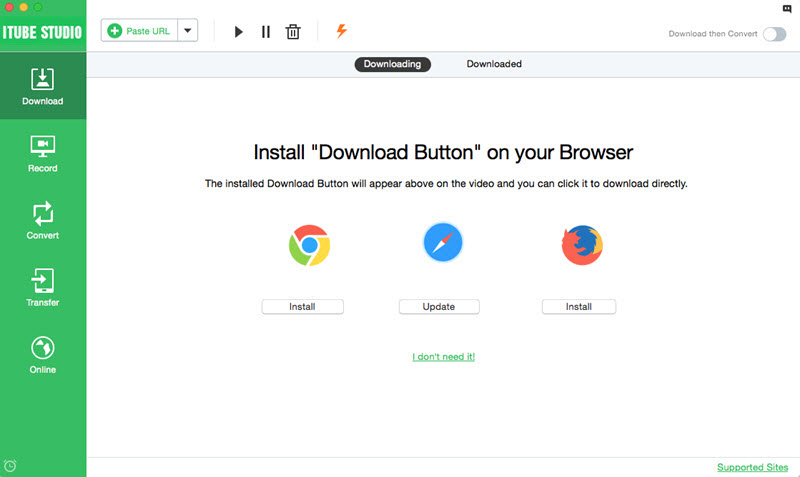 Top 5 Best Apps to Download YouTube Playlist for Android
1. Tube Mate YouTube Downloader for Android
It is a fast and intuitive way to download videos from YouTube. It helps you to rapidly access, search, share and download your favorite videos from YouTube. Downloading will continue in the background, so you can continue surfing the internet, listening to your music, tweeting, watching YouTube as you download.
Launch the app, and you will see a YouTube interface. Once you find the video of your interest, you will see a green arrow at the top of your right hand of the App. Tap on it, you will be able to access different versions of the video available. You will have the option to extract its audio. A download folder and video player are available on the app.
Key Features:
High-speed download with multiple connections of a download
Background, multi-download
Resume downloading
Video/audio playlist
Convert to MP3 option
Share you videos via Google buzz, e-mail, or twitter
YouTube search and associated video suggestions
Create playlist and Save your favorite videos to your YouTube account
2. Watch Later
This is a reliable YouTube playlist downloader for your android device. With this App you can easily search, access download and play the videos on YouTube. It could also be an excellent video tube and music tube player.
Add videos to "now playing" and create a playlist and swap between the videos quickly and easily. You can Search a playlist, repeat, shuffle, next, previous, pause your favorite videos. Organize and save your videos to YouTube Playlist. You will be able to view your videos from the playlist anytime that you want. By accessing video details, you could subscribe to the channel and keep track of videos of your interest.
Key Features:
Built-in audio/video player, so you don't need to download other apps to play your downloads
Download YouTube videos in different resolutions
Next/ previous frame
Playlist download, download YouTube playlist in a few clicks
While browsing in App, you can zoom and move the Mini TV
Can keep your search history
You can zoom the view of Mini TV as you want
You could change the channels with a Google account
3. YouTube Downloader for Android
YouTube downloader is a very reliable app to download and manage your YouTube videos. With this app, you can swiftly download HD and full HD videos playlists or music from YouTube and play them offline on your Android device and other media players. The App has built-in download accelerator that will make use of your full internet bandwidth, 4 times faster or even higher.
It is an easy-to-use App that allows you to operate in two ways. First, launch the app, search and download the video from within the app. Second method, you can prefer to use the default YouTube app on your device. From there, share the video and choose YouTube downloader. It is upon you to choose how you want it; you will have the option to choose the version of video you want to download or if you want to excerpt MP3 audio. If it is your first time to use the app, you will have to download a simple plugin, it will only ask you once. From the home section of the app, you will be able to able to see your latest video downloads and play them in the integrated media player.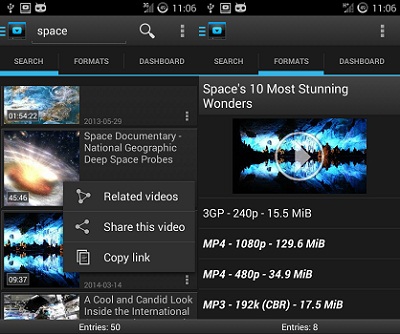 4. Snap Tube for Android
Download YouTube videos from YouTube quickly and fast. With Snap Tube's killer download feature, you could download videos with MP3 and MP4 formats. MP4 videos can be accessed in multiple resolutions.
Visit YouTube and Search the exact video that you want to download, make sure you Snap Tube is ready. Use the share function on YouTube to connect your Video to Snap Tube and it will be ready for download in just a second. Explore your favorite YouTube videos, whether it is music or movies. You can discover new videos with suggested lists from the app's curators.
With Snap Tube for Android, you can pause, cancel or resume video download. You have the ability to delete the videos you are bored of watching. Manage all videos in YouTube playlist.
5. VidMate - HD Video Downloader for Android
VidMate HD Video Downloader allows you to download your favorite videos on YouTube and the internet. Save your videos to watch in your phone memory quickly and simply.
To use VidMate, select the video you are interested in form your internet browser. You can search, view, and download playlists from YouTube and other video sites. You can always find the hottest movies on this Android YouTube playlist downloader, you only need to choose your favorite video playlist, Download and Save. Your save is completed! Your video will be saved in the SD card/Video Downloader. You can go to YouTube to come up with MP4, avi, 3gp, mov, wmv, flv, mpg on your phone, when you download it will be included in the other extenders.
Supports about 300,000 high quality or more videos multi download
Fast and clean UI
Allows you to play and share videos just within the application
Sometimes you may find it hard to save from YouTube to download a movie because of copyright issues. It cannot download from some sites. If you experience this problem you can solve the problem by re-installing the application. If it doesn't work you contact the developer who is always ready to help you.