With bigger screens and higher resolution on iOS devices, many iPhone users may want to force YouTube desktop version on iPhone. Full desktop version of YouTube can be used with the Safari Browser in a few easy steps. The main reason that you may want to use the full desktop version on iPhone and other mobile devices is that you get everything on the screen without any kind of trimming or cutting of website. If you think that using the full version of YouTube will consume more data than mobile version, then, you are wrong, because data consumption depends mainly on the resolution and the length of the videos you watch. Before you go ahead and follow the steps required to force desktop version, you must enable JavaScript in Safari. Below we will offer several easy ways to desktop YouTube on iPhone.
Part 1. One Click to Download and Desktop YouTube on iPhone
While watching YouTube videos, we want to save them for later use. We want to be able to access our favorite videos on YouTube even when we are offline. There are many ways to download YouTube videos and one of them is official offline saving, but this one does not come with any issues. Sometimes, videos get expired or you just want to save them in some other format which is simply not possible with that.
iTube Studio YouTube Downloader (or iTube Studio YouTube downloader for Windows) can be used to save videos from almost any video sharing website including YouTube. This YouTube downloader works in sync with the Browser you use on your Mac or Windows and a Download button is created for easy download of the videos you want to save. You directly save the videos and watch them with your video player, so you are saved from watching those ads that can be really annoying at times. iTube Studio can optimize the videos for a large number of devices from smartphones, ipads and everything. Besides that, you can also directly extract the audio of the videos. It also comes with an inbuilt browser for easy navigation of finding the videos that you want to download.
iTube Studio - Download Any YouTube Videos to iPhone
Download videos from YouTube and other 10,000+ video sharing sites, which can download almost any video that you will find on the web.
Convert YouTube to MP3 audio format. Any video can be directly downloaded as an MP3 file.
Support video conversion. It can convert and optimize any video to almost any format for a large number of devices.
Allow video recording. It records any video from any online video site even those "unable to download" ones in high quality.
Play video directly. You can view any downloaded YouTube videos or local videos with the inbuilt video player.
Offer a Private Mode. With a password set, the downloading information can only be known by yourself.
Steps to Download YouTube Videos to iPhone
Step 1: Launch the YouTube downloader for iPHone
Download the YouTube downloader for iPhone on your Mac or Windows PC. Once it gets installed, launch this YouTube downloader to its main interface.
Step 2: Download YouTube Videos to iPhone
Open the browser and go to the YouTube website. Open any video that you like and you will be able to see a "Download" Button in the top-left corner of the video. Download the video in the resolution of your choice by selecting the resolution from the drop-down menu.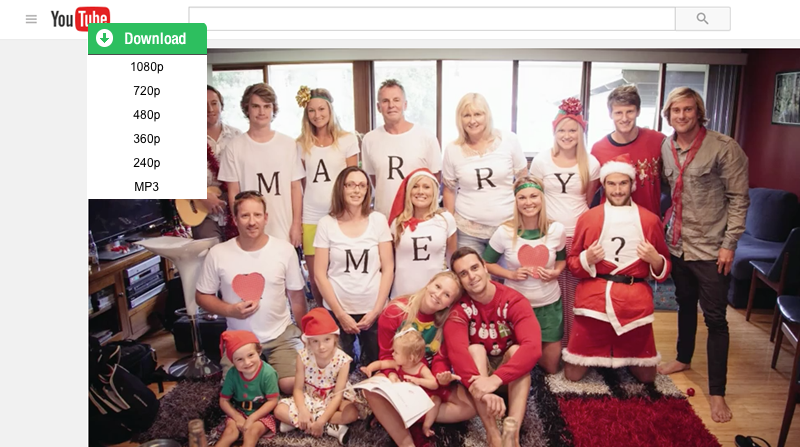 Alternatively, copy and paste the video URL by clicking the "Paste URL" button in the iTube Studio software. Or you can drag video URL directly to the iTube Studio icon in the dock. The program will immediately download your video.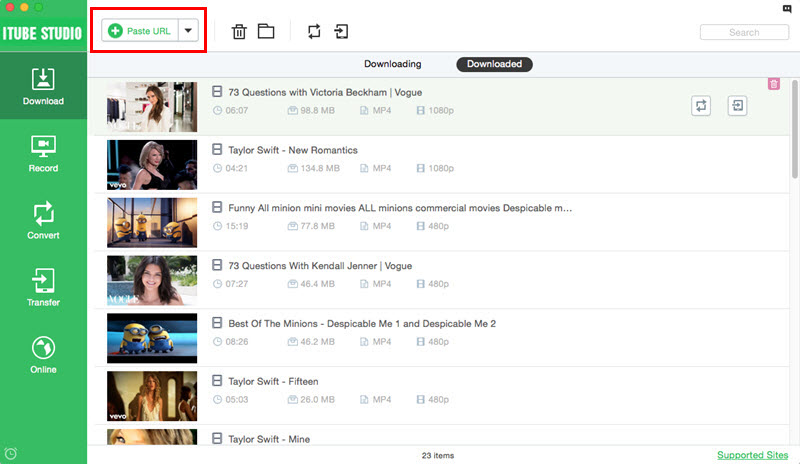 Optional: Convert YouTube to iPhone
Click "Downloaded" tab on the iTube Studio. And click the Convert icon on the right side of the downloaded videos that you want to convert to your iPhone format. Click the "Convert" tab on the left of the program and click the "Apple" icon to choose your device from the list. And then click "OK" to start the conversion.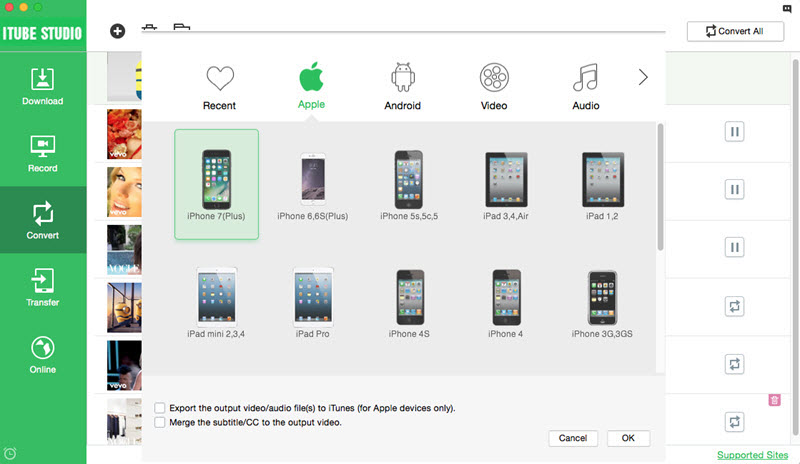 Part 2. Force YouTube Desktop Version on iPhone
Method 1: Force YouTube desktop version with JavaScript in Safari
Step 1. Enable JavaScript in Safari if it is not enabled already. To do so, tap 'Settings' icon, or select 'Safari' from the list, or tap 'JavaScript' to turn it On if it is Off.
Step 2. Uninstall the YouTube app if installed, as it might create some errors.
Step 3. Open Safari Browser and visit this URL in the quotes, "www.youtube.com/?app=desktop". It will take you to the Desktop Version of the YouTube.
Step 4. You can bookmark this address for easy access in future. To do so,a. When you have opened the desktop URL, tap the Sharing icon.b. Tap the bookmark icon and select the desired category.
Method 2: Force desktop version of YouTube on iPhone with Safari Browser
Step 1. Open Safari browser.
Step 2. Enter 'youtube.com' and Go. It will open the mobile version of YouTube.
Step 3. In the top-left corner, Tap the 'Menu' button.
Step 4. Tap 'Desktop'. It will open the Desktop version of YouTube.
Method 3: Desktop YouTube on iPhone in iOS
Step 1. Open Safari browser.
Step 2. Enter 'youtube.com' and Go.
Step 3. In the top-right corner, Tap and hold the Circle icon.
Step 4. Tap 'Request Desktop Site' and Desktop version of YouTube will open.
Part 3. How to View YouTube Desktop Version on iPhone
Step 1. Just open Safari browser and tap the bookmark icon that you created in Step 4 of the first Method.
Step 2. You can just follow the steps of any of the alternative methods(Methods 2 and 3) every time you want to access full Desktop version of YouTube on your iOS device. Any of the above methods are quick enough and will only take a few seconds, but there is another option with which you can view the Desktop version of YouTube with just one Tap. You can add the YouTube Desktop Version bookmark on the Home Screen of your iPhone or other iOS device.
Step 3. Add a bookmark of a website(YouTube) on your iPhone's Home Screen: Open Safari and access the YouTube Desktop Version by any of the methods listed above. Or tap the sharing icon and select 'Add to Home Screen'.
Note: Steps above can be used to create bookmark icons for any website, but here, we created one for YouTube Desktop version. Once, an icon for YouTube Desktop version gets added to the Home Screen of your iPhone, just Tap it whenever you want to use it and there cannot be a faster way than this one.