Christmas is just round the corner and everyone is trying to get ready for the festive season. From decorating the Christmas tree to preparing delicious dishes and wrapping gifts, each and every activity of this holiday is enjoyable and filled with a lot of happiness. If you get exhausted with all the preparations and want some time to relax then there is nothing better than to watch a nice Christmas movie on your iPhone (iPhone X and iPhone 8 included). You can find a number of movie apps on the Apple App Store that allow you to watch Christmas movies for free. The following is a list of top 5 sites to download free Christmas movies with the best Christmas movie app for iPhone and Android.
Part 1. Christmas Movie App to Free Download Christmas Movies
If you want to download your favorite Christmas Movies to watch in sofa, in bed instead with no worry of bad connections, iTube Studio movie downloader for Mac (or iTube Studio movie downloader for Windows) is the best movie downloader software to download Christmas movies. This downloader software can help you to download free Christmas movies without having to pay anything. The excellent features of this software make it a must have for movie buffs not only in Christmas time.
iTube Studio - 1 Click Download Christmas Movies from 10,000+ Sites
Download free Christmas movies from over 10,000 websites like YouTube, Hulu, Vimeo, Netflix, etc. with Extension or URL.
Download movies at 3X faster speed thanks to multi-threading technology which helps in accelerating downloading speed.
Equipped with a movie recorder which help capture any online movie from any online site including those unable to download.
Convert downloaded Chirstmas movies into more than 153 formats of video and audio, even your mobile device.
Provide a PRIVATE MODE which allows to protect your downloading information with a password known by yourself.
Transfer downloaded Christmas movies to mobile devices like iPhone, iPad, Android phones and tablets easily.
How to Download Christmas Movies to iPhone
Method 1: Download Christmas Movies by Download Button
Open your Christmas movie in any browser, you could see a Download button by the player windows. Click to add downloading task to the Christmas movie downloader, it will start the downloading process automatically.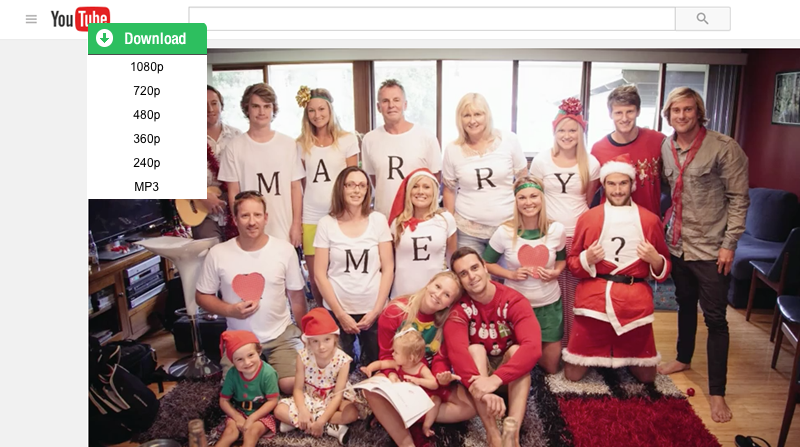 Method 2: Download Christmas Movies by Paste URL
Another way to download Christmas videos is to use the "Paste URL" button. Get the URL of your movie in browser, and paste it in iTube Studio, then it will begin downloading.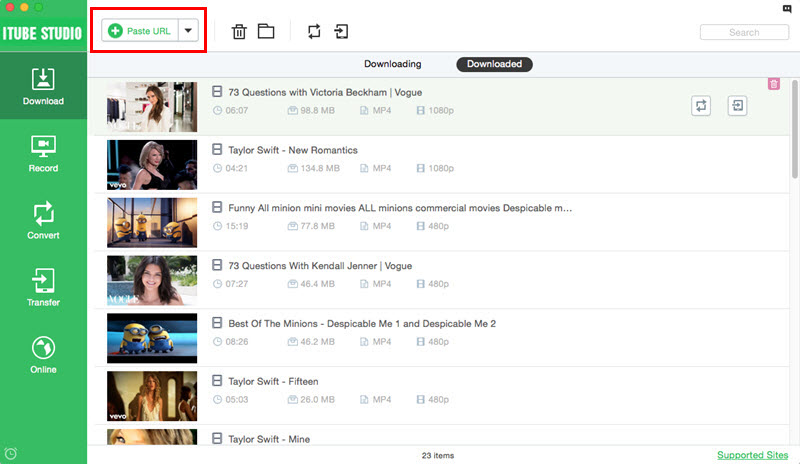 Method 3: Download Christmas Videos by Recording
If you want to download some videos in those websites which don't support download, no worries. Click Record to record the movie as you watch. When you finish watching, the movie downloading will be done.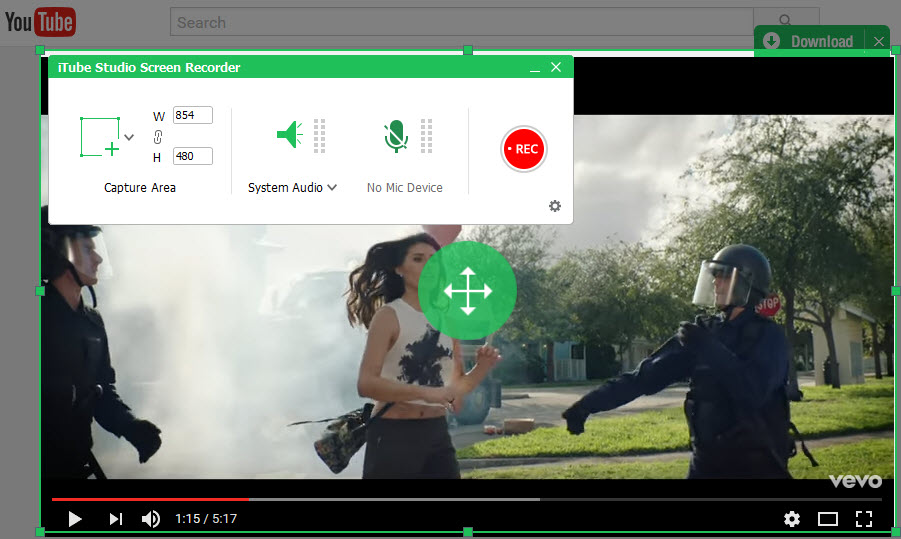 Optional: Transfer Downloaded Christmas Movies to iPhone or Android
If you want to play downloaded Christmas in your iPhone (including iPhone X and iPhone 8) or Android devices, just sync your iPhone to your Mac or Windows PC with a USB cable. In the Downloaded tab, in each display bar, you will see a Transfer icon which allows to add the downloaded Christmas videos to Transfer list. Then turn to the Transfer tab on the left, and you can easily transfer your downloaded Christmas movies to your iPhone.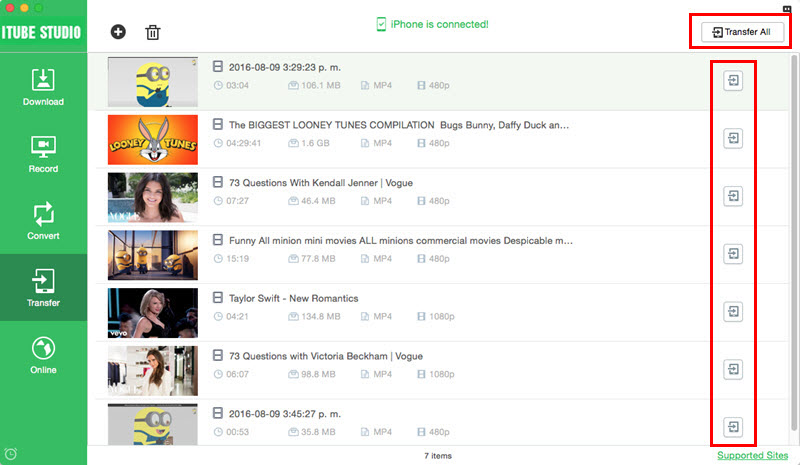 Part 2. Free Christmas Movies Online without Downloading
In case you wanna enjoy free Christmas movies online without downloading, here we introduces 5 well-known sites to watch Christmas movies online.
#1. Crackle
Crackle is an excellent Christmas movie app when it comes to watching Christmas movies for free. This Christmas movies app has a very large collection of hit movies belonging to many genres and you will have no difficulty what so ever in finding iconic Christmas movies on this app. The app is free to download and you can start playing your favorite movies right away without having to log in. The interface of the app is very simple which allows you to browse your favorite Christmas movies a much simple task. With Crackle, you can watch full length movies and even TV shows as well. One of the best features of this app is that it allows you to watch Christmas movies using a WiFi only option which gives you the chance to watch movies without eating away your data plan. With new movies and shows being added on a regular basis, there is certainly no better app to watch Christmas movies on your iPhone then Crackle.
#2. Viewster
Viewster is another movie app for Christmas that is perfect for watching Christmas movies on your iPhone for free. Although this app is marketed mainly to anime lovers but it has a very good collections of Christmas movies as well that you can watch without having to pay a cent. New movies and TV shows are regularly added to the app so that you can get to watch fresh content all the time. Viewster has a nice and simple interface which allows users to search for their favorite movies in a nice and relaxed manner. Once you have found your favorite Christmas movie, you can instantly watch it just by tapping on it. One of the best features of this app is that it allows you to create watch-lists so that you can watch whenever you like. Viewster also offers Chromecast and AirPlay support.
#3. Snag Films
Snag Films is one of the best iPhone apps for Christmas movies. It has a stunning collection of movies, TV shows and documentaries belonging to various genres. All you have to do is to search for your favorite Christmas movie and then tap on it to start watching it. Snag Films has 17 categories for films which is surely going to leave you spoilt for choice. You can search for the films by topic, genre and run time. The app offers you the feature of sharing movies you like on Facebook and Twitter as well as syncing videos between SnagFilms.com and your iPhone and Pad. One of the best features of this app is that it offers you the chance to watch films from other countries and regions as well. There are subtitles available with these foreign films to help you understand the movie in a better manner.
#4. Popcornflix
Popcornflix is a great iPhone app to watch Christmas movies for free. It has a good stock of Christmas movies and new ones are added every day. You are going to love the simple and intuitive interface of this app which allows you to browse for your favorite films without encountering any difficulties. Popcornflix gives you the chance to search for movies by genre, actor and title so that you can find the movie you are looking for quickly. All of the movies on this app are completely free and there is no subscription required too. This app offers a number of exciting features as well. You can add movies in a queue and make your very own customized watch list that you can view at any time. Popcornflix works with both WiFi connections as well as 3G without compromising on quality.
#5. Tubi TV
Tubi TV is among the best apps for Christmas movies on iPhone. This app is completely free to download and offers you the chance to watch over 20,000 movies and TV shows for free. With so many movies and TV shows on offer, you will have no trouble in finding a nice Christmas movie to spend your time during the festive season. It has a very intuitive interface which makes it easier for you to browse the titles of the movies and TV shows available on the app. Tubi TV offers you a number of categories from which you can choose the movie or TV show you wish to watch. The Christmas movies you find on this app can be watched instantly just by tapping on the title. You are going to find no decrease in quality when watching the movies on this app using your data plan or a WiFi connection.