YouTube is a leading online video streaming service that allows you to view, share and even download your favorite videos. Google, which owns YouTube, has developed various official applications that can be used to access this amazing online video streaming service on the Android and iOS platforms. However, it is common to come across various issues while using these official YouTube apps due to one reason or another. To solve this problem, this comprehensive article is going to provide you with the top 5 leading YouTube alternative for iPhone.
Part 1: How To Download YouTube to iPhone for Free
There are literally hundreds, if not thousands of computer programs in the market that claim to help you download YouTube videos, especially to iPhone (X/8/8 Plus/7/7 Plus/6s). This can prove to be increasingly overwhelming for you, especially if you don't really know what to look for in a YouTube downloader program. If this is the case for you, worry not as you are about to learn about a relatively new YouTube Downloader program called iTube Studio YouTube downloader that has already helped thousands of people from various parts across the world to download their favorite YouTube videos to iPhone. This YouTube downloader for iPhone also has an inbuilt media player that you can use to view and listen to your downloaded video and audio files. You can also use the amazing program to create your own personalized audio and video libraries.
iTube Studio - Download YouTube to iPhone for Free
Download online video from YouTube, Vimeo, Netflix, Dailymotion, Metacafe and other 10,000 more sites.
Record any online video from any online video site including those "unable to download ones".
Convert downloaded YouTube videos in other video or audio formats, even presets for mobile devices.
Play downloaded YouTube directly in the YouTube downloader or Transfer to mobile devices to play anywhere.
Offer a Private Mode to protect downloading information with a password known by yourself only.
Steps to Download YouTube for iPhone
Step 1: Launch the YouTube downloader for iPhone
Download the YouTube downloader program. After that, locate the downloaded installation file and double-click on it or simply drag it to the "Applications" dock and wait for it to install on your Mac PC. Once successfully downloaded, double-click on the program's icon to launch it.
Step 2: Download YouTube videos in 3 ways
Once you have opened the iTube Studio program, you can then proceed to download your favorite YouTube videos using the 3 steps discussed below.
Using the "Download" button. To use this method, simply move your mouse over the YouTube video you are currently watching. This will provide you with a "Download" button that will appear at the right section of the video. Simply click on the "Download" button, set your preferred resolution and wait as the video downloads. b) Using the video URL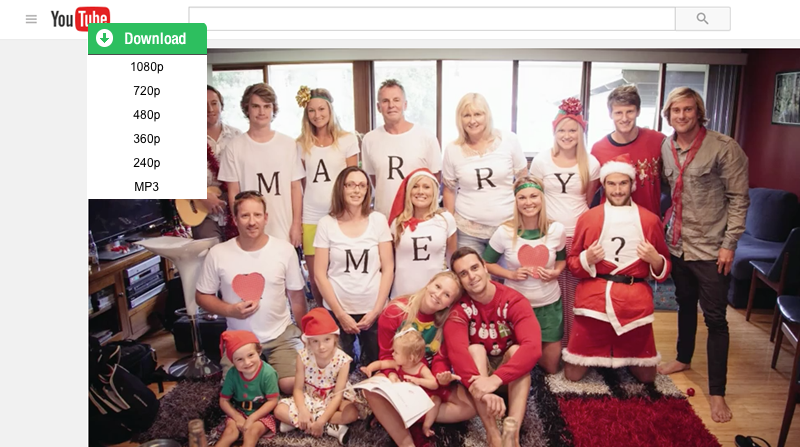 Using the video URL. You can also copy your favorite video's URL right from the internet browser you are using and then go back to the iSKysoft video downloader program. Once in the program simply select the "Paste URL" feature to activate the automatic video downloading process.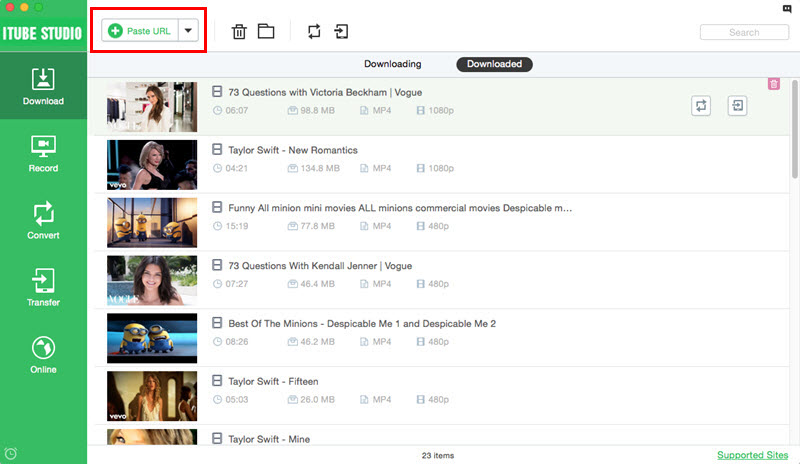 Record YouTube video. This beneficial feature comes in handy, especially when it is impossible to download your online video from a particular video streaming site due to various reasons. To use this amazing feature, simply select the "Record Video" option provided and wait until the program fully captures everything for you.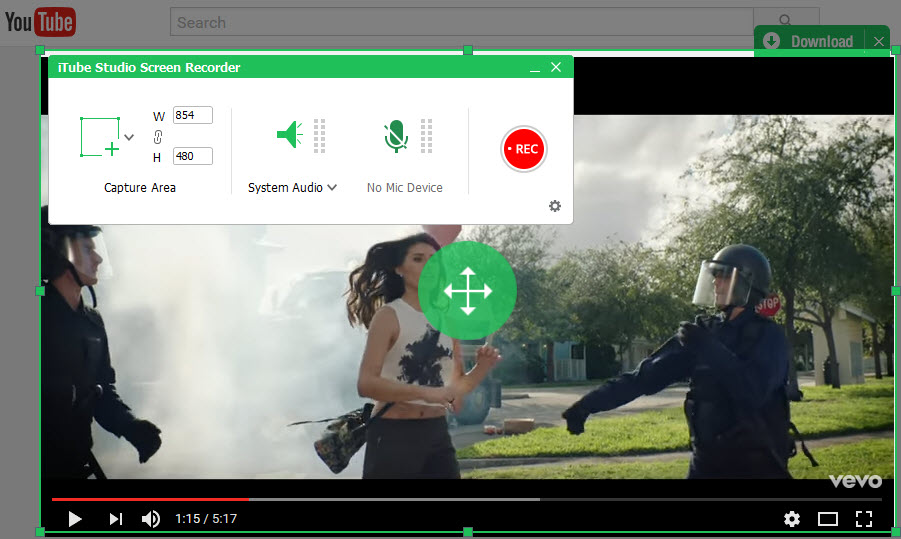 Step 2: Convert YouTube videos to iPhone
Although your iPhone is quite capable of playing a wide variety of video formats, it is highly recommended that you first convert the downloaded videos to an optimum format that is fully supported by your iOS device. To do this simply select the downloaded YouTube video of your choice and then click on the "Convert" button. A pop-up window will appear which you can then use to directly select your device's (iPhone) name as the intended output format. And click "OK" to start the conversion.
After that, sync the YouTube videos to your iPhone through iTunes.
Part 2: Top 5 Best YouTube Alternative App for iPhone
#1. MyTube
MyTube is a free iOS app that allows you to play, copy and even download your favorite YouTube videos on your iPhone, iPad or iPod Touch. The YouTube alternative for iPhone is not only easier to navigate but also makes it possible to play a YouTube video's audio in the background, hence; allowing you to multitask with ease. MyTube also makes it possible to share videos on multiple social networking platforms. The YouTube alternative iPhone app's "AirPlay Support" feature makes it possible for you to watch your videos on other devices like Smart TVs with even bigger screens.
#2. iTube
iTube which is considered to be the best YouTube for iPhone alternative for die-hard music lovers is an iOS video player app that allows you to not only watch your favorite videos but also to create and manage your own playlists. The amazing app lets you control your music videos via the typical iPhone headphone and playback controls that come with your gadget. iTube also makes it possible to play your videos in the background. You can easily use the YouTube alternative for iPhone's "Cache Mode" feature to save your videos for offline viewing.
#3. Tube Player
Tube Player is an awesome YouTube alternative for iPhone characterized by its classic like mashup of both iOS and official YouTube program layouts. It may take quite some time to learn how to use the app but you will eventually appreciate its unique features once you master how to use it. This YouTube alternative iPhone app apart from allowing you to play your favorite videos in the background also makes it possible for you to specify a specific region whose videos you wish to watch.
#4. NetTube
NetTube, although considered less attractive is a dedicated online video player that provides you with the ability to search for and play your favorite videos both on SoundCloud and YouTube. The iOS app which almost entirely focuses on music offers an effective background playback feature. This amazing app also has a dedicated "Sleep Setting" that stops playback after a set duration of time. NetTube also makes it possible to share your music and video playlists on multiple social networks. You can now view, share and even download your favorite YouTube videos through this life-saving iPhone app.
5. McTube
With McTube which also supports background audio playback is a popular YouTube alternative for iPhone app with a classic layout. You can use the amazing app to just play audio from your favorite YouTube videos if you wish to save on data. You can also take advantage of its "Cache Mode" to save your favorite YouTube videos for offline viewing. McTube also has a wide range of streamlined log-in features that you can use to share, comment and interact with other viewers right from your iPhone.