Call recording is becoming more and more popular among people. Addressing mobile recording is now the subject of many financial regulators' recommendation. It is also gradually more significant to business continuity planning. We sometimes forget some things so we need to record the essential information when take a phone call. Well, this post introduces the All Call Recorder and its best alternatives.
Part 1. Introducing All Call Recorder
All Call Recorder can record every phone call you want and decide which calls you want to save. You can choose different Audio Source and unusual file format. All recording call will be saved in memory card and you can save important recording discussion as you like. It is easy to delete the recording if you don't want to keep. What's more, this all call recorder can record for incoming, outgoing calls and missed calls will be saved in your phone calendar. You can see all the detailed info by your calendar. The All Call Recorder also has capability to hide by illegal user. This app has set default password 002 you can alter hide password according your selection.
URL: https://play.google.com/store/apps/details?id=Androidlab.allcall&hl=en
Disadvantages of All Call Recorder:
Level of far-end voice can be affected by distance from network exchange.
Not appropriate for Digital, PBX or VoIP Phones.
Not appropriate for telephone call recording digital, PBX or VoIP phones.
Require a PC - not suitable for tape recorders or MP3 recorders with mic socket.
Not appropriate for Cordless phones, conference units or recording hands free calls.
Requires an external power.
Part 2: Top 5 Alternatives to All Call Recorder for Mobile
1. Call Recorder ACR
Call recorder ACR is a famous call recorder app for Android mobile users. This app is very popular and comes on the top when you search for call recorder in the Android play store. There are so many functions in this call recorder. It can automatically start call recording and manually as well.
Allows you to search recordings in your recorded calls.
Allows you to group recordings by date.
Auto email option is there in the pro version of the app.
Selecting more than one recording together and delete or send them.
Display contact name and photo in the pro version.
URL: https://play.google.com/store/apps/details?id=com.nll.acr&hl=en
2. Call Recorder
Call recorder app is available for Android users to record calls on play store for free of cost. This app has a very beautiful light blue color interface. It is very easy to use. This app gives you so many functions. It can record calls automatically or manually. This app is available for free of cost.
Able to record all your phone calls automatically.
Play or stop recording while talking on calls.
Share your recordings with friends in the paid version.
Confirming dialogue box is there when you delete a call recording.
URL: https://play.google.com/store/apps/details?id=polis.app.callrecorder&hl=en
3. Automatic Call Recorder
Automatic Call recorder automatically begins to record each and every call including the incoming call or outgoing call. But of course you can ignore a recording for a specific contact. The application allows you to select your desired audio format after recording. It also gives you the ability to change the recordings path to your SD card manually. This can be done from application settings. If you're running out of space for the recorded files, you can easily store all your files using your Drop box account or Google Drive. The only con we can say regarding this application is that it doesn't work on some Bluetooth devices. So, there's a paid version as fine as a free version you can try.
The audio quality is clear and perfect.
It is easy to save to sd card or drop box etc.
It has simple interface.
URL: https://play.google.com/store/apps/details?id=com.appstar.callrecorder&hl=en
4. Galaxy Call Recorder
Galaxy call recorder is perfect phone call recorder for Android users with unbelievable features for free. It works on almost all Samsung Galaxy devices as well as Galaxy s5, s6, Note 1, Note 5, and more. This call recorder app gives you option of deleting your call recording automatically when the length of recording is not enough to save. Recording are automatically saved in your memory card storage.
Auto and manual call recording modes in the app.
Disable recordings automatically when headphones or Bluetooth is connected.
Select contacts to disable recording for those contacts.
Calls, sending sms and creating events directly from the app interface.
URL: https://play.google.com/store/search?q=galaxy%20call%20recorder&c=apps&hl=en
5. RMC-Record My Call
Record My Call is also one of most excellent call recording apps. It can simpley record incoming and outgoing calls. RMC is works the same as the above mentioned apps, but having some more features as well. It is sustaining more cloud storage services like Google Drive other than Drop box. You can also filter those contacts that you don't want to record and manually record the calls. This app supports numerous languages. But this app only works on most popular devices, not on all Smart phones.
It supports lots of languages.
Support cloud storage.
Both for incoming and outgoing calls.
URL: https://play.google.com/store/apps/details?id=com.record.my.call&hl=en
Part 3: Top 5 Alternatives to All Call Recorder for PC
1. iTube Studio
iTube Studio can help you to record Skype video calls, and also provides powerful functions for the users to record online videos from the streaming sties, or download videos from the video sharing sites. The following section intrdouces the key features of this program, which helps users to learn a better knowledge of this program.
URL: https://itube.aimersoft.com/
Key Features:
iTube Studio allows you to record your Skype calls.
It can record your computer screen.
iTube Studio can convert videos to any other format after recording.
It allows you to convert your recorded videos to more than 150+ formats.
It can record videos from more than 10000+ videos sharing websites.
There are 3 ways to save your online videos, including pasting URL, clicking Downloading button and recording screen.
It supports high-quality videos like 1080P or 4K.
It can download videos also from more than 10000+ websites.
It can download videos 3X faster than other downloaders with its task scheduler.
Convert to any format without losing video quality.
Support to download videos in batch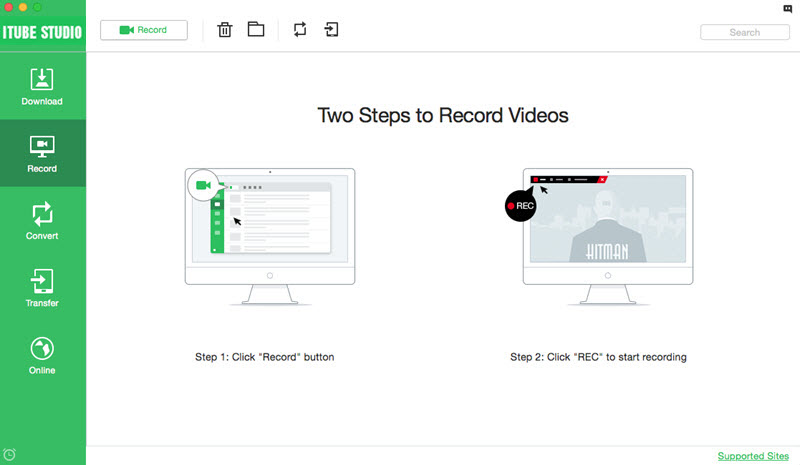 2. MP3 Skype Recorder
URL: http://voipcallrecording.com/
Mp3 Skype recorder software is there with stealth mode for windows users to record Skype and other chat tools calls. This recorder allows you to record calls in the background without showing any recording icon in the system tray. Whenever you start your windows it will automatically start with the startup of windows and start recording all calls which you receive on your computer.
3. AthTek Skype Recorder
URL: http://www.athtek.com/skype-recorder.html#.VqNd1NJ95dg
AthTek Skype recorder is a windows recorder software and enables you to record calls on windows xp/ vista and windows 8.1. This software can record audio and videos calls for free but not able to record video calls on windows 10. This software is a perfect call recorder. But it can only record Skype calls. If you want to record call of your other chat clients, you can go for iTube Studio.
4. Hot Recorder
URL: http://www.hotrecorder.com/
Hot recorder is very small windows software to record calls on windows computers for free in the trial version. This software works with mostly all VoIP applications such as Skype, aim, net2phone etc. It allows you to convert your calls in the mp3, ogg and wav after recording. It comes with user friendly interface without any issue or malware or adware.
5. Pamela Call Recorder
URL: https://www.pamela.biz/en/download/
Pamela Call Recorder software is specially designed to record Skype calls only. There are four types of different version available of this software on the official website to record Skype calls as per user requirement. Basic call recorder version of this software allows users to record Skype video for 5 minutes and audio for 15 minutes for free. If you need to record more length calls, you have to buy this software for unlimited call recordings.