Recording phone calls sometimes is very important because you may need to extract some information from those calls, and you will want to save the records in your devices for later use. This post is going to introduce the best automatic call recorders to you, which will help you to keep the recorded files in your device.
Part 1: Best Video Call Recorder - iTube Studio
There are many call recorders available in the market, but iTube Studio can be regarded as the best. This is the only software that gives you lots of features in its trial version. iTube Studio provides much help when it comes to call recordings, and it helps users to get the work done without any effort. The following section will introduce the key features of this best video call recording software.
Key features:
Automatic call recording is possible using iTube Studio.
iTube Studio allows you to send your recorded calls to your email inbox.
It allows you to record your skype calls in realtime easily.
It can record screen or your PC as well. You can record gaming videos or any other videos live from any video sharing websites as well.
You can convert your recorded videos to more than 150+ formats using iTube Studio.
iTube Studio can record both incoming and outgoing video calls.
There is no time limit to record calls.
iTube Studio can record any videos from online websites.
iTube Studio can download videos also from 10,000+ video sharing websites with the help of download button or by copying URL.
You can save videos in the original quality by using iTube Studio.
How to Record Calls Using iTube Studio
Step 1. If you are going to record your Skype calls using iTube Studio, first you need to start it on your computer. Click Record after starting this program.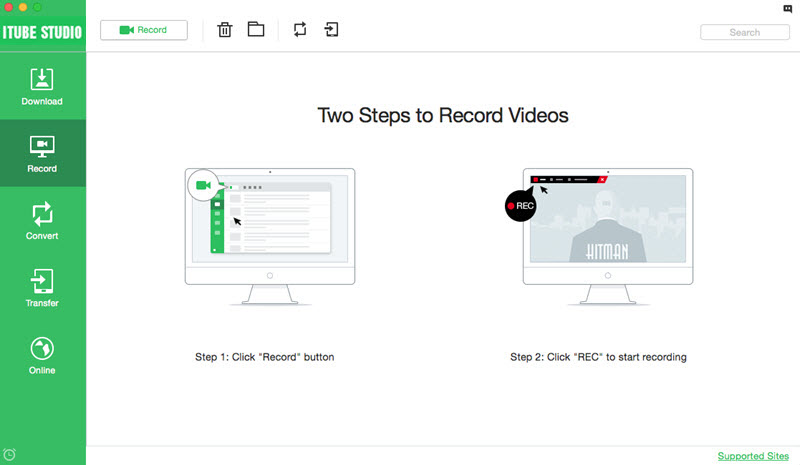 Step 2. Adjust the pop-up frame of recording window for the Skype chat window. Hit the red REC button to start recording Skype video calls.
Step 4. The program will keep recording until you click the Stop button.
You can find your recorded videos after recording in the Record section. Now you can convert the video to the format you need.
Part 2: Top 5 Automatic Call Recorders
1. Automatic Call Recorder
This software comes with the following specifications:
Record any telephone call you need.
Pick which calls you need to save.
Set which calls are recorded and which are disregarded.
Listen to the recording, include notes.
Recorded calls are transferred to the Inbox.
Set the span of the inbox.
Quantity of recorded calls is restricted just by your free storage space. If the space is not enough, old recordings will consequently be erased when new rings fill the inbox.
DOWNLOAD LINK: https://play.google.com/store/apps/details?id=com.appstar.callrecorder
2. Callx Automatic Call Recorder
Callx Automatic call recorder comes with the following specifications:
Crystal Clear MP3 Audio Quality.
Shake to record (Premium choice). Begin recording any call in a split second by shaking your gadget.
Recording Filter. You can pick between recording all calls, just calls made with your contacts or calls from obscure numbers.
Automatic Dropbox synchronization (Premium choice). You can adjust all calls or most loved calls naturally.
Manual Dropbox synchronization. You can adjust each recorded document independently.
Note: Once the recording has been begun you can be advised either by a notice symbol or a sound. You can even pick which sound will be played (Premium).
Advanced Memory Management. It is conceivable to constrain the memory space involved by the recorded documents.
DOWNLOAD LINK: https://play.google.com/store/apps/details?id=com.smsrobot.callrecorder
3. Automatic Call Recorder
This software comes with the following features:
Unlimited Call Recording.
Record all your telephone calls, whether it is approaching or active.
User can Enable/Disable call recording.
Play or Stop the recorded calls by a single touch.
Delete recorded call sounds.
Configure programmed cleaning – set the Auto Cleaning time for recording.
Confirmation dialog: You can get a kick out of the chance to keep recorded call that is demonstrated soon after the call End.
No concealed charges.
App does not exchange any substance outside your portable.
Call Recorder is the most effortless and quickest approach to record telephone approaches for your android telephone.
DOWNLOAD LINK: https://play.google.com/store/apps/details?id=com.automaticcallrecorder2016.callrecorderpro
4. Auto Call Recorder
This software comes with the following specifications:
Recorder
Password Security
Caller Detail
Max Call Duration
Ongoing Call Notification
Auto Call Delete
Multiple Audio Input & Recording Formats
Smart Notification
Contacts Back & Restore
DOWNLOAD LINK: https://play.google.com/store/apps/details?id=com.app.autocallrecorder
5. Automatic Call Recorder
This automatic call recorder comes with the following features:
Select little recording document positions like mp3, mp4 and 3gp, so you can get live-quality sound while keeping record.
Important call recording list administration.
Listen to recorded documents utilizing the pre-introduced media player.
Send recordings through email, mms, or effortlessly utilize envoy applications introduced on your telephone, cloud applications, SNS applications, or journal applications.
Copy documents to your telephone's memory card straightforwardly (USB).
Always ready to keep an eye on accessible memory with a specific end goal to spare space.
Easily discover recording documents by connecting to cloud administrations, PC and other cell phones.
DOWNOAD LINK: https://play.google.com/store/apps/details?id=com.globaleffect.callrecord