Part 1: Best Call Recording Software for Chat Tools
iTube Studio is the best available call recorder on online market. There is an built-in converter and player with the call recorder so you do not need to install converter and player separately. You can download and convert the video with one click, then save the converted files to your local hard drive. This is the fastest and easiest call recorder which is helpful for the users to record video calls.
KEY FEATURES
iTube Studio allows user to record Skype or other chat videos.
iTube Studio allows user to record screen of their PC.
iTube Studio allows you to adjust frame while recording your video calls according to your requirement.
You can convert your recorded videos to 150+ formats in just one click.
No need to wait to add downloads one by one. The program supports batch download.
Download video from 10,000+ video sharing sites.
It supports HD videos including 3D/4K.
Download audio/Mp3 from video sharing website directly.
Download videos 3x faster than any other software.
A built-in player is available to play your videos.
How to Record Skype Video Calls with iTube Studio
Step 1. First of all you need to visit official website to download and install the program. Then start it on your computer. Click the Record button on the interface of iTube Studio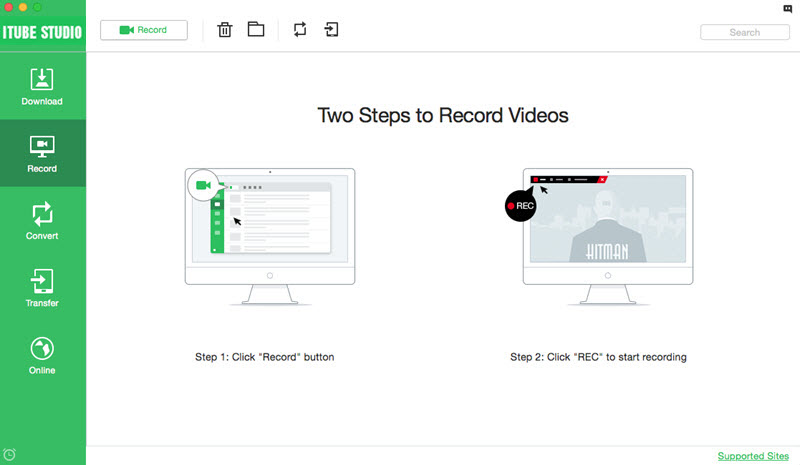 Step 2. Then the recording frame will pop up. Adjust it to the Skype video chatting window. Click the red REC button at the upper left corner to start recording the video.
Step 3. Click Stop to finish recording. When the recording is done, the recorded file will be saved to the Record category. You can convert this video to the format you need.
Part 2: Best Call Recording Software for Mobile Phone
HD Call recorder has been given a bit of a visual makeover. This hot app was released in 2015. You'll want to use it on your own phones after you know more. It can record any phone call you want and choose which calls you want to save. You can set which calls are recorded and which are ignored. Listen to the recording, add notes and share it. Integration with Google Drive™ and Dropbox allows calls to be saved and synchronized to the cloud as well. HD Call recorder records call automatically and that's why it is also called Automatic Call Recorder. It can record and save 1000s of calls , shift record calls to SD card and or at your phone internal memory.
How to Record Call
Step 1. Download and install the application on your phone.
Step 2. Now open the user interface of the application on your device.
Step 3. Open settings by clicking the right top corner and you can change path and format to save your recorded file.
Step 4. Call your contact and check the recoding saved on your user interface.
Part 3: Best Call Recording Software for Telephone
TRx is a phone call recording program for Windows and Mac OS X. With TRx phone recording software you can manually record telephone calls, view caller ID information and put callers' on-hold with on-hold music. TRx was designed for business call centers where TRx is installed at each workstation and connected to each telephone using a Handset Call Recording Connector, voice modem or professional telephony board. It can also be used in other business environments or at home to manually record one line. For automatic recording or to record more than 1 telephone line on the same computer at a time see VRS Multiline Call Recorder.
How to Record Call with TRx
Step 1. Download TRx call recorder from their Official website and install it on your system.
Step 2. Open TRx user interface on your system and then configure it according to your requirement.
Step 3. Once your product is configured according to your requirement, click on Start Recording to record your call.
Step 4. You can put the call on hold with music in background and notification with that by just pressing on Hold button located on top middle corner of the user interface
Step 5. Once your recording is finished, you can access the recorded file by pressing on Find and Play button located on top left corner of the User interface. Now enjoy your calls.