There are occasions where you may want to record your audio/videos calls either for personal or business purposes. You may need to install more than one program or add-ons to save your audio or video conversations. Are you looking for a simple call recorder to record your audio or videos? Ecamm Call Recorder is a good choice. You just have to install a call recorder on your system, and you can record the calls whenever you like. The software will routinely record your conversations and save them to your hard drive. In this aticle, we will focus on discussing Ecamm Call Recorder and its alternatives.
iTube Studio - Video Downloader and Recorder
Best online call video recorder for Skype.
Works both for Mac and Windows.
Download videos from 10000+ video sharing sites.
Download and convert videos in one-click.
Converts videos to fast all video/audio formats.
Download videos 3X faster with task scheduler.
Download YouTube playlists & channels in Batch.
Download YouTube HD videos including 1080 P and 4k.
Download YouTube video to mp3 with one click.
Record any video from online websites.
A built-in video player to play videos.
Part 1: What is Ecamm Call Recorder
Ecamm Call Recorder records audio and video calls secretly to your Mac computer. Ecamm has grown into a market leader in Mac software products. And thousands of Mac users use the product every day.
URL: http://www.ecamm.com
Pros:
Integrates straightforwardly with existing video conference rooms. For example, a class at Ecamm can easily bring a guest lecturer and be seen and heard with no trouble throughout the call.
Uses your Ecamm account. No need for separate username/password.
Unlimited installations.
Up to 100 concurrent users.
Up to 40 people in a single group call.
Simple interface.
Can record video calls.
Can share content (e.g. presentation) during a call.
Supports chat.
Meeting controls but they are harder to access compared to adobe connect.
Calls are done over a dedicated network, optimized for video conferencing.
Cons:
Without additional hardware, digital whiteboard and annotation when using.
No integrated survey / quiz tool, however a separate online survey or quiz tool can be used.
Meeting controls (e.g. presenter can mute others) are available but harder to access.
Currently, files cannot be uploaded to a Ecamm server for sharing with users. However, if videos or other files are uploaded on the web, users can open and view them without issues.
Good Reviews:
1. Very good software and works very easily for me. It's very easy to set up and easy to use.
2. For me this software is really amazing. It worked far better than I expected.
3. Works very good for me, and it recorded sound with perfect quality not poor sound quality.
Bad Reviews:
1. It does not worked for me perfectly. I am very disappointed with the ads which comes in the software.
2. This software is really very easy to use but I faced issue of low quality from my testing.
3. All other things are fine while it's working but the problem I faced using this software is that it crashes while recording.
Part 2: Top 3 User Problems about the Ecamm Call Recorder
Problem 1: Error 7732 When Installing
Solution: This problem occurs when your installer file is not decompressed in right way. You can decompress the zip file again.
Problem 2: Chrome Helper not responding
Solution: Updated the Chromium and Google chrome to the newest version.
Problem 3: Installation Error - 60005
Solution: When you install Ecamm call recorder with this error, please restart you MAC and then try again.
Part 3: Top 5 Alternatives to Ecamm
1. iTube Studio
If you are looking for software to record your calls, iTube Studio can be regarded as a good solution. This program records your video calls without any problem in realtime. It is the best available software in the market to record your video calls and converting them in your desired format in just single click. This is the fastest and easiest recorder and converter that helps users to record their video calls without any effort. The key features of this program are introduced below.
Key Features:
It allows you to record your calls.
You can record screen of your PC.
Allow you to convert video after recording with ease..
Support more than 150 formats for output.
Allow you to select specific output format for your device.
Support high-resolution videos, including HD, 1080P, 4K, etc.
It allows you to download videos from more than 10000 videos sharing websites.
You can record videos from video streaming sites.
Download or record videos 3X faster than other downloaders with its task scheduler.
Pros:
Free trial version.
Comes with a lot of features.
User interface is very simple and easy to use..
Cons:
Can only download or convert videos 5 times in the trial version.
Link: https://itube.aimersoft.com/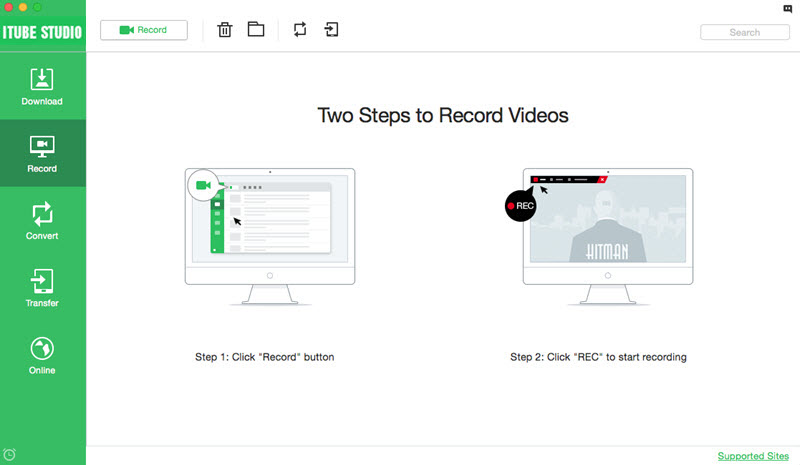 2. MP3 Skype Recorder
MP3 Skype Recorder software is a windows software and allows you to record Skype VoIP calls for free. It can easily record all types of calls in the program both incoming and outgoing calls. It is good for parental use because while recording it will not show you any recording icon in system tray.
Pros:
Record Skype VoIP calls easily.
Auto call recording in the background.
Cons:
Can't record videos calls.
Only record audio calls in the mp3 format
Can't record PC screen.
Link: http://voipcallrecording.com/
3. AthTek Call Recorder
AthTek Call Recorder software is an advanced featured Skype call recorder allowing you to record Skype calls easily and quickly. It can record videos in the high quality and completely original what you are watching on your screen while recording. As the usage of this software, this is awarded as the "Best Skype call recorder" by its users.
Pros:
Automatically record calls after installing in the system.
Hidden mode for parental control purpose is a good option to record activities of your child.
Cons:
The format is limited.
Can't download videos as compare to iTube.
Link: http://www.athtek.com/skype-recorder.html#.VqNd1NJ95dg
4. Hot Recorder
Hot recorder software is also a good way of recording calls for free. This call recorder software can easily record incoming calls on your computer in the mp3 formats. This software works with Skype, yahoo and some other chat tools as well.
Pros:
It works with mostly every chat tool of your computer.
It is with a very handy and user-friendly interface.
Cons:
User support is very bad.
Can't convert files and only recording is possible.
Link: http://www.hotrecorder.com/
5. Pamela Call Recorder
Pamela is known as professional Skype recorder software which enables you to record calls on your computer. It is very easy to record Skype and other chat tools calls using this software. If you want to test the software, you just need to download and install it because it provides you 30 days free trial.
Pros:
Easy to use software and good interface.
Professional call recorder.
Cons:
Recording quality is not good as expected.
After updating software, it losts the ability to record calls.
Link: https://www.pamela.biz/en/download/