People around the world are curious about the phone calls. Moreover if you are in business, your every phone call may be very important, and you will want to own call recorder apps to control your conversations. Many call recorder software are available and you can record your phone calls on land line and on your android or iphones. Some of softwares are free to use and some have trial versions for the evaluations, but in free and trial versions and there are limitations like limited call recording, less storage etc. Today we are going to introduce top 5 free automatic call recorders in this article.
Part 1: Best Automatic Video Call Recorders - iTube Studio
iTube Studio is an amazing program which you can download and use for free and there is a free trial version. It can be regarded as the best automatic free call recorder. As above mentioned there are many call recorder programs, but they all have some limitations and restrictions on their trial versions. iTube Studio is the only software which provides all the options. iTube Studio free trial version only has limitations on how many times you can use the program, so its trial version will help users to get perfect ideas about the functions of this program.
Key Features:
iTube Studio can record your skype calls for free with the best quality.
iTube Studio can record screen of your PC.
You can record videos from online website.
You can adjust recording frame of iTube Studio according to your requirement.
You can convert recorded videos with one click.
iTube Studio can convert your recorded videos to more than 150+ formats.
iTube Studio can download videos as well from more than 10000 sites.
You can download videos in batch with iTube Studio.
iTube Studio allows you to choose specific output video format for your devices.
Allows users to manage their video download better with its task scheduler.
Offers 3 ways to download videos, including pasting URL, clicking Download button, and recording screen.
How to Download and Record Calls Using iTube Studio:
Step 1. Download and install iTube Studio, then start it on your computer. Click the Record button after starting the program.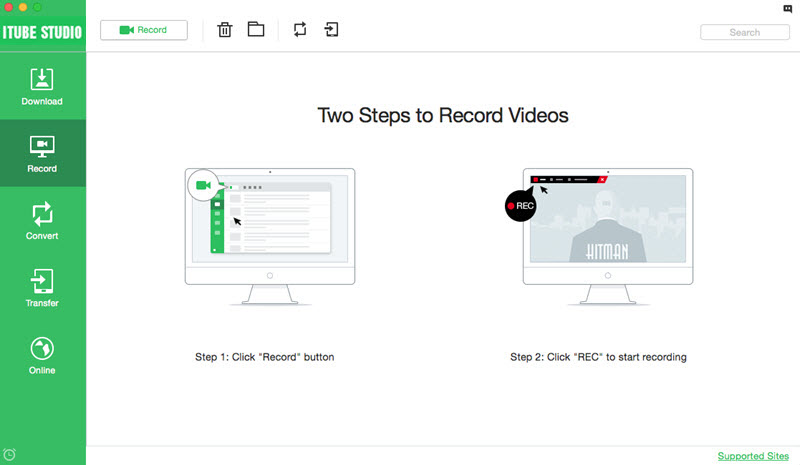 Step 2. The recording frame pops up. Adjust the frame to match your Skype video call window, and click the red REC button at the upper left corner to start recording the Skype video call.
Step 3. Click Stop at the upper left corner when thevideo call is done. Then the software will save the recorded video to the Record category.
Part 2: Other 4 Free Call Recorders
1. Total Recal Call Recorder
Total Recal call recorder is available for you to record your calls with less memory usage. It allows you to record you phone calls automatically. It is available for free from the google play store for you. If you are looking for full functionality of this app then you can buy it for 10$.
Pros:
Record telephone calls or use as a voice recorder application
A lot of settings for design
Cons:
The recording quality is not good.
Manual tweaking and it is not easy to understand.
Good Review: It is an awesome app to record calls. I am very happy to use this app. Quality of the recording is really very good. It's an amazing app for free to use from play store.
Bad Review: According to my point of view, this app is worst app. Nothing is worked perfectly for me. I recommend smart auto call recorder instead of using this app.
Screenshot:
DOWNLOAD LINK: http://www.androidtapp.com/call-recorder-total-recall-2/
2. Smart Voice Recorder
Smart voice recorder is a good available call recorder to record your phone calls. It is designed for high quality long time sound recording with skipping relative silence on the fly. You can use this app to record your sleep talks as well.
Pros:
High quality recordings
Simple to use
Live audio spectrum analyzer
Skip silence mode
Nice user interface
Cons:
Manual recording
Limited access to the recording calls
Good Review: This app is worked perfectly for me. I am studying physics and I used this app to record each chapter.
Bad Review: I am not happy with this app. It doesn't worked for me. I would like to install other app which worked perfectly.
Screenshot:
DOWNLOAD LINK: https://play.google.com/store/apps/details?id=com.andrwq.recorder&hl=en
3. Digital Call Recorder 3
Digital call recorder 3 is the application to record calls from digital solutions. What's more, it can record calls in background for you. It can save battery for you. You can record calls in 3gp, mp3, wmv etc.
Pros:
Battery efficient
Share recording
With lock access
Pros:
Only one format
Have to set recording during call
Limited time recording of call
Good review: It is a very good and worked perfectly for me. I just want to say that I love this app and thank to the developer of this app.
Bad Review: All other things and features of this app look fine but volume is very low there. Please try to improve it so we can use it more efficiently.
Screenshot:
DOWNLOAD LINK:
https://play.google.com/store/apps/details?id=com.digitalsolutions.digitalcallrecorder&hl=en
4. Aflik Nuage Call Recorder
Aflik Nuage Call Recorder is the most advanced call recorder application available in the market to record your calls. It contains so many extra features which works perfectly than other apps.
Pros:
Multiple recording formats
Prompt for every call for recording
Auto start with fone
Save directly to memory cards
Pros:
Manual recording
Only record incoming calls
Cannot have backup for recorded calls
Good Review: This app is worked perfectly for me but it doesn't work on the Samsung note 3. So I hope developers will improve it.
Bad Review:
I didn't want to end the call. When I rebooted my device then it said that your trail of 2 week is ended even I have used only for maximum 2 minutes.
Screenshot
DOWNLOAD LINK:
https://play.google.com/store/apps/details?id=mobi.callrecorder&hl=en