It is not easy to recod the iPhone call. There are a few quirky things about its operation as regards recordings, screen recording, call recording, VoIP recordings or video call recording. Although there are countless recording software for iPhone on the Apple Store, you don't know which one is good. Today we will focus on discussing tips about recording phone call on iPhone.
Part 1: Best Way to Record Phone Calls on PC
There are so many ways to record phone calls. One could record through call recorders for iPhones, and external dedicated call recorder and PC call recorders software. For PC call recording software, iTube Studio is highly recommended. This software enables users to record screen with ease. therefore, it allows users to record any video calls on computer.
Key features of iTube Studio
Record any online video calls, such as skype call.
Record any video from any online video sharing site.
Download or record from more than 10000 sites including YouTube, Dailymotion, VEVO, AOL and MTV, etc.
You can convert your recorded videos to more than 150+ formats.
3X times faster than other downloaders with the help of task scheduler.
Built-in video player supports full-HD playback.
Download YouTube high-quality videos including 1080 HD, 4k videos, and 3D videos.
Download and convert videos in one click.
Pros:
Automatically detect video for downloading when playing them.
Convert videos to audio and save as OGG, MP3, WMA, etc.
Easy to use.
Downloading speed is faster than other downloaders.
There is a free trial version for this program.
Cons:
Users have to pay for full functions.
Download link: https://itube.aimersoft.com/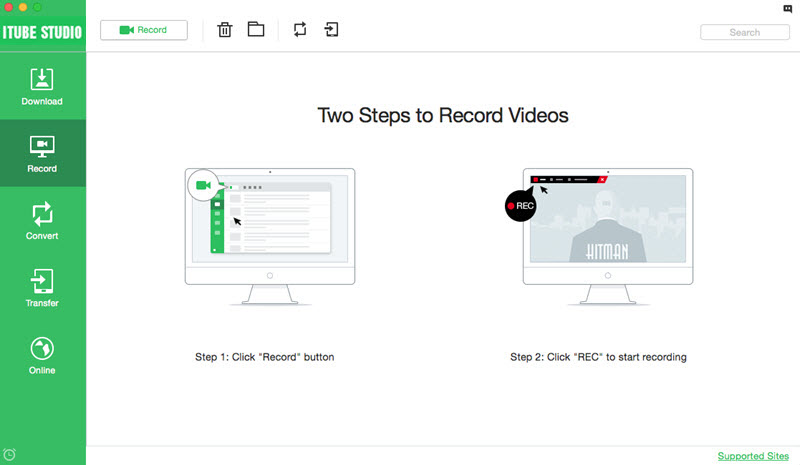 Part 2: 10 Tips to Record Phone Call on iPhone
On this article, we will be giving some tips on how to get the best result of recording for your Apple iPhone. Here are ten tips on recording phone calls with your iPhone:
Tip#1: Clean up Home Screen
Let us assume, you want to record a video call and need the home screen to appear crystal clear, so you have to clear all clutters.
Tip#2: Enable Sleep Mode
It is very important to avoid any interference to recording. With sleep mode enabled, notifications sounds do not affect your recording. To enable this mode which is also known as "Do not disturb mode", go to settings and then Do Not Disturb then manual, scroll down and select Silence: Always.
Tip#3: Record calls in a serene environment
If call recording is filled with noise and distortions, then the aim of recording call isn't achieved because the noise from the environment won't allow you to hear yourself properly or the other participants of the call. This is why it is important that one records calls in a quiet and serene environment, away from noise from people, laptop computer fan, dogs etc.
Tip#4: Make sure your iPhone is not muted
This is very important when recording calls, sometimes we tend to be careless about the simplest of things but they are the ones that can hurt the most. If your device is muted, your voice won't be recorded, only that of other participants will be recorded. So it is advisable to check if device is muted or not before recording.
Tip#5: Lock screen view
The iPhone screen can be viewed in portrait and landscape just like most smartphones out there. When recording video calls, it is important that the view of the screen is locked to the view in which you wish to make call. If not, while recording, tilting of the phone could result in a shift of view from landscape to portrait and vice versa, this could disrupt recording. This particular tip is more focused on video recordings.
Tip#6: Switch off display zoom for newer iPhones
If you use one of those newer iPhones that come with display zoom feature, you might want to turn that feature off before recording a video call on your iPhone. The reason is simple, you will not capture the recording in full resolution, hence leading poorer video quality. For an iPhone 6, video recordings generate a resolution of 1334 × 750 but when in zoom mode, it generates a resolution of 1136 × 640.
Tip#7: Have adequate resources
Recording of calls, video calls or phone calls, is important in our today world and they consume lots of system resources. This is why before recording, we should make sure there is adequate space to save recordings and that phone RAM is running in a stable condition. In order to achieve this, it is important that programs running in background are closed and enough space is available to store recordings before you start to record, especially on older devices with less resource power.
Tip#8: Use call recorders
Call recorders are applications used in recording calls. They are a few on the Apple app store. Some of them start recording automatically while others are manually turned on. These call recorders simplify the process of call recording, and they make it a simple and straightforward process. Google voice call recorder and IntCall are nice, you can check them out.
Tip#9: Use an external voice recorder
It is also better to use an external dedicated call recorder. You plug them directly into iPhone headphone jack and they record calls. They are more reliable and efficient but more expensive than call recorders for phones.
Tip#10: Audibility
In order for call recordings to be clear, it is important that the voices of participants are very audible. Even if you try all the above tips and the voices of call participants isn't audible, call recording will not be clear or perfect.