Part 1: Can You Record Incoming Call?
Can we record the incoming call when we are taling on phone or doing a very important talk? The answer is yes and you can record these calls by using some software which allows you to record your calls for later use. There can be many reasons to record an incoming call, to provide proof of a business operation or to ensure that a business compiles with regulatory procedures, or protect nation security. There are so many ways to record an incoming calls. In this article we are going to discuss the tips of incoming call recorder with you .
Part 2: How to Record Incoming Call
There are so many ways to record an incoming call but make sure that it is allowed in the laws of your country or not.
If you are looking to record a phone call on your Android device, the best way for you is with an android app. There are so many applications available to record calls. Here in this article we are going to tell you how to record a phone call with smart voice recorder. It is free to download from the play store. There are screenshots of a sony xperia device. Other device may have different screenshots while recording.
Step1. To record a phone call, first of all make a call or answer an incoming call on your phone. If they agree to record the call, then you can follow the below steps to record this call. Now you need to turn your on handsfree or speaker phone mode by clicking on the speaker icon on your phone.
Step2. After putting your phone on speaker mode, you need to tap on home button and open smart voice recorder application. After opening it, tap on the big red button to begin recording of your calls. To confirm that your call is started recording, just click see red button. If it is looking more visible then it means your call is started recording.
Step3. After starting recording of your call, make sure voice is clear. If it is not, then increase volume of your device by pressing volume key on your device. After over your call, tap on the finish button in the app. You can watch your recorded file in the recording section of the application. You can share your recording from here or use it later.
Part 3: Best 5 Incoming Call Recorder
1. Best Reorder - iTube Studio
iTube Studio is available for you to record your incoming. You can record incoming calls on your PC using iTube Studio. It is the best available software in the online market to record your skype calls without any problem. Even it can record videos from the videos sharing websites as well.
Key features:
iTube Studio can record your skype calls in minutes or any other chat tool calls.
iTube Studio can convert your recorded skype calls in the other formats.
iTube Studio can convert videos in more than 150+ formats.
Recording window of iTube Studio is adjustable and you can adjust frame according to your requirement.
It can record videos from online videos sharing website.
It can record high quality videos such as 1080P or 4k videos.
It also can download videos from more than 10000+ online videos websites.
It can download videos 3X faster.
It can download in batch.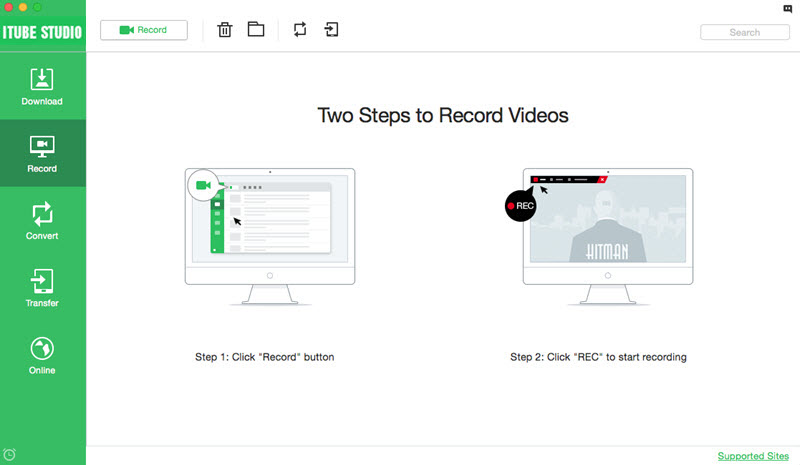 2. Free Video Call Recorder for Skype
Free video call recorder for skype can record unlimited calls without any limitation. It is the first skype video recorder in the world which allows you to record unlimited calls. This program can record both audio and video files. It is very simple to use.
Key features:
High quality audio/video recordings.
Very low CPU requirements.
You can pause recording in middle and play again later.
Record videos from live sites.
You can stop recording in any part which you don't want to record.
URL:
http://www.dvdvideosoft.com/download.htm?fname=FreeVideoCallRecorder.exe
3. Eaver recorder
When you receive any message or call on your skype, you can record it by using Eaver skype recorder. It can record your skype calls for free. You can get it from the official website of eaver or you can take trial before buying this product.
Key features:
It can capture original skype videos.
It supports single skype videos call, skype screen sharing sessions.
Save calls directly to your hard disk.
Comes with local webcam and remote webcam mode.
You can change your recorded videos to other format.
Preview while recording.
URL:
http://www.evaer.com/download.html
4. VodBurner recorder
Vodburner recorder is available for both windows and Mac. You can record your skype videos using this software. It also comes with a lot of features. It allows you to record your calls in different formats. You can record your calls in high quality by using vodburner recorder. There is no time limit to record calls while you are using vodburner Skype recorder.
Key features:
No time limit to record calls.
You can save in MP4 format or any other format so it's easy to share it with other people.
Allows you to edit your video.
Records your calls in good quality with crystal clear voice.
Adds subtitles to recorded videos.
URL:
5. SuperTintin videos recorder
Supertintin is also a good video recorder for your online conversations or chat tools like skype. It comes with a lot of features. It's easy to record skype calls or any chat tool calls using this recorder. You can record online interviews, conferences, lessons, podcasts or family voip calls using supertintin videos recorder.
Key features:
Both Audio and Video.
Easiest to Use.
Record videos in high quality.
Record video in Picture-in-Picture.
Allow you to record you videos directly to your hard drive or USB drive.
Record skype calls, Skype videos calls, msn audio chats, skype voice mail.
MSN video chats.
MSN webcam show.
URL:
http://www.supertintin.com/download.html
Part 4: Compare top 5 Incoming Call Recorder
| | iTube Studio | Free Video Call Recorder for Skype | Eaver recorder | VodBurner recorder | SuperTintin videos recorder |
| --- | --- | --- | --- | --- | --- |
| Stability | yes | Yes | No | No | Yes |
| support recording Skype video and audio | yes | Yes | No | Yes | No |
| free adjust recording window | Yes | No | No | No | No |
| Suitable for long time recording | yes | Yes | Yes | No | No |
| Convert any format after recording | Yes | Yes | Yes | No | No |
| record video and audio with high quality | yes | No | Yes | No | Yes |
| record screen | yes | No | No | No | No |
| Download video 3x faster from 10000+ online websites | Yes | No | No | No | No |