One of the Facebook's best features is its video call service. It is very useful for people like talking to their friends or family face-to-face even they are in other side of the world. But what if you want to record your unforgettable virtual moments? Unfortunately, Facebook doesn't have recording feature that comes with video chat. But luckily, there are several ways to do this. Do you want to know how? This article will tell you 6 ways how to record Facebook video calls.
Part 1. Best Way to Record Facebook Video Calls - iTube Studio
iTube Studio - Best Video Recorder and Downloader
Record any video from online websites.
Best Video Call Recorder on PC
Download videos from 10000+ video sharing sites.
Download and convert videos in one-click.
Converts videos to fast all video/audio formats.
Download videos 3X faster with task scheduler.
Download YouTube playlists & channels in Batch
Download YouTube HD videos including 1080 P and 4k
Download YouTube video to mp3 with one click.
A built-in video player to play videos.
iTube Studio is the best video calls recorder. Not only a recorder, but also it is a downloader which can download from 10000+ video sites. There is a Record on the inferface which can record video calls in one click. When you want to record facebook video calls, you just need to open facebook video calls on your computer, and click the "Record" icon to record the video calls. You can also adjust the frame of the recording screen according to your needs. What's more, you can convert the recorded calls into other 150+ formats as you like.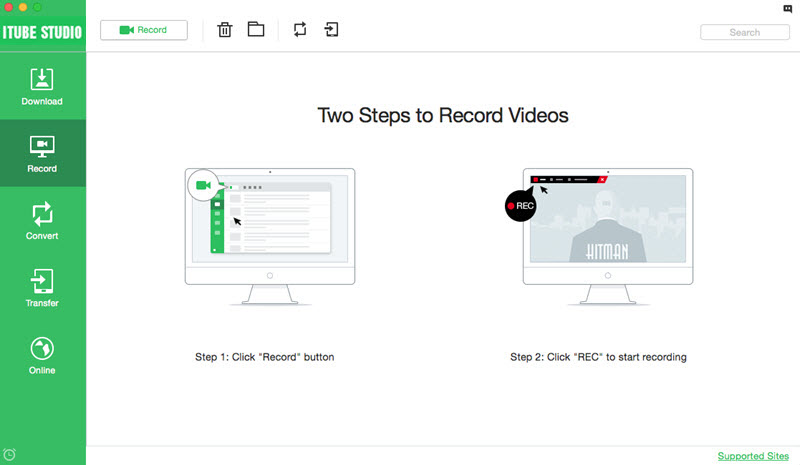 Part 2. Other Top 5 Ways to Record Facebook Video Calls
HyperCam is widely-used computer screen recorder software. This is used to record screen activities including Facebook video, the video will be saved in AVI format. It can also record audio of your conversation. This software allows you to personalize the video by adding sound, text, and notes to the video. This will allow you to choose frame rate and quality while recording the conversation. Below is the step-by-step process of how to use HyperCam.
Step 1. Download and Install HyperCam Software for Free
Just go to the download page of HyperCam and download it for free. Download should only take few minutes and then install it to your computer.
Step 2. Open the HyperCam Software
When you open the software, you will see the control buttons and customizations. From there you can choose the region, size of the window, shapes, and other options. You will also see 5 buttons at the bottom part of the window: Stop Recording button, Pause Recording button, Play Button, Defaults and Help.
Step 3. Start the Recording
Click on Play button to start recoding. The moment you click the button, the recording will automatically begin. You can now start video chatting with anyone of your Facebook friends while recording it without any interruption.
Step 4. Save the Recording
To stop and save the recording, simply go to the software again and click on Stop Recording. A Save as box will pop out and you can choose a name for your video, it will save as AVI format.
Good software for recording your Facebook video chat that you can download for free is CamStudio. It can record the full screen and sound of your computer. It saves the video as AVI format as default but you can switch is to SWF if you want. It comes with an in-built SWF maker that lets you convert the recorded AVI formatted files into SWF format files. This is mostly used for making video tutorials that are performed on the computer. To know how to use this product, follow the steps below.
Step 1. Download and Install CamStudio Software for Free
Go to http://camstudio.org/ and download the software for free. It's a quick download so it shouldn't take long to finish.
Step 2. Launch CamStudio Software
After downloading, open the software. This is very simple to use. On the upper left you will see the usual recording buttons on most recording tools, the Stop, Play, and Pause buttons. It also has other buttons such as Toggle view, Screen Annotations. And the last one is the button where you can choose to record the video as AVI file or SWF File.
Step 3. Start the Recording
Simply click on the Record button and it will start downloading the screen of your computer, by that time you can start video chatting to anyone of your Facebook friends.
Step 4. Save the Recording
If you're done with your recording, simply go back to the software and click the Stop button, the Save As box will pop out and will ask you to choose saving location and name for your file and you are done!
Camtasia Studio provides a flexible and easy to use setting and sleek process. It is good for recording Facebook video chat as well! This also gives you chance to control and edit audio easily. You don't need to use other software such as Movie Maker to make the audio sound lower or higher as audio and video can be recorded separately.
Step 1. Download and Install Camtasia Studio Software for Free
Go to http://camstudio.org/ and download the software for free. It's a quick download so it shouldn't take long to finish.
Step 2. Launch Camtasia Studio Software
When you launch Camstasia Studio software, it opens to the editor. The full screen option is selected for recording by default, and you will see green dash line along the outer boarder of the screen. This indicates that everything in the line will be recorded.
Step 3. Start the Recording
Minimize the software and go to Facebook and start video chatting with any of your friends (You can do this before starting the recording or during the recording). Maximize the software again, and on the recorded inputs box, you'll see that Audio recording is selected and webcam is off by default. Clicking the Webcam icon will enable it. Click on the "rec" button on the right corner and the recording will begin.
Step 4. Save the Recording
When you finish the call, click on the Stop button to stop the recording. After that you will be prompted with a preview of what was recorded. The Preview Window lets you to see what was recorded on your screen before saving it. After checking and everything looks okay, click the Save and Edit button and save it as any name you want.
Screencast-O-Matic is a screen recorder online. It can record video from your browser without needing to install any software. You can buy the full version for only $15 a year but you can also use the trial version that is free for 15-minute recording. Screen-o-Matic needs Java plugin in order to work. It's a good tool to use if you want to record your Facebook video chat.
Step 1. Go to the Website
Go to www.screencast-o-matic.com. Make sure you use the Safari or Mozilla Firefox browser as it requires Java plugin and doesn't work in Google Chrome. Make an account or login if you already have.
Step 2. Start the Recording
Click on the Start Recording blue button at the upper right side of the page, and it will direct you to another page and wait for it to load. It's going to take a while to finish loading completely.
Step 3. Start Facebook Video Chat
When the loading is complete, you can start Facebook video chat. Make sure that the video chat window is inside the dash line frame, you can drag it for better view. You can change the resolution depending on your preference.
Step 4. Save the Recording
When you finish the video chat and you're ready to save it, just click the red Stop button at the bottom left side of the dash frame. You will see a preview of what was recorded. When everything looks good, click the Done button.
BB FlashBack is another amazing tool that can record Facebook video chats. BB FlashBack is capable of recording screen, microphone, audio, and webcam video. You are able to convert your recorded video in SWF, FLV, and AVI file format.
Step 1. Download and Install BB FlashBack Software
Go to www.bbsoftware.co.uk to download the software. This is not for free, but you can still find some download BB FlashBack software trials for free and use for 30 days.
Step 2. Launch BB FlashBack Software
From the Welcome Screen you can record the Screen and play an old Recording. You can customize and set how you want the video recording to be or to look like. When you close the BB FlashBack Recorder, you will see that it still runs on the taskbar or the system tray.
Step 3. Start the Recording
Go to Facebook browser tab and start the Facebook Video call. Before or during the call, click the red circle button or the play button of the BB FlashBack Recorder on taskbar controls. The recording will begin and you can leave it while you are in the video chat.
Step 4. Save the Recording
When you're done with the Facebook video chat, you can now click the red rectangle button or stop button. The recording will stop and a dialog box will pop out asking if you want to save or discard the recording. If you're ready so save it, click the Save button and name it whatever you want.