Whether you are travelling to Canada or Mexico, T-Mobile has numerous ways for you to stay in touch with your loved ones. It is one of the most popular methods of making cheap calls nationally and internationally. With its simple call plan, users can avail unlimited calling to and from the U.S. to any number, including mobile phones, in Mexico and Canada. Besides, their cell phones can work on the same 4G LTE data, allowing unlimited texting and calling. Without changing the data plans, users can also enjoy the music they want from their favourite music services like Apple Music, Pandora, iHeartRadio, Rhapsody and more. It also allows Wi-Fi calling where customers can make and receive calls and texts (SMS & MMS) over a Wi-Fi connection. However, it lacks an inbuilt feature of recording the calls. Why we need to record our calls is that we can remain the important things for later use. But don't worry there are several third-party applications which can help you record T-Mobile calls easily.
Part 1: Best Way to Record T-Mobile Calls
iTube Studio is a piece of software essentially that allows you to download videos off YouTube. Moreover, it is also very useful in recording T-Mobile calls. The recorded calls are exceptionally clear while listening. This app has an excellent interface which clearly represents all the tools you require to take advantage of this program. While there are many other programs that facilitate T-Mobile call recording, iTube Studio has some more extra features that really set it apart from others.
Key features:
It facilitates audio call recording and group video call recording.
It features embedded video player.
Download videos in 3X faster speed when comparing with other programs.
Convert videos to almost every format (Include mp4 HD format).
Users can schedule the downloading using the task scheduler feature.
It allows users to download videos in batch.
iTube Studio is complete and versatile software that gives users all the functionality including recording audio calls.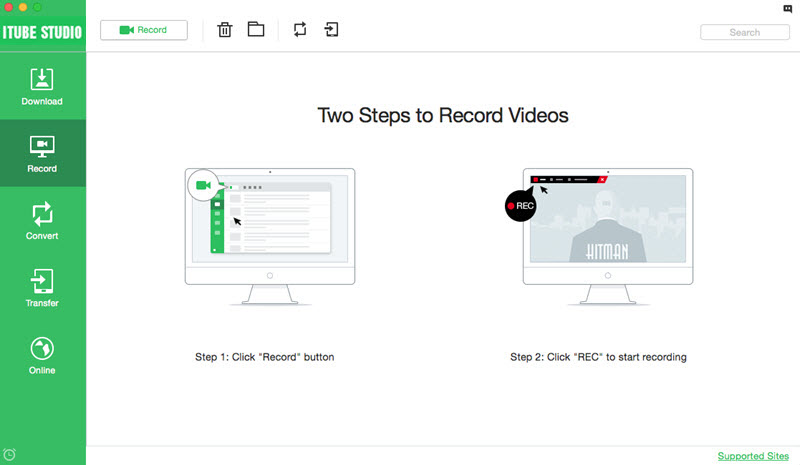 Part 2: Other T-Mobile Recorders
1. Automatic Call Recorder
Automatic call recorder allows you to record any call you want and select the calls you want to save. You can listen to the recording, add notes as well as share it. When integrated with Dropbox and Google Drive, users can save the calls directly to the cloud. All the recorded calls are of superior quality and stored in the inbox. Users can change the location of the recordings to an SD card as well. The software also allows users to enable call summary, different menus with options pop-up immediately after the call. Users can search for recordings by note, phone numbers or contact.
Link: https://play.google.com/store/apps/details?id=com.appstar.callrecorder&hl=en
Pros:
Simple User-Interface: Automatic Call recorder has user-friendly interface allowing users to record calls easily.
Records Selected Calls: Users can record only those calls they want to. The setting doesn't record all calls but only the pre-selected calls by the user.
Cons:
Sometimes, creates an echo from the other end while recording.
2. TapeACall
TapeACall is a 3-way call recorder with custom labels for recording. For just a few dollars, users can record unlimited calls for a year. It facilitates outgoing & incoming call recording, record the on-going calls and downloadable MP3s. The recorded calls can be converted into any format without compromising with the quality of the audio. Users can also share the downloaded call record with others.
Link: https://www.tapeacall.com/buy/current-deal
Pros:
Excellent interface.
Provides record immediately after the call.
No Internet access required.
Ability to share call records on social media.
Cons:
It only works if your network has the infrastructure to support three-way calling.
3. Call Recorder - Int Call
It is a top-notch application used to record any calls from anywhere. The entire call can be recorded and saved in the phone, without being saved on a third-party server. This application supports call recording nationally and internationally. It is easy to use. Once downloaded, the settings automatically start the recording. Users can play the recorded call, share via social media sites and convert it into Mp3 format.
Pros:
Simple user-interface.
Ability to share recorded calls via social media.
Saves the calls on the phone itself.
Decent audio quality.
Can record calls for a long duration without any low-key performance.
Cons:
Requires internet access to record calls.
4.Call Log Pro
Call Log Pro is a fun, simple and easy-to-use call recorder. It has ability to record outgoing calls with this application. It can work without internet access. Users can record calls for free for first two minutes. For premium usage, they need to pay few dollars. All of the recordings are saved in the call log section of the software. For the national or international calls, the audio quality of the recorded calls remains superior.
Link: https://play.google.com/store/apps/details?id=com.foiwe.calllogprodemo&hl=en
Pros:
User-friendly interface.
Allows sharing via Whatsapp and other social media.
Cons:
The recorded calls are saved on the third-party's server.
It only records outgoing calls.
Part 3: Comparison Table of 5 T-Mobile Recorders
| | iTube Studio | Automatic Call Recorder | TapeACall | Call Recorder- Int Call | Call Log Pro |
| --- | --- | --- | --- | --- | --- |
| call recording | Yes | Yes | Yes | Yes | Yes |
| Group VIDEO Calls recording | Yes | No | Yes | No | Yes |
| Recording screen sharing session | Yes | No | No | No | Yes |
| Recording VIDEO from Screen | Yes | No | No | No | Yes |
| Changeable quality for recording VIDEO | Yes | Yes | Yes | No | No |
| Convert to any format after recording | Yes | Yes | Yes | No | No |
| Embedded video player | Yes | Yes | No | No | Yes |
| Download video 3x faster from 10000+ online websites | Yes | No | No | No | No |
| Batch Download | Yes | No | No | No | No |
| Transfer video without USB cable | Yes | No | No | Yes | No |
| Custom Download Scheduler | Yes | No | No | No | No |