Recording a phone call is very important which you can use them later to retrieve information or to share them with someone. There are so many ways to record telephone calls. You can do it by using softwares or devices. In this article we are going to show you top 10 available telephone recorders in the market which can help you to record your phone calls in the best quality with different key features of every software.
Part 1: Best Recording Software for Chat Tools - iTube Studio
This is one of the best application to record calls of chat tools. The application is focused to meet all clients' needs, and gives full control of call recording. It can record calls of all chat tools which you are using on computers like skype. This is the best available application to record calls on the system without any problem. You can record your calls of skype by using iTube Studio and then convert to any other format with the iTube Studio.
Key Feature:
iTube Studio is the best available software in the market to record calls of skype or other chat tools.
iTube Studio can help you to record screen of your system with the great quality which you watching on your screen while recording.
You can record a part of your screen by using iTube Studio because recording frame of iTube Studio is adjustable according to the user requirements.
iTube Studio allows you to convert your recorded videos to any other formats after recording such as mp3, mp4, ogg, 4k etc.
iTube Studio supports more than 150+ formats to convert your videos to other formats.
iTube Studio can download videos from more than 10,000+ websites.
You can record any videos from online websites.
It supports batch download. So you can download your videos in batch.
You can download whole playlist of any website by using iTube Studio.
iTube Studio can download or record videos 3X faster than any other software.
It allows you to download videos in 3 ways. One is by pasting url, second is by download buton in the browser and third is by Record video button.
It contains task scheduler. You can download your videos later by using task scheduler.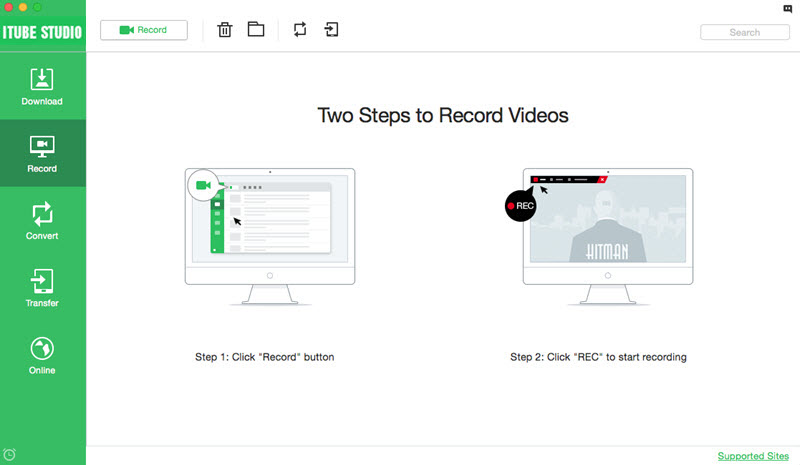 Part 2: Top 10 Telephone Recorders
1. The Olympus TP8
A call recording technique that'll work with landline or cellular telephones is to utilize an ear amplifier with the Windows Sound Recorder or Audacity. It'll get your voice and sound from your telephone, however inescapable, there will be some malfunctions as well. It is the top rating call recording device used for telephones.
LINK: http://www.getolympus.com/us/en/telephone-recording-device-tp-8.html
2. Record Your Call
It is an online based call recording service. You have to create your account online and link your number and select to record incoming or outgoing. You can recover your calling. However in the event that you need to get the recorded files, you have to provide information to the concerning place and get the files. Providing the information is likewise required for getting your recorded calls.
LINK: www.recordyourcall.co.uk
3. Ultra Disk UBS Recorder
Ultra Disk UBS Recorder is like a usb or mp4 device. It is being used nowadays for recording calls on telephones. It is much easier to use. You must connect it with your landline. After recording a call you can easily transfer your call to any device you want. It builts in "plug and play" device. Additionally, for landlines are stand-alone recorders that connect to the telephone line. Some additionally go about as voice recorders and mp4 players. It has USB association for transferring recordings to your PC.
LINK: www.ultradisk.co.uk
4. BlackOpsTM SD Digital Phone Recorder
It is to utilize a gadget that interfaces between the hand piece and base unit of the landline telephone. Some just work with sound recorder. It is used mostly because it is simple and easy to use and the voice quality recorded is very fine through this device. It works on all anallog home phones and all the handset of your office phone. It is available for records numbers dialed and caller ID in. It includes the software which lets you organize your calls and data on PC.
LINK::
http://www.amazon.com/BlackOpsTM-Digital-Phone-Recorder-Software/dp/B007V30L9Y/ref=cm_cr_arp_d_product_top?ie=UTF8
5. Audacity Call Recorder
For a cordless telephone user, your telephone has option of using a simple microphone or hand free, switching it to speakerphone and recording through your PC's mouthpiece. Obviously, some clamor will be recorded as well. Either utilize Windows' Sound Recorder or the more progressed but free Audacity. This is the best ever software used for recording. This method is the best and almost free to record calls.
LINK: http://www.audacityteam.org/
6. Altai T0-21 Call Recorder
It is to utilize a gadget that interfaces between the hand piece and base unit of a landline telephone. Some just work with sound recorder. It is used mostly because it is simple and easy to use. The recorded sound quality through this device is perfect, but the time is limited.
LINK:: www.retellrecorders.co.uk
7. RadRecorder
A telephone recorder that elements a high-limit rechargeable lithium particle battery that keeps running for 20 hours on a solitary charge. It has an exceptionally solid metal body. Safely it stores your recordings when you exchange up to 550 Hours of recordings to your PC. Highlighting 8GB limit, you can likewise utilize it as a glimmer drive to store any kind of documents. It records high quality voice with the sound recording nature of 384KBPS for 46 hrs, 192KBPS for 136 hrs, or 192KBPS marginally packed for 550 hrs. It can even record while being charged.
LINK:
http://www.amazon.com/RadRecorder-Continuous-Recording-Telephone-Activated/dp/B010R3BASK/ref=sr_1_3?ie=UTF8&qid=1460296496&sr=8-3&keywords=Digital+Phone+Recorder
8. Digital Voice Activated Recorder
This telephone recorder comes with a top notch aluminum body with a lovely shading LCD show. It feels solid and strong while being light. Helpfully fits in any palm, pocket or a tote for simple access and versatility. This recorder also contains noise reduction and an ultra sensitive microphone which means you can appreciate perfectly clear recordings even while you're up to 40ft away or to record peaceful tactful discussions. Voice Activated Recorder - Set it and overlook it. The recorder will naturally begin recording when sound is distinguished and you can record in a concealed spy style, or begin recording at a predefined time. It contains 8 gb of internal memory by which you amass to 700 HOURS of recordings without the requirement for extra memory cards. You can utilize the tremendous internal memory to store some other sort of information records. There is also option that you can use and transfer the data to PC or to Mac easily.
LINK: http://www.amazon.com/Dictopro-Microphone-Cancellation-Dictaphone-Headphones/dp/B018IMLQDG/ref=sr_1_6?ie=UTF8&qid=1460296496&sr=8-6&keywords=Digital+Phone+Recorder
9. Micro Telephone Recorder
With auto charging function, it gets a power source from the phone line,no need interface power connector without fail. Worked for home/office phone discussion recording, It builts in 8gb memory support for 200 hours voice recording. With little size with module to begin working function, it is easy to put on your home/office. Composed by Embedded lunix framework with rapid MCU which makes it stable, not like the other phone recorder need PC bolster. It just bolsters simple line phone. Introduce smaller scale SD card, then plug the phone link to line in/line out and move power switch to on to begin working, automaticlly recording every telephone calls.
LINK: http://www.amazon.com/Telephone-Recorder-telephone-charging-support/dp/B00UY7SSF8/ref=sr_1_8?ie=UTF8&qid=1460296496&sr=8-8&keywords=Digital+Phone+Recorder
10. Digital Audio Voice Recorder Dictaphone
Digital Audio Voice Recorder Dictaphone is more secure with the protection Repeater capacity from A to B. It can play music and other sound with 8GB memory limit, but free driver circle capacity. It can rehash playback between two focuses Outside speakers. It is convenient and fast to use. There are many advantages: speedier bolster and low battery shutdown.
LINK: http://www.amazon.com/Nestling%C2%AE-Rechargeable-Dictaphone-Conference-Recording/dp/B00VM5IOZK/ref=sr_1_14?ie=UTF8&qid=1460296496&sr=8-14&keywords=Digital+Phone+Recorder