Individuals around the globe are interested about the telephone calls. In the event that you are an agent then you every last call is essential, so you require the call recorders to control over the discussions. Numerous product makers create call recording programming projects which can record your telephone on your android or iPhones. In this article, we will focus on discussing the best video call recorder and top 10 video call recorders to help you record your viceo call easily. After reading through this article, it is easy for you to select one recorder appropriately!
Part 1: Best Video Call Recorder 2018
Usually when you are doing video call by using chat tools like skype, you can save this video to watch later or use later. You can record video calls using iTube Studio with few simple steps. What's more, it helps you to download or record videos from more than 10000+ online videos sharing websites. After downloading your videos, it allows you to convert to 150+ formats in just one click.
Key Features:
iTube Studio allows you to record your videos calls from any videos chat tool.
It can record any videos from online websites.
Recording frame of iTube Studio is adjustable according to the user requirement.
It allows you to convert your recorded videos in the other formats in just one click.
It can record videos in high quality.
You can download videos from more than 10000+ video sharing website using this software.
iTube Studio can download videos with 3x faster speed than any other software.
There is no need to wait to download other video. iTube Studio support batch downloads.
You can schedule your downloads in iTube Studio to download them later.
You can download videos by 3 ways using iTube Studio. By download button in the browser, by pasting URL or by record option.
How to Record Video Calls Using iTube Studio
Step1 If you want to record your videos with iTube Studio, first you need to visit official website and download iTube Studio from there. After downloading and installing it on your device, you need to open it and click on record.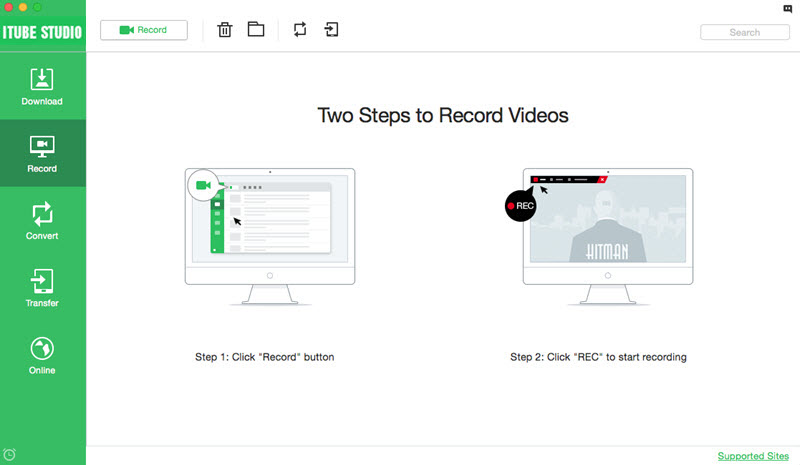 Step2 When you click on record icon, then a popup window will open. You need to open your skype after opening this popup window and then call to any of your contact or ask them to call you. After initiating call just click on REC button to start recording.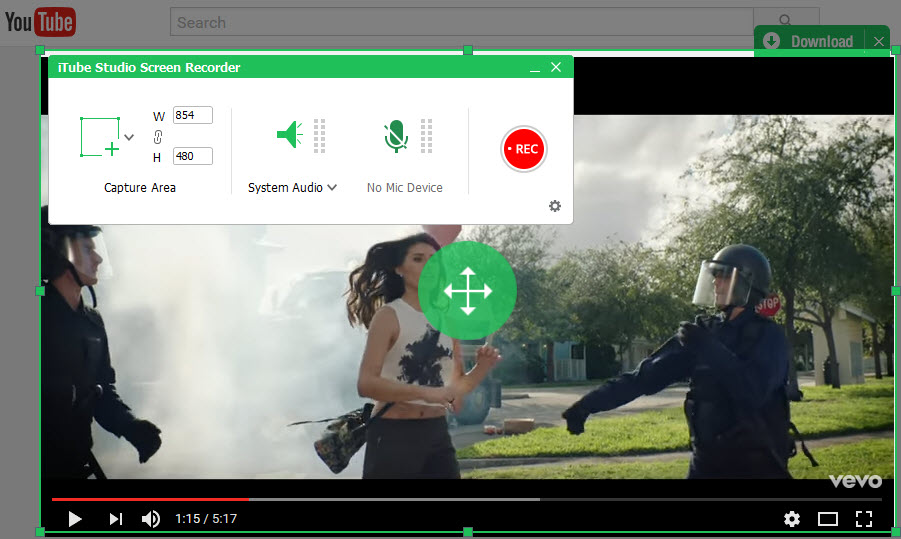 Step3 Click the "Stop" button to end the recording. You can watch your recorded video in the Record section of iTube Studio user interface. Then you can convert it to any of your desired format.
Part 2: Top 10 Video Call Recorders
1. Pamela Call Recorder
DOWNLOAD LINK: https://www.pamela.biz/shop/pamela_call_recorder
Pamela is a good call recorder in the category of recording video calls on your windows computer. This software can be used for so many purposes like personal or business. There is business version available on the official website of Pamela which allows you to record video calls for business purpose . But that is not free and you have to buy paid license of the software.
Pros
Record video real time videos.
Record audio.
Automatic save videos in your destination folder.
Conversion options for the recorded files.
Cons
Low quality video recording.
Low quality audio recording.
Limited time recording in free version.
2. Supertinin Webcam Recorder
DOWNLOAD LINK: http://www.supertintin.com/
Supertintin webcam recorder is a professional video call recorder which allows you to record Skype and other chat tools calls from your friends or family. This recorder software enables you to record calls in different modes such as only audio, only video or picture in picture or both video and audio calls. This software allows you to record calls remotely as well.
Pros
Record videos online.
Record videos offline.
Low space acquiring software.
Backup option for your recordings.
Fine quality of the recordings.
Cons
Only the default conversion options are available.
Recorded files take up much space.
You need to save the recorded files every time.
3. Skylook
DOWNLOAD LINK:>www.skylook.biz/category/recording
Skylook is a great way of recording for both audio and video Skype calls from windows computer and laptops. Skylook officially suggests that you must use headphones to record your Skype video conversations with clear voice. Skylook works on windows 7 only.
Pros
Record videos and audio files.
Add notes on your video.
Add time and date to your videos.
Editing option in the software by default.
Convert in many formats.
Cons
Record videos in low quality.
Voice quality is not fine.
Pro version in required for conversion in different formats.
4. Hot Recorder
DOWNLOAD LINK: www.hotrecorder.en.softonic.com
Hot recorder is a windows app and enables you to record audio calls on your windows computer. It allows you to record, store and add sound effects that means emotionsounds to your recording easily. This is the only audio recorder app which enables you to record audio calls from different chat tools such as yahoo messenger, firefly or Net2Phone.
Key Features:
Records VOIP calls.
Works with skype 3.0, AIM, Yahoo etc.
Recordings can be changed in other formats and total 3 formats are supported.
Pros:
Record calls from mostly all windows chat tools including Skype and yahoo messenger.
Cons:
No support to contact publisher.
It installs but does nothing sometimes.
5. Skype Auto Recorder
Skype Auto Recorder is a free recorder which allows you to record Skype calls for free. There is auto and manual recording feature available in the software and allows you to record calls very easily. This app is free of charge. Without paying a single penny you can use it for commercial or personal purpose.
Key Features:
Record calls in automatic and manual modes.
Unlimited length of record.
Possibility to increase volume of recording sound.
System-wide hot keys.
Silent work in tray with automatic connect/reconnect to Skype..
Pros
High performance recording audio.
Easy to understand controls.
Simple interface which is easy to use.



Cons
6. Callnote
This one is a perfect blend for those who have an attachment with Evernote and like to keep all notes, data and documents in their profile for easy and speedy access. The tool automatically posts all your recordings to your Evernote profile and makes it readily available on the cloud. So, you do not have to worry about carrying them wherever you go.
Key Features:
Allows you to record facebook, skype, AIM audio and videos calls.
Allows upto 30 videos to record for free.
Pros:
Easy to use.
It can record part of calls or whole conversation.
Dropbox is supported.
Cons:
Limited editing capabilities.
Only one sided recording.
7. CallGraph
CallGraph features itself as a call recording plugin for Skype and is one of the first tools that came up with such a service. It stores all files in your computer and offers an optional browser interface to upload files. Though, you can also organize and manage them using the folder settings for the tool.
Key Features:
Record video calls.
No time limit or restrictions on the recording..
Compatible with Skype 4.0.
Tagging, search, sort, filter capabilities.
Pros:
Easy to use.
Available for free to use.
Cons:
Records audio from speaker not from miscrphone..
8. MX Skype Recorder
Mx Skype recorder software is newly introduced tool to record Skype calls in the market. This recorder works with so many VoIP calls software and allows you to record audio from them for free. Automatic recording mode is there whenever you receive any call and it automatically starts recording. You save it in your computer without pressing record or stop buttons.
Key Features:
Can work in automatic or manual mode and save calls without pressing stop or record button.
Can save as WAV PCM format.
Automatically compressing to MP3/WMA formats.
Pros:
Record conversations either in single or dual audio track.
Work with PC to PC and PC to phone calls.
Cons:
This is completely spyware.
Install malware with the software.
Can't download videos.
Can't record video calls and only audio calls are supported.
9. MP3 Skype Recorder
While calling to your friends or family or clients using Skype if you are thinking to record those calls, then it is possible to do with mp3 Skype recorder software for free. This software is completely free and records all Skype call from your computer and comes with auto and manual recording modes. All the recordings are stored in convenient MP3, OGG, WMA or WAV format. The software integrates seamlessly with Skype. MP3 Skype Recorder hits all my needs for VoIP recording.
Key features
It is free with no limits attached.
Automatic or manual recording capabilities.
Compact format of stored records.
May be used to record P2P, Skype Out calls and calls made to Online number.
Can split the caller and the person called into different tracks, saving itseparately.
Easy integration with Skype Conference recording.
Intuitive easy to use interface.
Pros:
Works perfectly no spyware.
High quality recording.
Cons:
Have to restart a few times to get it in sync with Skype.
10.WireTap Studio
WireTap Studio for mac lets you record, edit, and export audio on your Mac, from a specific app like Skype or iTunes or an external microphone. You can access WireTap Studio's features directly from its streamlined controller window to record an iChat conversation. The rest of WireTap Studio's interface is reassuringly easy to use. It has a nifty feature, which allows you to record from two sources at once. However, it comes with a price tag of $69.
Key Features:
Allow you to record skype calls for mac.
Record all of your mac system audio simultaneously.
Enable you to edit audios after recording.
Pros:
Easy to use.
It can send file to itunes in just one click.
Customer service is very good.
Cons:
Not compatible with latest version of osx..