Music lovers would like to search a way to download music to MP3 directly for playback on portable devices offline. The simplest way is to directly download with the music URL. So is there any way to convert URL to MP3 directly? Here this article will share some suggestion on how to convert URL to MP3 on Mac (macOS Sierra, OS X El Capitan, Yosemite, Mavericks, Mountain Lion, Lion, and Snow Leopard) and Windows 10, 8, 7, XP , Vista.
The Best URL to MP3 Converter for Mac (El Capitan) and Windows
Actually, converting URL to MP3 can easily be done using any appropriate converter that can be found from the Internet. The only trick is to look for the programs that can perform this URL to MP3 conversion efficiently and within a limited period of time. iTube Studio for Mac (and iTube Studio for Windows) is an user-friendly and professional URL to MP3 converter, which is made to download and convert URL to MP3 from sites like YouTube, Vimeo, Break, Metacafe, MTV, CBS, Yahoo, BBC, VH1, BlipTV, WatTV, VideoBash, FunnyOrDie, The NY Times, etc. Give it a free trial now.
Why Choose This URL to MP3 Converter:
Download 10,000+ sites videos.
Batch download videos at a time.
Directly download videos to MP3.
Convert videos to any formats.
Preset videos for portable devices.
3 Ways to Download and Convert URL to MP3
iTube Studio is the easiest URL to MP3 converter in the world. It works perfectly with your web browser and convert any URL to MP3 in a few clicks. See how to download MP3 music from YouTube URL, for example. To start using iTube Studio, installing it would naturally be the first step of action. This process is a very simple one. It just involves the dragging the required file for the installation, on to the Applications folder on Mac. And then follow the below methods to download URL to MP3.
Step 1. Using the "Download MP3" Button
The simplest way is to copy the music URL, and then click the "Download MP3" button on the top of the program interface. The program will detect the music and start downloading.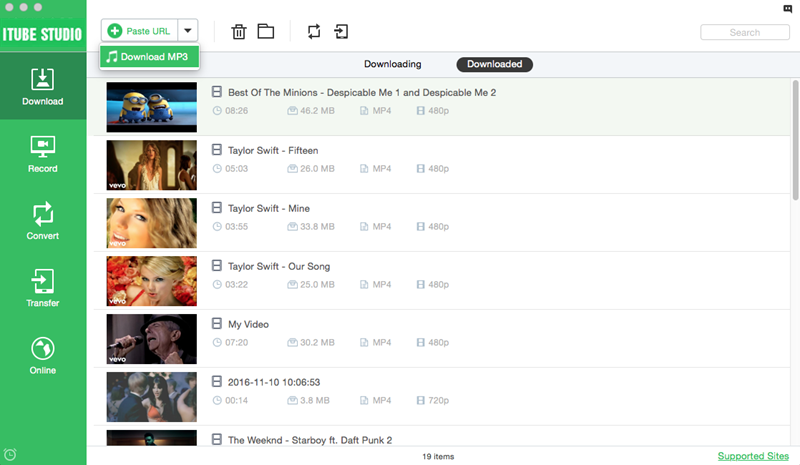 Step 2. Using "Download" Button
The second way is to open the music with the URL. And you will see a "Download" button on the music window enabled by the program. Now you can click the "Download" button and select MP3 option. It will start downloading music to MP3 format.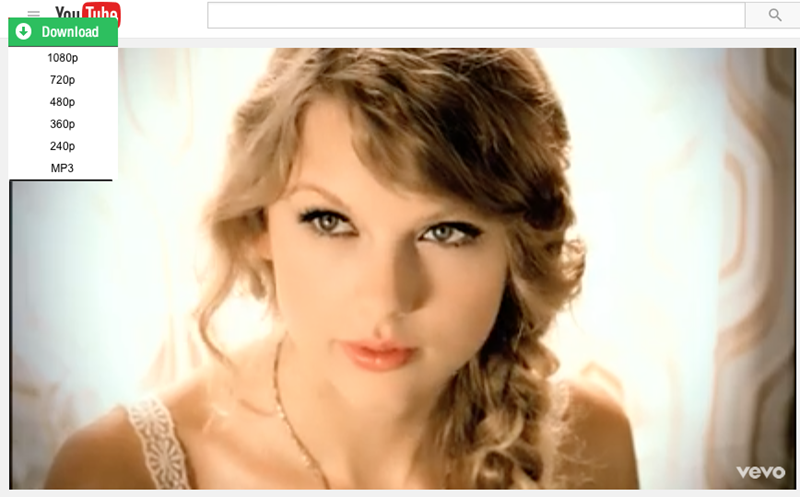 Step 3. Using "Download then Convert" Button
You can also first preset the format as MP3 and then go to the download process. To do so, enable the "Download then Convert" function and select MP3 as the output format. And then you can go to the music site to copy and paste the music URL to download it to MP3 format directly.
Video Tutorial on How to Convert URL to MP3
Learn More About URL
Want to learn a little more about URL? Read on. URL is actually the address (in the form of a textual string) that shows where on the net, a particular file is present. This means, the URL of music would enable a person to locate that specific music file on the Internet. You may not hear about it before, but every time you visit a web page, you type in a URL. It's just a synonym for an Internet address. URL is necessary whether you check your email, or surf sites.
Although online music is convenient, but it cannot be played on some devices, or you need to pay to play for another time. This is why would one want to convert the music URL to MP3. Hope this article solve your problem. Today, people's lives are on the Internet. There is hardly any person who does not look for entertainment in the form of music or videos, online. This is why people today feel the need to convert URL to MP3.