Part 1: Troubleshooting on Firefox MP4 Downloader Not Working
Do you have a collection of YouTube videos in MP4 that you want to save on devices so to access to anytime of the day? You simply don't want to go through the arduous process of accessing your YouTube videos when you go online. The best solution you can use here is to download YouTube to MP4 on Chrome, Firefox, Safari or other browsers directly. Read on and learn more.
1. If left enabled, it slowly eats up RAM making the computer slow. Typically, Firefox uses between 200k to 300k of RAM but when left running it utilizes gigabytes. This problem can be addressed by disabling this add-on when not in use.
2. Failure to download Facebook videos and other special videos such as VEVO music videos and full-length movies. The remedy to this problem is always to download the latest versions of adds-on.
3. Downloader stops downloading all over sudden on YouTube. The downloading process will start up, but the downloaded files always end to be of zero bytes. To solve this problem close the YouTube page and try to reload it and if the problem persists uninstall the current downloader and re-install it.
4. Downloader doesn't work quite correctly with your up to date Firefox version, and when you try to download videos, it closes abruptly and no file appears in the downloader window. This is a result of incompatibility of the browser version with your downloader, and, therefore, it recommends you overwrite your current version of Firefox with an older version. Also, you can still retain the current version but disable the auto-addon-update on your browser. To disable this go to your Firefox browser and on the top right corner click Open Menu icon >> Adds-ons >> Extensions >> More >> Automatic Updates >> Off.
5. Firefox MP4 Downloader is not working in other browsers other than Firefox. This can be resolved by looking for an alternative add-on since the Firefox MP4 Downloader is an add-on specifically built in for Firefox and this means it is not available or compatible with any other browser of your choice such as Google Chrome, Safari e.t.c.
Other general tips to fix your Firefox MP4 Downloader if it's not working are by restarting your Firefox or computer.
Part 2: The Best Alternative to FireFox MP4 Downloader
To fix all these problems once and for all, you need an installed software program that can download multiple video formats and files. We strongly recommend iTube Studio due to its user friendliness and perfect integration with Firefox. Once you are online on the website of your choice such as YouTube, BBC, NY Times, etc., it automatically detects videos downloads the video files. It is also compatible with Windows and Mac operating systems as it conveniently supports HTTP/RTMR/RTMPS/RTMPT.
Why Choose This Firefox MP4 Downloader Alternative :
1. Any video and audio files can be converted to a variety of formats for editing, sharing and to 3D and HD Videos.




2. It comes with an in-program browser that allows you to access quickly video sharing sites directly with no hassle. You can also add your favorite sites for quick and easy access.
3. Super-fast media files downloads and conversion with zero loss image quality for a better experience.
4. Supports presets for devices such as Android devices, Apple devices, Windows phone and games console.
5. Inbuilt media player, multiple playback modes, resume playback for managing and playing video online and an inbuilt app for screenshot capturing.
Step-by-Step Guide on How to Download YouTube MP4 Videos on Firefox
What You Will Need:
A Computer;
iTube Studio for Mac



Time Required:
Around 3 mins (Variable depending on the video file size)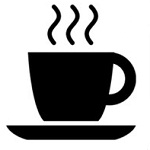 Difficulty:
Easy



Step 1: Download and Install the Program for Firefox
Download the setup program and launch the downloaded installation file on Windows or Mac computer then follow up the prompts that will guide you through the installation process of the program. Once installed, the iSkysoft FireFox MP4 Downloader will launch automatically.
Step 2: Downloading of Video Files
Launch the Firefox browser and input youtube.com on your browser address bar. Play the video of your choice and a "Download" button will appear on the top left corner of your browser ready to download. The iTube Studio FireFox Mp4 Downloader provides you with three more options for downloading:
1) You can click the "Download" button that prompts after playing the video, and it will automatically download your video.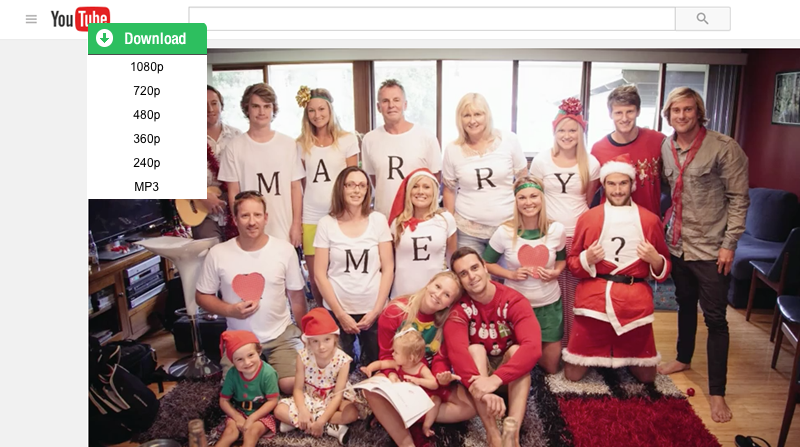 2) Copy the URL on the video web page you are playing and then click the "Paste URL" button on the main window of the application to capture the video.
This is the quick and direct way to download YouTube videos as MP4 on Chrome, Firefox and safari. With this powerful video downloader, you can also download YouTube to MP4 by dragging and dropping the video URL to the program interface. The video will be downloaded.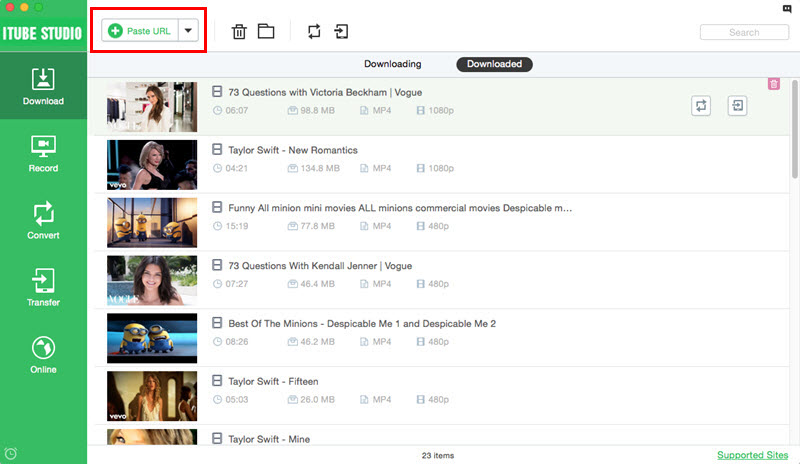 3) Highlight and Drag the URL video you are playing on your browser to the iSkysoft iTube Studio FireFox Mp4 Downloader for Mac main interface and downloading starts immediately.