Watching videos has been one of our best past times. Online videos are also very useful to students, teachers, working professionals or for anyone who wants to learn something, gather information or even kill time. It can be helpful in gathering ideas for making reports, providing tutorials and how-to guides, sharing funny and inspirational videos and more. However, watching videos online can sometimes be annoying especially if your Internet connection is too slow and buffering. So, downloading the video is the best option to make your video watching effortless and hassle-free. There are a lot of free video downloaders offered online in where you can download and convert your favorite videos faster with good quality. In this article, I'm going to share with you the top 15 MP4 downloader online for Mac, Windows, Android and iPhone. And also, I'll provide information and instructions on how to use them to help you have a better video watching experience the next time around.
Part 1. One Click MP4 Video Downloader for Mac/Windows/Android/iPhone X/8 (Plus)
Given the download speed and downloading related functions, there is no doubt that iTube Studio for Mac (or iTube Studio for Windows) would be the best MP4 video downloader for Mac and Windows. With its tranfer feature, iTube Studio could not only download online videos from 10,000+ online video sites, but also transfer those downloaded video to your iPhone, Android phones and tablets, even game consoles easily. Compared with online MP4 downloaders, iTube Studio downloads at 3X faster speed thanks to its advanced hardware technology.
Key Features of This MP4 Downloader:
Download or record MP4 video from 10,000+ online video sharing sites such as YouTube, Facebook, Vimeo, Netflix, etc.
Convert your downloaded MP4 videos into 150+ video and audio formats.
Useful features like Download then Convert, Sleep Mode to save your time during downloading.
Inbuilt video player to play and manage your downloaded video and videos from local disks.
How to Download MP4 Videos with iTube Studio
Method 1: Download MP4 Videos by Download Button
Open any browser like Safari, Chrome, switch to your videos to be downloaded, play as usual. You would be able to a Download button by the side of the player windows, click to start the automatic download wizard.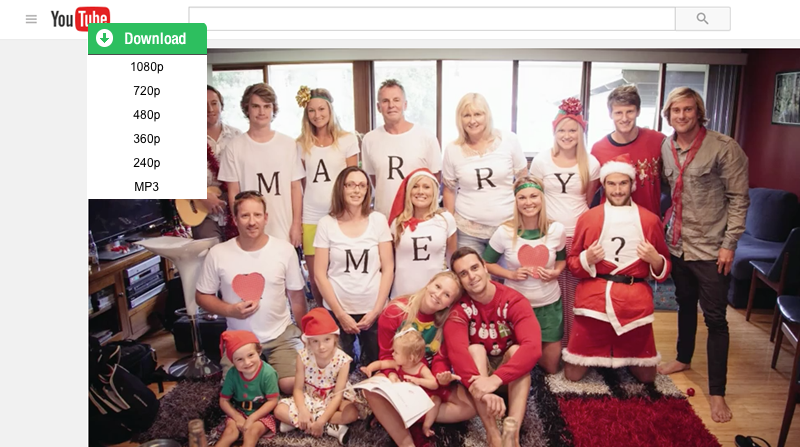 Method 2: Download MP4 Movies by Paste URL
You can also download your desired MP4 video by using the "Paste URL" button. Open your video in YouTube with any browser, and paste the URL in iTube Studio, then it will begin downloading.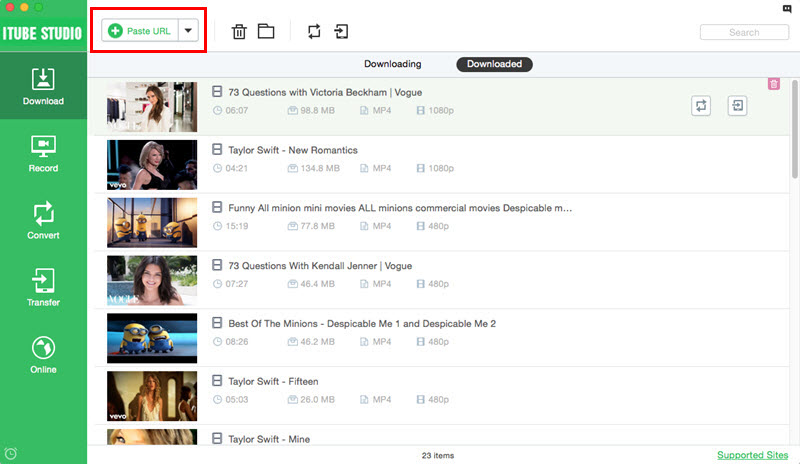 Method 3: Download MP4 Video by Recording
Another way is more convenient for you if you want to watch the YouTube video again. Before you watch the video, click Record button to set your screen capture area as you like. When the video ends, your video downloader by recording will be done the same time.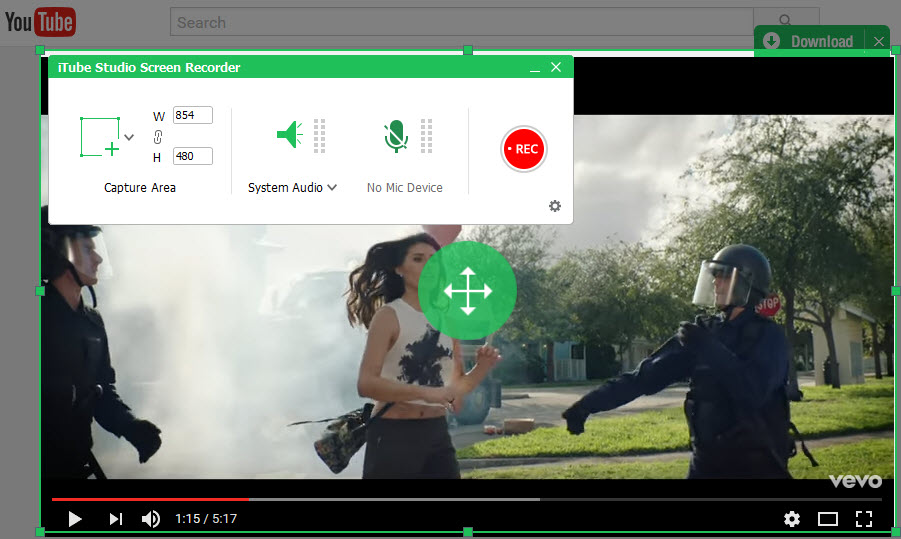 Part 2. Top 5 MP4 Downloader Online for Mac and Windows
#1. DoVideo Online Video Downloader
DoVideo Online Video Downloader is also one of the easiest video tools for downloading MP4 video online. This online downloader enables you to download videos from YouTube and other popular video sharing sites, and all you have to do is pasting the URL of the video you want to convert into the column, and then click the Download button to get the downloadable resolutions for your download.
#2. Convertfiles
The Convert.Files tool offers faster large-size conversion up to 250MB. Unlike ClipConverter.cc where you can directly download your video by clicking the download button, this tool will give you a link to where you can download your converted video. This tool also offers an option to send a download link to your email so you can easily download it again the next time without doing the same process. Convertfiles.com also supports a wide-range of file types, not only video formats (mp4, mp3, avi, mov, etc.) but also documents and images, presentations, eBook, archive and more.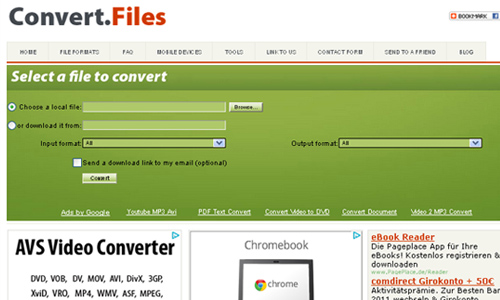 #3. ClipConverter
This is one of my favorite video recorder, downloader and converter online. This tool is very easy to use and has a faster conversion process. You can download, record or convert any videos online just by pasting your video address to the ClipConverter's media URL, then convert it to any formats you like such as MP3, MP4, AAC, MOV, 3GP and AVI. You can also choose the quality and the size of the video you're converting. Then, download it directly to your local storage.
#4. Apowersoft Free Online Video Converter
This tool is a powerful online video converter because it doesn't have any limitation for the file size. You can convert large-sized videos without worrying about the output quality. It also supports a wide-range of file formats plus you can choose the video quality up to 1080p. It is also fast and easy to operate. Some of its features are, provides high quality video output, rich functions for setting output for video or audio and no need to download the app or register.
#5. Keepvid
The last but not the least free online downloading tool is the Keepvid. Like the other online video downloader, this allows you to download videos online by simply pasting the URL of your video to the URL input box then click download. It is a player with direct connection to YouTube that supports more than 51 video sites and converts more than 8 different media formats. It also offers fast download options with HQ support.
Part 3. Top 5 MP4 Downloader Online for Android
#1. Video Grabber
This tool is the easiest way to download your videos online. This tool is designed for android mobiles to search, convert and download videos online and stored directly to your phone directory. Video grabber allows you to download online videos from several supported video sites and convert it to MP4, MP3, FLV and more file formats. This is best for android phone and windows phone in downloading YouTube Videos. All you have to do is paste the Video URL you want to download in its URL input box then click "Grab it" button to start downloading your favorite Video.
#2. ClipConverter
Savemedia is a simple, effective and straight to the point tool to download YouTube movies online. It supports the major formats like MP3, MP4, AVI, FLV and WAV. If you just want a simple and uncomplicated online tool to download a video from multiple sites on the web, including YouTube, then Savemedia can do that.
#3. Media Converter
This tool is different from the other online downloader tools, because the media converter is an add-on to Firefox Web Browser. This tool allows you to download your video faster and hassle-free. It also provides necessary file formats for your mobile devices. This tool is pretty simple. Since this is an add-on to Firefox web browser, once added to your browser, you'll see a new icon on the top of your web Browser. And if you want to download a video online, just visit the site, then notice the blue icon on the top of your browser, it turns blue if the video you choose is supported and greyed out if not. Simply click the icon and choose the file format you prefer then start download your favorite video.
#4. Online Convert
Online convert is a free online video converter and downloader suitable for your android devices. Simply copy the video URL and paste it into the URL Input box of Online Convert tool. Then you can set your video output, you can choose what file format you want, you can cut the video, change the frame rate, change the audio quality of your video and more. This tool gives you the capability to change what you want to your video and offers wide range of file formats for you to choose. Once done, enjoy watching the video on your android mobiles.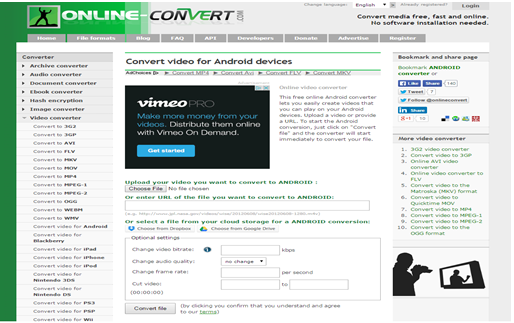 #5. Office Converter
This online application tool is also one of my favorites. It supports computers, tablets and mobile phones. You can convert various files like documents, audio, images, eBook, archive and videos. You can also choose several file formats you want. You can convert and download any video online directly to your Android phone. Simply add your URL video and click "Download and convert". Have your favorite Video download to your Android phone in an instant.
Part 4. Top 5 MP4 Downloader Online for iPhone
#1. Zamzar
Zamzar is an All-in tool where you can convert videos, music, audios, documents and images online. Like other online service application tool, to download your favorite video, copy and paste the URL into the URL Input box of Zamzar Website then select the output format. Enter your email address to where the video link will be sent for downloading.
#2. Office Converter
Office Converter is also supported by IPhone. This is a free online converter and downloader that support a wide-range file conversion. It converts your video or files faster with no software installation needed.
#3. Online YouTube
Online YouTube is the easiest online video converting tool. All you have to do is to copy the URL of the video you want to convert and download to the "YouTube Video URL" of Online YouTube application tool then press "Analysis YouTube". Select the video format your want, then press the "Start" button to start the conversion. When conversion is finished, you can now start downloading the video to your iPhone.
#4. Savefrom.net
This app is also one of the best video downloading tools. This is also the fasted and best YouTube Online Video Downloader. It gives the best quality for YouTube downloaded Videos. Paste your Video URL to the input box "Just Insert a link" then click the icon [>] to start downloading the video.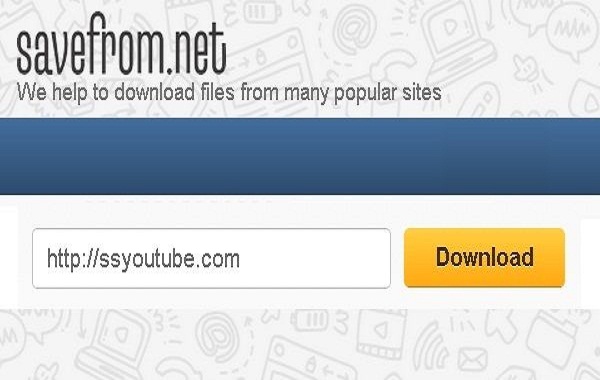 #5. CatchVideo
This online application tool offers HD video downloading. Simply enter the video URL you want to download in the input box then click "Catch" button. A different download buttons with different file formats will display under the input box, choose what file format you want then click the download button. Your video will not start downloading.