The apple's exclusive property "iTunes" is pretty much compatible with general audio formats like MP3 including several others. To check out the iTunes supported music formats, open iTunes and go to Preferences > General > Import Settings. Here, you'll be able to check out the 5 different formats that iTunes is compatible with viz. Advanced Audio Coding (AAC) Encoder (similar to MP4 format), AIFF Encoder (uncompressed audio format), Apple Lossless Encoder (apple innovation for preserving audio quality while conversion), MP3 Encoder, WAV Encoder (similar to AIFF).
Part 1. Easily Convert iTunes Music Format via iTunes Alternative
Converting music using iTunes seems a little bit difficult. Then here's another wonderful tool that will make conversion process look like a left hand job. iTube Studio for Mac (or iTube Studio for Windows) is a smart software that can download videos and MP3 files from YouTube, Facebook, and other video-sharing sites. It also can convert the downloaded or imported songs and much more. Read on to see how to convert music with iTunes alternative.
Key Features of iTube Studio:
One click download videos from 10,000+ online video sharing sites including YouTube, Facebook, Vimeo, Netflix, etc.
Convert function which allows you to convert videos to more than 150 video and audio format as you like.
Download at 3X faster speed than other video downloaders thanks to its advanced hardware technology.
Inbuilt video player to play and manage your downloaded video and videos from local disks.
How to Convert Music with iTunes Alternative
Step 1: Add Music Files to Be Converted
You can add downloaded and recorded videos to the "Convert" tab from the "Download" and "Record" tab. Or you can import your desktop videos to the "Convert" tab.
Step 2: Choose Output Format
Choose from the poping window the output format you wish, such as MP3, MP4 or mobile device directly.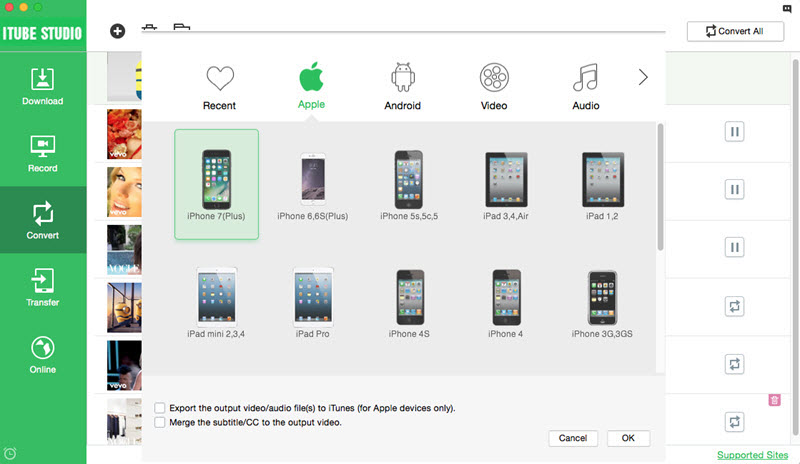 Step 3: Start the Music Conversion
When you finish the settings, click "OK" to start the conversion. After that, you can video the converted videos in the "Downloaded" tab or find them in your iTunes library.
Part 2. How to Convert iTunes Music Format Using iTunes
As explained above, iTunes can play songs in various formats. While AIFF would sit over your memory, MP3 tunes will allow you to add more stuff in the library. So, is it possible to convert the big sized AIFF to a smaller version of MP3? You may also come across situations where a WAV file is not being supported by some devices, then you may want to convert it to other acceptable format while also retaining your original WAV version.
While conversion of iTunes music format using iTunes is possible, it also deteriorates the quality of the content most of the times. Say for e.g., going from MP3 (compressed format) to AIFF (uncompressed format) may seem to be a cakewalk with no visible reduction in quality, but as you decide to switch from uncompressed to compressed, i.e. AIFF / WAV to MP3, the quality of the sound seems vulnerable. Nevertheless, here's a step-by-step guide to convert music format on iTunes.
Step 1: Start by opening your iTunes interface. Now, for Windows: Choose Edit>Preferences. And for Mac: Go to iTunes>Preferences.
Step 2: Choose "General" from the option available on the window. Then click on "Import Settings" tab seen at the lower right side of the Preferences Window.
Step 3: A window will open up. Now, click on the drop down menu next to the "Import Using" tab and choose the music format in which you want to convert your song. Say, for e.g. you want to convert a particular song to "MP3 format". Then choose "MP3 Encoder" and click "Ok" to save the changes.
Step 4: Now come back to your iTunes music library. Click on one or more songs to select, then press Right Click > Create Mp3 Version. It's converted!
Step 5: Now, both the converted and the original file will appear in your iTunes library. So, how will you verify which is which one? Simply click on the name of the song and from the options, click "Get Info". It should read as "MPEG-2" and voila! You are done!