Generally speaking, capturing video from the Internet to your local hard drive can be done with the video downloader software and video recorder software. If you want to capture videos, you will need to find a reliable video downloader or recorder which won't compromise the qualities of the video files during the downloading or recording process. In fact, you are able to capture videos with the desktop downloader, or capture videos from webcams, or even capture video from other external devices like digital cameras. Wondering how you can capture video in those situations above? Here are the solutions. Check it out.
Part 1. How to capture video with the iTube Studio
iTube Studio can help you to capture videos from the video sharing sites easily, and it enables you to get the downloaded videos with high quality. This video download also provides a video recorder which enables you to capture videos by raw recording. This part will introduce how to capture wvideos with this helpful video downloader program in detail.
Download videos from YouTube, Facebook, Vimeo, and 1000+ pupular sites.
Batch download videos like YouTube playlists & channels at High Speed
Download YouTube HD videos (even 1080p HD and 4k videos) and YouTube 3D videos.
Download YouTube high bit-rate MP3 in one-click.
Download videos 3X faster with task scheduler.
Download and convert videos in one-click.
Convert videos to 100+ formats for iPhone, android Phone and various multimedia devices.
Record any video from online websites.
A built-in video player to play videos.
How to Capture Videos with iTube Studio
Step 1 Start iTube Studio
Download and install iTube Studio on your computer, then start it. The program will show you the main interface of video downloading.
Step 2 Copy Video URL
Now go to the video sharing site like YouTube, and find the video you want to download. Then copy the video URL in the address bar.
Step 3 Paste URL and Download Video
Click the Paste URL button at the upper left corner of iTube Studio, and you'll see a pop-up dialog. Choose the video quality you need, and click the Download button to start downloading video.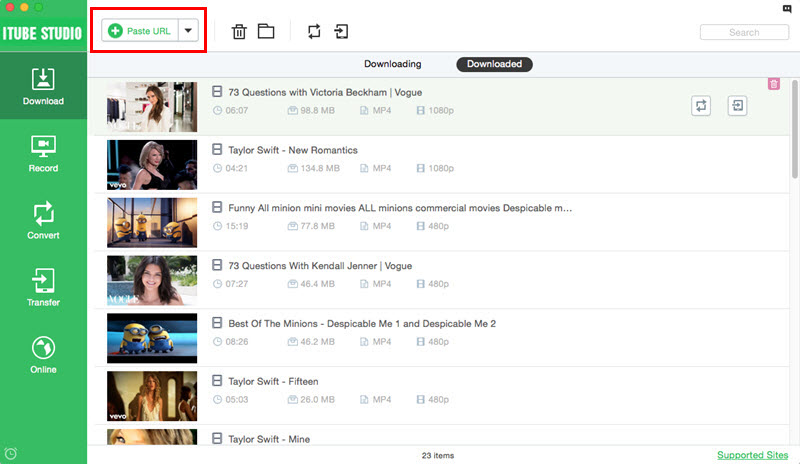 Step 4 Finish Downloading
When the downloading process is done, you are able to get the wdownloaded video in Downloaded Library.
As mentioned, iTube Studio enables you to record streaming videos with high quality. If you find the video you want but can't download it, you can try this recording feature of iTube Studio. The following guide will show you how to do that in detail.
How to Capture Video by Recoridng
Step 1 Choose Record Option
Start iTube Studio after installation. Then choose the Record option at the top middle of the main interface.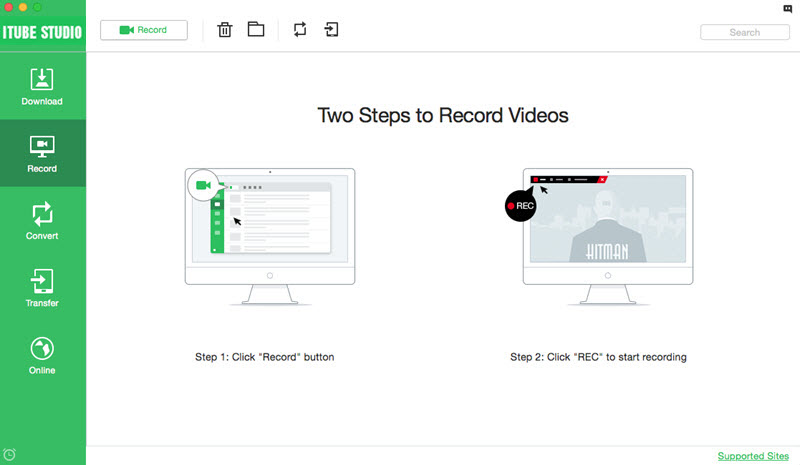 Step 2 Adjust Frame
After clicking the Record button, you'll see the frame for recording. You can adjust the frame to make it match the video screen.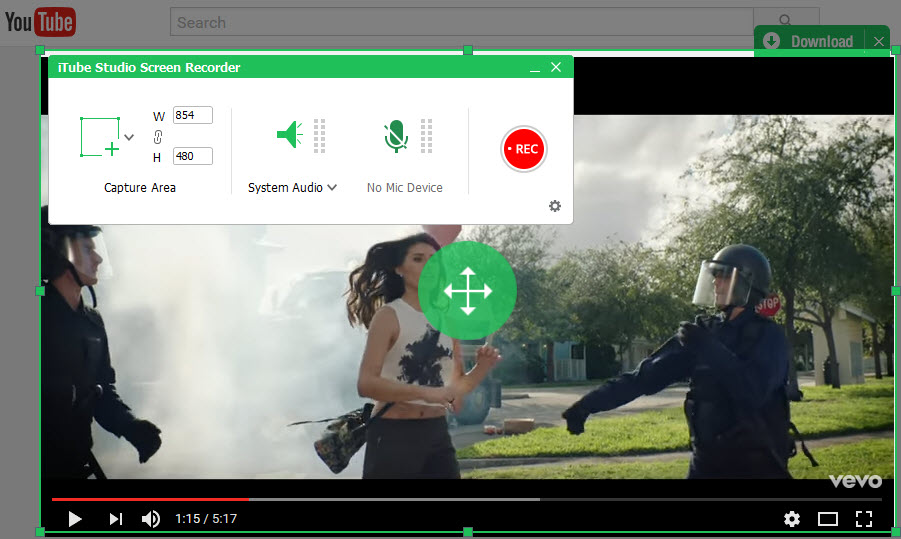 Step 3 Record Video
Click the REC button at the upper left corner of the frame to let the recorder start working. Now you can play the video and the program will record it. When the video finishes playing, you can click the Stop button to finish the recording process.
Step 4 Finsih Recording
When the recording process finishes, you'll get the recorded video in Finished category. If you want, you can click the Convert button beside the video to convert it for you mobile devices.
Part 2. How to Capture Video from Your Desktop
<
Sometimes when you intend to make some video tutorials on how to use a certain program on a computer, you might need to capture video from the desktop. Wondershare DemoCreator is the right tool that you will need.
A recommended tool to capture video from desktop - Wondershare DemoCreator
Wondershare DemoCreator enables you to record video from desktop to make video tutorials and capture onscreen activities to publish as a video. Then you can share the video on YouTube. You can even edit the demos with a lot of options.
How to Capture Video from Desktop with Wondershare DemoCreator
First of all, you'll need to download and install Wondershare DemoCreator on your computer. Then you can check out the simple guide to learn how to capture video from desktop with this Democreator. Here is a summary of the simple steps.
Step 1. Select the recording area and audio.
Step 2. Start to record from desktop.
Step 3. Save the recorded file.
Part 3. How to Capture Video from Webcam
You don't need to spend any money on capturing video from webcam. Windows Movie Maker is a built-in video recorder embedded in your Windows OS, and it enables you to capture video from webcam easily.
Key Features of Windows Movie Maker
Combine videos and photos
Easy to record and edit videos
Share your videos to social networking sites like youtube and Facebook
Steps to Capture Video from Webcam
Let's check the detailed steps how to capture videos from webcam with Windows Movie Maker.
Step 1. If you are using an external camera, you should first make sure that it is plugged into a USB port. Then adjust the volume of your computer to its maximum and launch Windows Movie Maker to get ready.
Step 2. After you have opened Windows Movie Maker, go to the Home tab menu and click Webcam Video. Click the red Record button on the top left to start capture video.
Step 3. Click the blue Stop button and a window will prompt for you to save the video file to My Videos. You can preview the video and add some effects to it.
Step 4. After several adjustments, you have finished your work. Click Save movie and choose the resolution you want. And then upload the video to YouTube or Facebook.
Part 4. How to Capture Video from Webcam
The External devices we are talking about in this part include digital video camera, digital camcorder and so on. You can finish the task easily without installing any other third-party program.
All you need is your camera and a cable!
Steps to Capture Video from External Devices
The following guide will show you how to capture videos from external devices in detail.
Step 1. Connect your camera to the computer via a USB cable. Remember that you should turn the camera on and set it to record mode. When a video import wizard appears, name the video you are about to shoot and click Browse to select a folder for saving the video file.
Step 2. Select a format you want. The video can be saved to AVI and WMV files. Choose whatever you prefer then click Next.
Step 3. Find the Start Video Import button to start capture video from the external device. Make sure that you are right far away from the camera so that it can take you in. Click Stop Video Import to pause the capturing and click Finish to have the capturing done. Then you can check the files in the previously set folder.
Conclusion: We have listed all the possible solutions for you to capture videos with ease. Among all the solutions, iTube Studio can be regarded as the best choice for you to capture videos, thanks to its powerful features. If you are interested in this program, you can free download it to have a try.