Google Chrome is an advanced browser and it is very popular. However, it has some setbacks but because it is a sophisticated browser. The problems are easy to fix. Below are 10 common problems that you may experience when using Google Chrome and the best solutions to solve them.
Part 1. Common Issues and Solutions to Chrome Not Working
Problem 1: Can't Uninstall Chrome
Sometimes you may want to uninstall chrome because it is not working properly. But when you try to do this, the browser refuses to uninstall. The solution to this problem is to use Revo uninstaller. Below are the steps to uninstall chrome using Revo uninstaller so that you can reinstall it.
Solution:
Step 1. The first step is to download an uninstaller like Revo and after the download is complete install it in your system. When you do this, you will be prompted to a window that has all the programs that have been installed. You will do this by double clicking on the Chrome icon.
Step 2. Once you do this, you will be prompted to the uninstaller's window and there you will be given three options which are safe, moderate as well as advanced. Choose the desired option then you are going to be advanced to the normal uninstaller of chrome while Revo is still behind. In this step you uninstall and once it is complete you are going to be redirected back to Revo.
Step 3. When this is done, click scan for you to continue. After the scan you will see a message that says that there are no leftovers files that have been found. Click Finish, once you do this you will have completed the task.
Problem 2: Chrome Keeps Crashing
When this happens there is a problem on the system. This problem is caused by a number of issues, which are: conflicting software, malware, Flash crashes, corrupted profile and system file problems. Below is the solution to this problem.
Solution:
Step 1. Check for Conflicting Software. Normally Chrome has a hidden page and that page tells users if there is any software in the system that conflicts with the browser. To access the page you type "chrome://conflicts" into the address bar and then press enter. If you find conflicting software, you can disable it, update it to the latest version or uninstall it.
Step 2. Scan for Malware. Use antivirus software to scan for malware. If your computer has any malware the antivirus is going to detect it and remove it.
Step 3. Solve Flash Crashes. Flash plugin can cause Chrome to crash, this has been seen in some cases. If this happens, disable the Internal Flash and then use the standard Flash that is in Chrome.
Step 4. Switch to a New Profile. If you have a corrupted profile change to a new one and do not copy any files from the other profile because they might too be corrupted.
Step 5. Fix System File Problem. Run the SFC.EXE /SCANNOW program, it will help you check for problems and fix them.
Problem 3: Chrome Not Responding
Sometimes Chrome freezes and when this happens you get the Google chrome not responding message. This problem might be because of the changes that you had recently made to your computer. You should ask yourself if the problem occurs when you are using other browsers or if the problem takes place when you open particular websites. Below is the solution to solving this problem:
Solution:
Step 1. Delete Your Cache. The first step is to delete your cache as well as other browser data. The data includes downloading and browsing history.
Step 2. Place Your Computer in Clean Boot Mode. Clean boot mode is very helpful when it comes to checking for third party application. It also helps to identify start up items that could be causing the issue.
Step 3. Perform a full scan. Do this using the Microsoft safety scanner. If you find a file that has been infected clean by deleting that particular file entirely.
Problem 4: Chrome Hijacked
After downloading something that you really want, it can be a game, screen saver or something else. There are sometimes that whatever you have downloaded comes with a program that hijacks Chrome settings. It is a common problem, what you are supposed to do is reset Chrome's settings. Below are steps that will be of great help.
Solution:
Step 1. Click on the Menu. The menu is located on the browser tool bar. Click it open the menu and select Settings.
Step 2. Click on Show Advanced Settings. When you do this you are going to find the section of reset browser settings. What you do is to click on that button.
Step 3. Reset. There is a dialog that is going to appear. When this happens, click on Reset. Always have in mind that by reporting the setting, you are able to analyze trends as well as prevent unwanted settings changes in future.
Problem 5: Chrome Redirect Virus
This virus negatively affects chrome and it is dangerous. Chrome redirect virus initiates serious havoc by redirecting users when they are searching. When searching you are redirected to another page that is unrelated to what you are looking for. To solve this problem you can use TDSSKiller. Below are steps that will help you get rid of the problem.
Solution:
Step 1. Download and Run TDSSKiller. The first step is to download TDSSKiller. Double click on the TDSSKiller file to run it. When you do this, the program is going to initialize and this enables you to scan your computer.
Step 2. Scan Your System. You will be able to do this by clicking on start scan. When you click on start scan TDSSKiller is going to search your system.
Step 3. Cure the Problem. In this step TDSSKiller cures the problem and after it is done you should reboot the computer. This will ensure that the infection has been completely removed from your system.
Note: Always have in mind that by reporting the setting, you are able to analyze trends as well as prevent unwanted settings changes in future.
Problem 6: Google Chrome Won't Load Pages
This problem occurs when Google Chrome does not load pages. The problem can be brought about by problems with the Internet connection or the browser, it is good to first find out what is causing this problem before you start to tackle it.
Solution:
Step 1. Check on the Internet Connection. Do this by loading different sites in the browser. Try upgrading your adapter or resetting the network router to solve this problem, if it is still persists contact your service provider.
Step 2. Clean the Cookies. From the settings page clean the cache as well as the cookies that have been stored by Chrome.
Step 3. Remove Faulty Extensions and Add-ons. If faulty extensions as well as add-ons run on top of the browser, its functionality is affect and this leads to Google chrome not loading pages. Disable the add-ons and extensions one by one and each time restart Chrome.
Step 4. Update Third Party Software. I there is a software that is blocking chrome; you should update the program to the latest version so that it does not prevents Chrome from accessing the web.
Problem 7: YouTube Not Working on Chrome
If you try to play YouTube videos and you realize that they are not playing on Chrome, then there is a problem. The good news is that there is nothing to worry because the problem can be fixed. When you are experiencing this problem, normally where the video is supposed to play a black box is showed. Below is why to solve this problem and enjoy your YouTube videos on Chrome.
Solution:
Step 1. Change the Firewall Settings. Computer firewalls might block YouTube videos and this prevents them from playing. What you are supposed to do is to adjust the Firewall settings and list www.youtube.com as a trusted site.
Step 2. Pop-up Blocking Software or Disable Ad Temporarily. Check if you have pop-up blocking software or ad, they might be blocking YouTube. If you find them you disable them temporarily. Once you do this, the problem will be solved.
Problem 8: Google Chrome Not Working
Sometimes Google Chrome stops working and when you try to load a page you get a message that says unable to access the network. When this happens you do not have to worry all you have to do is follow the steps below to fix the problem.
Solution:
Step 1. Restart Your Computer. The cause of the problem could be that the computer has just encountered a glitch that is making chrome not to work.
Step 2. Uninstall and Re-install Chrome. This will repair any damages and files that have been corrupted. Once you do this, you will be allowing your computer to be able read files faster as well as better.
Step 3. Remove Extensions. Extensions are not good when it comes to speed and functionality. By removing them Google chrome is able to work better.
Step 4. Disable plug-ins. Plug-ins might bog down Chrome, if there are some plug-ins that you are not using it is good to disable them. For you do be able to disable them you type about:plugins into Chrome. This is going to direct you to "chrome://plugins". Once you get there disable all the plug-ins that you do not use.
Problem 9: Chrome Stops Working
You might be using Chrome nicely but all of a sudden it stops working and when you try to restart it keeps crashing. Below is how to go about the problem.
Solution:
Step 1. Go to Windows Key + R (Run). Once you are there type msconfig on the box and click on OK.
Step 2. Click on the Service Tab. When you click on the service tab, go ahead and disable all the Google update services.
Step 3. Click Apply & OK. When you do this you will have to restart your computer so that the changes can be applied. However, before you restart, make sure that you have saved any open files as well close all the programs. After you have restarted your computer Chrome will work just like it used to.
Problem 10: How to Remove Babylon Search from Chrome
The Babylon search toolbar is a browser hijacker. It is annoying because it takes control of the browser and when you perform a search you are directed to Babylon search. Below is what to do for you to be able to solve the problem.
Solution:
Step 1. Uninstall the Babylon Software. You uninstall using the control panel. First quit the application and then open up the uninstall programs application. Once you get there you uninstall anything that has a name related to Babylon.
Step 2. Remove the Toolbar. Do this from each browser, click on the wrench icon, which is next to the address bar.
Step 3. Remove the Homepage. Babylon toolbar overwrites the default homepage. It does this with its own URLs; you will be required to reset the homepage after you have uninstalled the toolbar and software.
Part 2. Recommendation on Watching Chrome Videos When Chrome Not Working
If you are fan of online videos, the Chrome not working problem will be rather annoying. Here we recommend the best Chrome video downloader for offline playback. iTube Studio Video Downloader is a powerful software that functions as a video converter and downloader. It offers a no-sweat and hassle free way of downloading your favorite videos from YouTube, Vimeo, Hulu, etc. Furthermore, it is 100% free to download YouTube videos. With this video downloader, you can download YouTube 4K UHD videos to your computer and watch them without ads. It is also a video manager with which it is easy to play and manage your own FLV/MP4/WebM videos.
Key Features of YouTube Chrome Video Downloader:
It allows you to download free YouTube videos 3X faster.
It supports downloading all videos in a YouTube playlist, channel, or category.
It provides you with settings like Shutdown, Sleep or Exit Program.
It has a built-in HD media player that lets you play downloaded video without installing a third-party player.
How to Download YouTube HD Videos for Free
What You Will Need:
A Computer;
iTube Studio for Mac
Time Required:
Very fast (Variable depending on the video file size)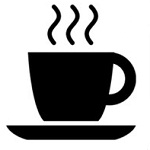 Difficulty:
Easy
Step1: Download and Install the Video Downloader
Once downloaded, install the software on your PC. The installation is simple. You just need to follow the introduction to finish the installation.
Step2: Download Online Videos From Any Video Site
After the installation, run the program and get ready to download your video. There are two ways for you to download free videos.
Option 1. Download Button. Once you hang your mouse over the video player as you are playing a video, the Download button will appear at the top right of the video. Just click it and the video will be downloaded automatically.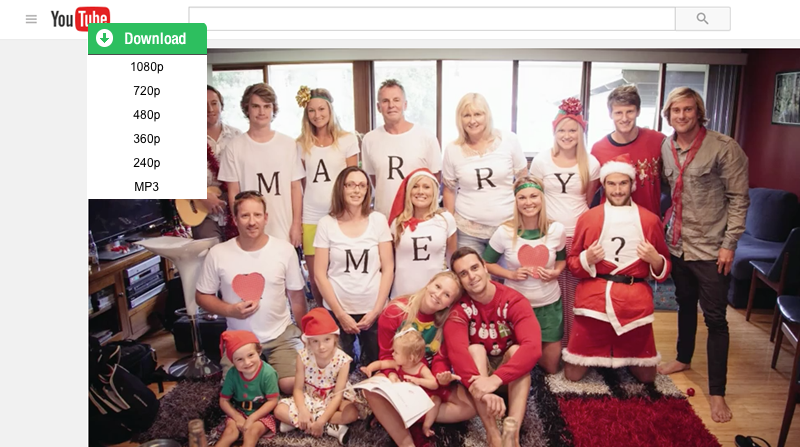 Option 2. Paste URL. Have your HD videos ready in your browser. If you have different videos, you can open them in different tabs so that you can access them easily.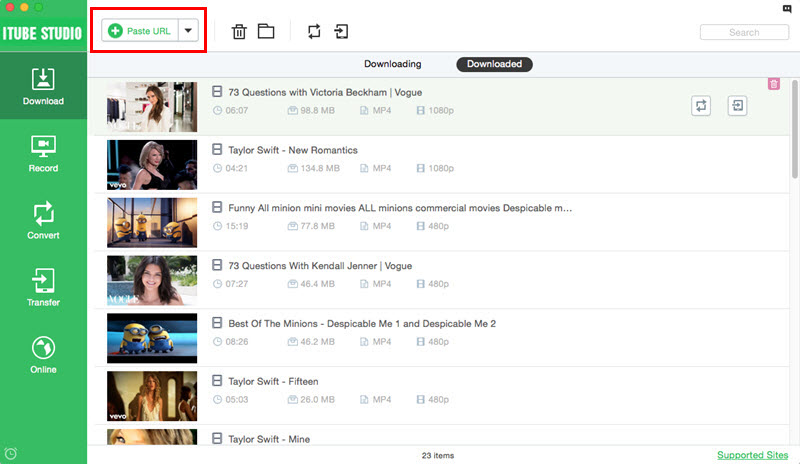 Option 3. Record Video. You can use "Record video" button to open the recording screen that you can set to the video or full-screen and begin recording.