Funny videos are a great way of keeping yourself little bit free form this stress life and enjoy for a moment. Funny videos are made to day on so many topics like funny comedy TV shows where anchors are there to do fun. Custom created videos by other users by using mobile and shared on video sites these videos are there which are created by normally a mobile user. Die videos are also very famous over internet today to watch them online on different ways of die. So there are so many die and fun videos available on videos sharing sites like YouTube or dailymotion or other sites. but mostly users can find out these videos over funnyordie.com website. These sites provide users to watch these types of videos easily and quickly. But only viewing is possible users not able to download them to watch offline. But don't worry just read this guide you will get ways to download funny and die videos easily and quickly from these sites.
Part 1: Best Way to Download Funny or Die Video
All lover of funny or die video knows very well about the funny or die website and like the videos shared on this site so much. Dieorvideo.com is a funny and die video sharing site provide so many videos but this site don't allow users to download offline. To solve this problem iTube Studio is there which the best way to download funny is or die videos easily with one click only. iTube can download funny videos from YouTube, funnyordie or other 10000 video sharing sites. if you don't want to download then just record them using its recording frame.
Key Features of iTube Studio:
Download videos from funny or die video website and other 10000+ sites in just one click legally including porn sites as well.
Record online videos using recording function as well.
iTube Studio can download videos for you in more than 150+ formats just one click by selecting output format while downloading.
Download funny or die videos in batch by adding videos together without any limitation on the number of adding videos.
Download funny or die videos three time faster speed than any other downloader software.
Record videos very easily with an adjustable frame.
iTube Studio helps you to download HD funnyordie videos easily.
How to download funny or die video using iTube Studio
Step 1 Users have to download this simple and easy to use software first on their computer or mac devices. Chose right version from the website and install it on your computer. Once it is installed you are free to download funny or die videos from 10000+ sites.
Step 2 Now you need to find the video. Users can find funny or die videos on YouTube as well but we are going to download form the official funny or die website. Go to the website and find out videos. Now copy the URL of videos.
Step 3 Now go to iTube Studio interface and click on Paste URL option. When you click on the paste URL option then your video will automatically start downloading. That's it now you don't have to do anything. You can find your videos in the finished tab after finishing.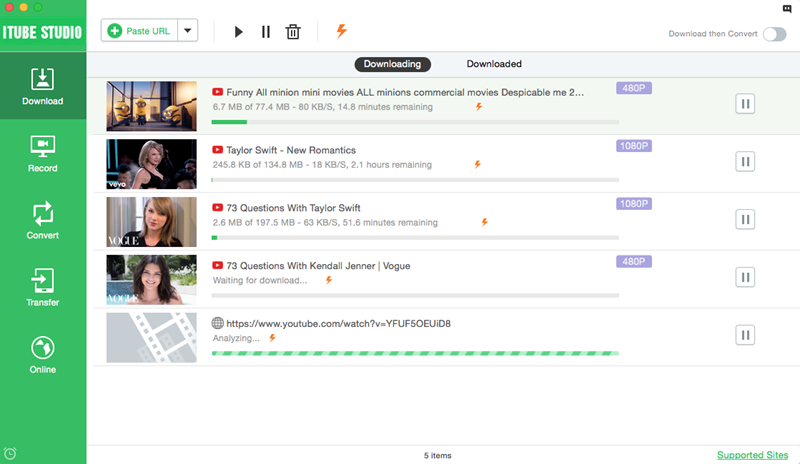 Part 2: Record Funny or Die Video You Want
Now we are going to tell you about recording funny or die videos easily with iTube Studio. Recording way is very simple and great to record online videos or computer screen as well. There are some things you must know before downloading funny or die videos using iTube Studio recording way.
Pros:
• Recording way is able to record anything over internet with an adjustable frame of iTube Studio.
• Record way allows users to record computer screen and chat tools videos calls.
• Recording way allows you to record videos with fast speed. You can record whatever you are doing on your computer.
• Recording way is able to record full screen videos as well by clicking on full screen.
Cons:
• You have to keep frame on the computer video tab while playing videos.
• How to record funnyordie video with iTube Studio
Step 1 First of all users have to launch iTube Studio interface and then on the home there is an Record Video option available. Click on this option to start recording.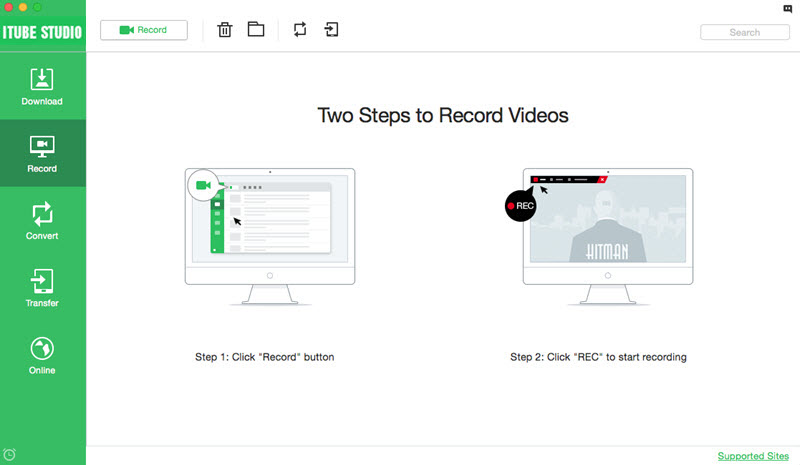 Step 2 Now you will see a red dotted square frame after clicking on the record button. Now go to funnyordie.com Adjust recording frame now by dragging is according to the video length and height. Click on Rec button in the left top corner or frame after playing videos. Your recording is started now.
Step 3 Once your videos is over or played upto your requirement click on Stop button which is there now in place of Rec button.
Step 4 Finished, you video is downloaded in the iTube Studio interface now. It is automatically saved when you clicked on Stop button in the previous step. Just go in the Record section of iTube Studio. Here all downloaded videos are available now.
Part 3: Background knowledge you need to know about Funny or Die
Funny or die video sharing site is an online funny and die video sharing sites which share so many different types of funny or die videos. Users can find out videos by refining their search by popular videos, exclusive, the feed or the best of the web. There are so many videos you will see by searching with keywords as well. There are videos available on the celebrities as well. These videos can't be downloaded directly users can download them using iTube Studio software for free.