Compared to the general video, HD video is more popular by users. They want to download HD video offline and play it on mobile devices or on TV. HD video is more worth saving. But how to download HD video easily? We will be learning and understanding through this article that how can we download a HD/1080p/ 4K videos quickly and in an easy way which will be easily understood by everyone.
Part 1: How to download/ convert video to HD format?
iTube Studio is software where one can easily download videos with high resolution and with fast guaranteed download Speed. Often people try to find softwares which can support various formats and resolution and also availability of videos that can be downloaded. iTube Studio supports video formats of HD, 1080p, and 4k clarity videos. iTube Studio provides a trial version and also paid version with numerous amenities.
iTube Studio can download videos from over 10,000 different video sharing sites including major ones such as YouTube, Dailymotion, Hulu and many more. iTube Studio video downloader is simply excellent including even certain excellent number of bonus features for the user.
Key Features of iTube Studio:
iTube Studio provides access for downloading videos from over 10,000 sites.
Downloading a number of channels as well as playlists is possible.
Conversion of Videos to any format popular such as MP3 and MP4 is also possible.
The person can record an online video through iTube Studio.
It allows merging of HD Audio and Video Files automatically.
It acts as a site for downloading subtitles also.
For downloaded and converted videos, managing and playing can be done effectively.
Videos having different resolutions along with high quality can be downloaded through iTube Studio.
Using iTube Studio, the user can manage their videos in a systematic and orderly way.
While using iTube Studio, the user is also allowed importing any local MP4 and FLV videos to the library for managing and conversion.
iTube Studio enables the user to download a number of videos in batch from a number of online streaming sites which are popular among people.
A number of live TV shows can also be recorded by the user through iTube Studio.
For downloading the videos selected by the user, 7 options of video resolution are available; 2160P, 1440P, 1080P, 720P, 480P, 360P, 240P.
Any video which is downloaded by the user can be converted in the video formats they desire so that they can save space on their devices.
When more than one video is downloading then the user doesn't need to wait until all the videos have been downloaded. iTube Studio provides three different options for doing so namely; Auto Shutdown Mode, Exit Program Mode or Sleep Mode as per the preference of the user.
How to download videos from different websites to the PC
Step 1 Download and launch iTube Studio, There are two methods which are offered by iTube Studio which can download the user's videos they prefer at any time. For this the mentioned steps need to be followed appropriately by the user.
Step 2 First the user should launch the browser and then they can access the video they desire. Finding the video the user wishes to download and copying the link:
Step 3 On the iTube Studio's "Download" Interface, click on the "+ Paste URL".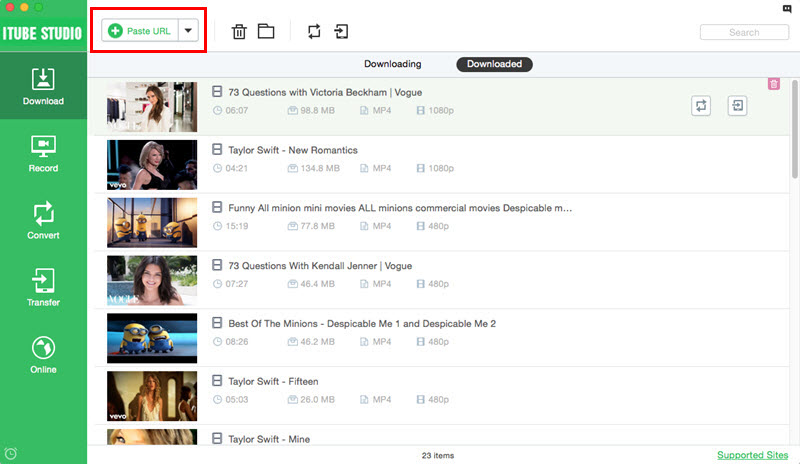 Step 4 As soon as the user clicks on the "+ Paste URL" button, the downloading of the video will start automatically.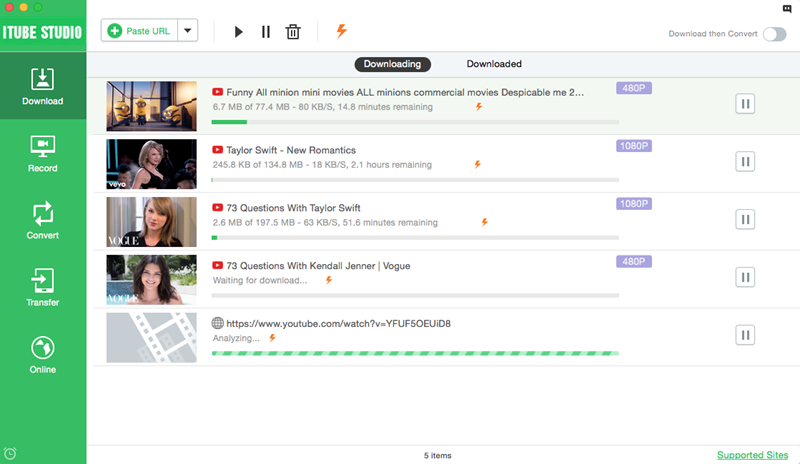 Step 5 On the left side of the screen, the list of all the downloaded videos will be shown. So the user should click on the "Downloaded" menu, if you want convert the video to other HD video format, just click the Convert button, select the HD video format for mobile devices or TV, just few minutes the conversion will be finished.
Tips: If you want to download only HD video, you can set the default video resolution: Click the "Main Menu" on the upper right corner > Preferences > select the hd video resolution you want.
Method 2: Download Video with Download Button
On iTube Studio, once the user plays a video then a download button automatically appears in the upper right hand side corner of the screen of the user. If the user wants to download that video, them they can click on the download button and the download procedure begins. The greatest attribute that iTube Studio has is for selecting the resolution type the user wishes before downloading.
Part 2: Knowledge you need to know about HD/1080p/4K formats
1. HD Video Formats:
HD Videos are such formats having a higher video resolution and greater in quality than an ordinary standard definition format. In general, an HD Video contains 480 or 576 horizontal scan lines. It makes the viewing experience a lot better for the individual.
2. 1080p Video Formats:
1080p Video formats have HDTV modes which consist of 1080 horizontal scan lines. This is a much greater resolution than a standard as well as an HD video format. Such video formats contain a resolution of 2.1 megapixels. In the market such videos are considered as FULL HD. With such a high viewing experience, such video formats improve the picture quality of a normal video and benefits the user.
3. 4K Video Formats:
Videos of a 4K Format have an even greater horizontal resolution of 4,000 pixels and vertical resolution of 2,000 pixels. Such resolutions are mainly seen in digital television as well as digital cinematography. The viewing experience of such a video is greater than an ordinary standard definition, a HD format and even a 1080p format. Such a format is expected to be taken over by a number of people later on in the future for improving their viewing experience.
So, today we learnt various methods of downloading HD/1080p/4K video easily.