"Is there any way for me to download Hulu videos, series and episodes for free?" Hulu users might always look for ways to download Hulu videos for offline playback, since Hulu is a monthly subscribe site and does not allow to download. Even online Hulu downloader, VLC Player and StreamTransport do not work on Hulu download due to the protocol that Hulu uses. But no worry! This article will help you to download videos from Hulu with ease.
The Best Hulu Video Downloader for Mac (10.12) and PC
To download Hulu video easily and quickly, you can use iSkysoft iTube Studio for Mac (or iSkysoft iTube Studio for Windows). It is a new fabulous software for recording Hulu movies and videos on your Mac (macOS Sierra) and Windows PC. In addition to Hulu, it lets you download videos from thousands of sites like YouTube, Facebook, Vimeo, Vevo, Instagram, and more. With it, you can also save YouTube videos to MP3 or get the whole YouTube playlist or channel with one single click.
Why Choose This Hulu Downloader:
Download and record videos from Hulu, Netflix, YouTube Facebook, Vimeo and 10,000+ sites in 1 click.
Batch download Hulu videos at one time and 1 click download YouTube playlist and Lynda playlist.
Convert video to any video and audio format. Preset for iPhone, iPad, iPod, Android and other devices.
Directly download YouTube to MP3 and extract audio from video in high quality.
How to Record Videos from Hulu on Mac (10.12 macOS Sierra)
iTube Studio allows you to download Hulu videos easily by recording. With the record video feature, you can get Hulu video with original quality. Follow the below guide to record Hulu videos now.
Step 1. Run iSkysoft Hulu Video Downloader
After you download this Hulu downloader on your Mac. Launch the program. And you will go to the main interface. Open the "Record" menu and then click "Record" on the main interface to open the video recording window.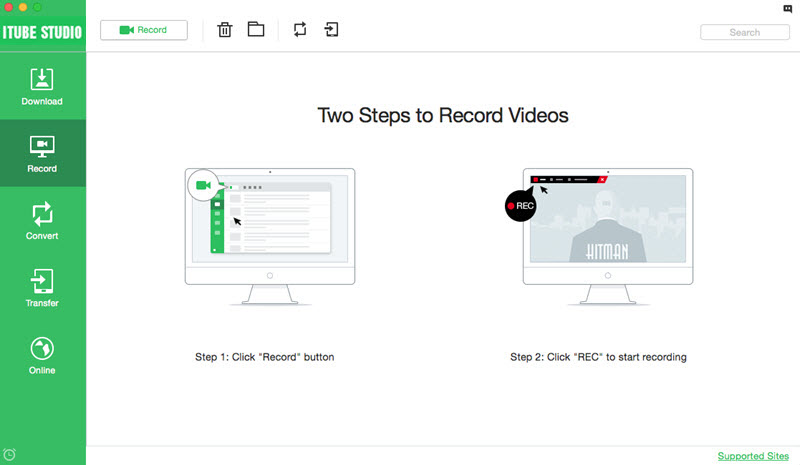 Step 2. Start recording Hulu videos on Mac
Now go to Hulu site to find the video you want. Next play the video and click the "REC" button to start recording the video. You are able to set the screen and resolution and stop recording anytime you want.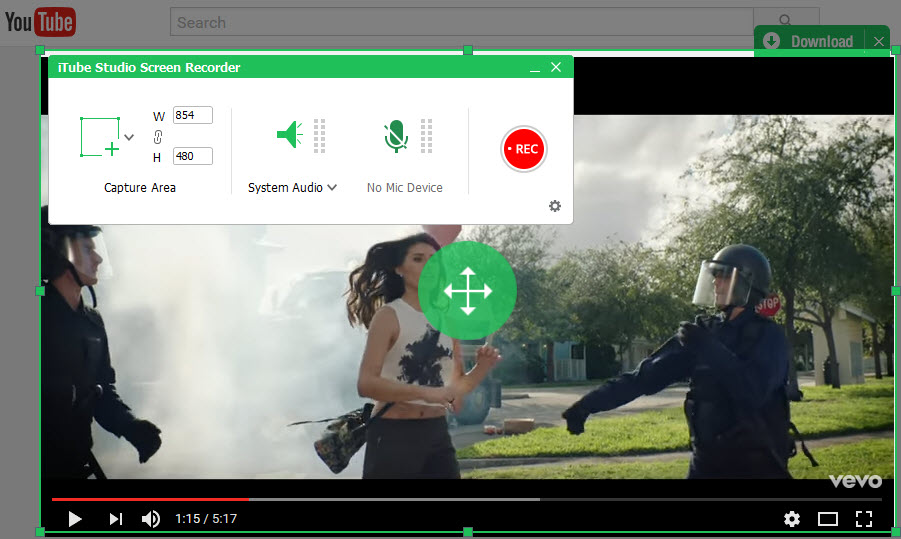 Step 3. Download Hulu videos to MP4
If you want to convert Hulu videos to MP4, just go to the "Recorded" tab to select the recorded videos and import them to the "Convert" menu. And then open the "Convert" menu and click "Convert" button to select MP4 as the output format. And then click "OK" to start the conversion.
How to Download Hulu Video on Windows
It's very easy to install iTube Studio for Windows, the best Hulu recorder for Windows (Windows 10 Included). When you install it, a wizard will guide you through the installation process. iTube Studio will automatically launch after the setup is finished. (Note: You can also use it to record videos on Hulu Plus as well.)
Step 1. Download Videos on Hulu by Recording
You can download Hulu videos by using the "Record Video" button from iTube Studio to record the Hulu videos. To do so, click the "Record Video" button and you will get the video recording window. Now open the Hulu video you want and click "REC" to start downloading Hulu videos.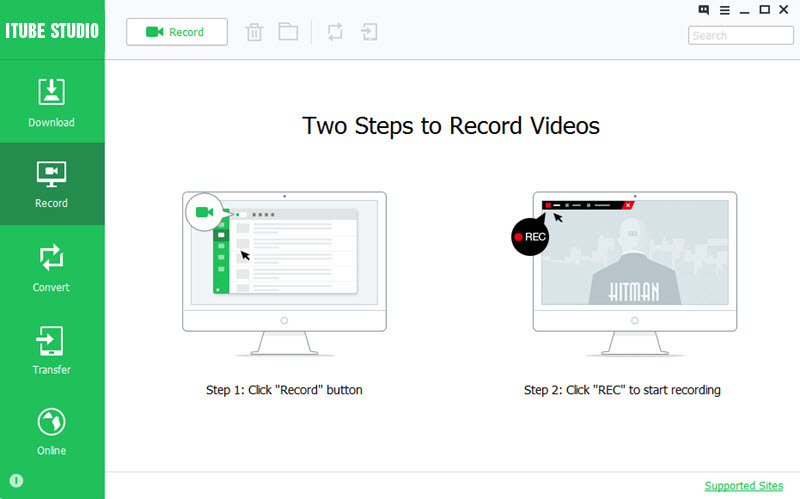 Step 2. Convert Hulu Videos (Optional)
The videos will be listed under the "Recorded" tab. If you want to watch it with the built in video player, you can double click on the video thumbnail to play it. If you want to convert the video to other video or audio format, you can first add the videos to the "Convert" menu. And in the "Convert" menu click the "Convert" button next to the video. Then the window for output format will be activated. Choose an ideal format or select your devices from the offered presets, then click "OK" to start conversion.
Tricks for Skipping Hulu Ads While Watching Movies
Hulu like many other online video streaming website is advertisement supported. Unlike YouTube, one cannot skip the advertisement on a movie or TV show. Before the actual video starts to play, you will have to watch a short ad clip from one of Hulu's many sponsors. Although there is no option provided by Hulu to skip the advertisement, you can still skip it using a trick that involves your computer mouse.
#1. How to Skip the Starting Ads
Click on a video and wait for the advertisement to start. Once the ad starts playing, hit the 'Pause' button. Now if you are on a fairly good internet connection, you will notice that the seek bar on the bottom will completely become solid grey in color in a few seconds. This means that the whole advertisement clip has loaded.
Now that the advertisement has completely loaded, you can simply click on the end of the timeline/seek-bar so that only the last few seconds of the advertisement will play and you can start watching your program.
#2. How to Skip an Ad during the Middle of a Program
Having an advertisement pop-up while you are watching your favorite movie/TV show can be quite annoying. When the advertisement starts to play, click on the timeline such that you will find yourself watching the scenes that you already watched.
For instance, if an advertisement starts to play when you are at 00:05:30 (5 minutes and 30 seconds), jump back to 00:02:30 (2 minutes and 30 seconds). Now click the part of the timeline immediately after the ad to skip the advertisement.
Tips to Stream Videos on Hulu
Hulu is a great site for finding full-length and high quality movies and TV shows. This site features both current and classic TV episodes, movies, and clips about anything that you want. The content found there is original web content and of high quality. There are several ways that you can improve your experience on Hulu. Here are some of the simple tips on Hulu to help you get the most out of this fantastic site.
Subscribe to Hulu Plus
If you want to get access to everything that Hulu offers, you have to subscribe to Hulu Plus for only $7.99 per month. This is a subscription service that was started by Hulu in 2010 to enable users watch even more full seasons of network shows and even on their TV sets at home via an internet device or HDMI connection. Since the company partnered with major movie studios including Fox, you can be sure to watch all your favorite shows which are always updated within 24 hours or less.
How to find what you want on Hulu
There are many ways that you can use Hulu to find all these multimedia. It is well organized and puts everything in place. Hulu's advanced search helps you refine your search results thus making it very easy for you to find what you are looking for. You can choose to either:
1. Browse for specific channels
2. Click on what's new or most popular links
3. Choose to see full length movies and episodes or just clips
4. Search by name or actor
Load your Queue with your favorite TV shows
Once you have got what you are looking for, it is advisable to load up your queue with your favorite TV shows. When you have set up your Queue and Favorites list, it will be easier for you to navigate to them thus cutting down the time you would have used searching.
Set alerts for expiring and favorite shows
Even after setting up your favorites list, you can still further set alerts for those that are updated and those that are expiring from the top of your queue list. When you do this, all updates about new episodes added and those expired will be timely sent to you.