Many a time you like a video and think of downloading the video and storing it as MP3, but you fail to do so. We find many interesting videos on Metacafe which is actually a repository of all kinds of videos. But downloading the Metacafe videos and storing them as MP3 requires some tools. It is very important to be equipped with the proper tools to be able to download the Metacafe videos or convert the videos to MP3. There are so many downloaders and converters in the market, but don't know which one is better. Here are some of the tools which can be used while downloading/converting Metacafe videos to MP3.
Part 1. Download/Convert Metacafe Videos to MP3
There are various tools in the market but downloading/converting Metacafe videos requires a comprehensive tool which can download and convert Metacafe videos to MP3 directly. Most of the tools don't have options to directly convert Metacafe videos to MP3. Even it is an added advantage if the downloaders also have built in converter which can convert videos after they are downloaded. But this is one feature which most of the tools do not have. iTube Studio with all these features stands out among all which makes it a universal and unique program to go for.
Downloading/Converting videos is easier using iTube Studio. iTube Studio is a comprehensive tool which can be used to download/convert Metacafe videos. There are two ways to download Metacafe videos with iTube Studio. You can download then convert the Metacafe video into Mp3 at the same time, or you donwlod the Metacafe video first, then convert the downloaded Metacafe video. iTube Studio allows downloading videos of any resolution and convert to MP3 using the internal converter. iTube Studio allows downloading and converting videos in batch and one by one as well.
Key Features of iTube Studio:
iTube Studio supports more than 10,000 websites such as YouTube, Metacafe, Vimeo.
Videos can be downloaded in Batch.
In built-in browser, you can search and download videos.
It can convert videos into 150+ formats.
Supports multiple options to download videos.
iTube Studio can record videos if download is not possible.
iTube Studio is a comprehensive tool and is compatible with many popular players.
iTube Studio supports fast downloading and it has multithreading accelerator which can download with 3X faster speed.
iTube Studio is equipped with built in video player which can play videos after they are downloaded.
iTube Studio can download Metacafe videos directly. If you need to download Metacafe videos, then there are few simple steps that can be followed. While iTube Studio also offers another way of converting the videos to MP3, please check the downloading way below.
1. Downloading Metacafe videos to MP3 directly
Using this method in iTube Studio, videos can be directly downloaded and converted at one go. Here is a step by step guide for you to download and convert videos to MP3 in one click. Download videos and convert them directly in just one click with iTube Studio.
Step 1 On the top right corner of the iTube Studio interface, toggle on "Download then Convert". This will show up a list of formats to choose from for the desired output format. Selecting a particular format will convert the video to that format automatically after downloading the video.
Select the "Download" option on top and past the URL for the video to be downloaded in "Download then Convert" mode. Here you can select Mp3.
Step 2 Go to any browser and choose the videos to download. Copy the URL of the video page.
Step 3 After copying the URL, come to iTube Studio window and click "+ Paste URL" as shown in the image below. The download will automatically start after clicking on the button "+Paste URL".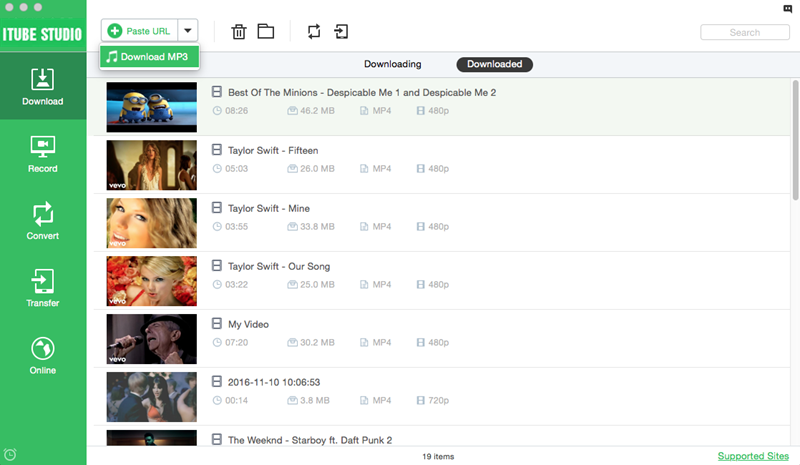 Step 4 You don't need to do anything. After the video is downloaded, it can be converted to MP3 automatically. You can find the MP3 in Downloaded library.
2. Downloading Metacafe videos and then converting to MP3
This is another way videos from Metacafe which can be downloaded and converted to MP3. While this does not convert the videos directly and automatically after downloading, it still does the job. Here are the steps to follow to download videos and then convert the videos to MP3.
After the desired video is downloaded or recorded, the video can be converted using the built in converter of iTube Studio. This helps in converting the videos to any format which is compatible with all kinds of devices. The program supports formats like MP4, AVI, 3GP2, 3GP, MOV, WMV, etc.
Step 1 After you download the Metacafe, you can find it on Downloaded Part. If your Metacafe videos on your computer, you can also import it into iTube Studio.
Step 2 You will find a Convert button on the right side of the video. Click on it and select the format you like. Choose Audio > MP3 to convert the Metacafe downloaded videos to MP3. The conversion will start soon after the format is selected. You will find the converted Metacafe on Convert section.
Part 2. Online Way to Download Metacafe Videos to MP3
Metacafe is a repository of great video collections. There are various software and applications based downloaders and converters to download Metacafe videos and then convert them to suitable format. Downloading Metacafe videos in MP3 is also possible using such applications and software tools, but Metacafe video downloader is an online tool that can serve the same purpose and download Metacafevideos directly in MP3 format.
Metacafe videos to MP3 Online Downloader
Metacafe videos can be downloaded in MP3 format directly online. Metacafe video downloader can download any Metacafe videos to MP3 directly. What it requires is copying the video page URL and pasting the URL in the URL text box and clicking the "Download MP3" button. This is an online tool which can download Metacafe videos in MP3 and it also supports downloading videos in high definition MP4 format.
URL: http://www.downloadvideosfrom.com/Metacafe.php#DownloadButtonsLine
The above URL takes you to the online downloader page which can be used to download mp3.
The white box present in the above image is where the URL is to be copied. The video can be directly searched here as well. After pasting the URL, click the format to download the video in that particular format, such as MP3.
Part 3. Background Knowledge You Need to Know about Metacafe Videos
Metacafe is a video sharing website with lots of movies, video games, music, TV and sports. Over the years, Metacafe has evolved with some content providers such as major video game publishers, movie studios, etc. Now, Metacafe provides videos from all segments with the most popular and trending ones showing up on the dashboard. It was a platform like YouTube before but with gradual reforms, it has shaped up to become a unique website. According to some recent surveys, the overall data consumption in Metacafe has increased with more users coming in.