OneDrive is the cloud storage service from Microsoft. OneDrive used to go by the name SkyDrive before it was renamed due to a lawsuit. Users can upload files and other personal files on OneDrive. Even windows settings and bit locker recovery keys can be stored on OneDrive. New users get 5GB of free storage space which can be upgraded with subscriptions. OneDrive is easily accessible through a web browser, mobile app or Windows, and Mac computer application. Yes, you can download files from OneDrive to your Mac or PC like in the case of Google Drive and other cloud storage services.
Part 1. Free Download Files from a Sharing Link of OneDrive
When talking about downloading files from OneDrive, you can find any tools on the internet. But iTube Studio Best Video Downloader (or iTube Studio Video Downloader for Windows) is the best when it comes to downloading files from OneDrive. iTube Studio does not only supports download from OneDrive but other cloud storages like Google Drive, Dropbox, etc. You can install iTube Studio on both Windows and Mac PC and start downloading media files from OneDrive. Mostly downloading tools are required when you want to download large files like videos instead of documents. With iTube Studio, you can download Videos and other media files from OneDrive easily.
Not just from cloud storages, iTube Studio is the best downloading tool to download online videos. It supports downloading from over YouTube and other sites at 3 times faster speed than other tools. You can even record online videos or convert them to audio format with just a single click operation.
iTube Studio - Easily Download Media Files from OneDrive with URL
Support direct downloads from YouTube and other 10,000+ video streaming sites like Yahoo, Vimeo, Hulu, Facebook, etc.
Transfer downloaded media files directly to iOS and Android devices, even convert your files to iPhone and Android device and software supported format.
Download and convert multiple videos at once. To download multiple files at once, just paste the URL or files in the downloader tray.
Convert downloaded videos to MP3 or another format easily with the convert feature of this OneDrive media file downloader.
You can even download videos in a variety of resolutions like 360p, 480p, 720, 1080p, 4K or UHD 4K etc.
Record online videos from any online video page or live sessions, even from those unable to download sites.
Private Mode allows you to keep your files safe from unauthorized users by making a protected download folder.
Download media files from OneDrive with iTube Studio
Step 1: Run this OneDrive file downloader on your Mac or PC
Run the iTube Studio media downloader after installation. Click on Download at the top of options convert, transfer, record, online on the left sidebar.
Step 2: Copy the shareable link from OneDrive
Now login to your OneDrive account and select the files that you want to download. Click on Share button at the top and then on "Get a link" on the popup menu. It will generate a shareable link for the files. Copy the link and then at iTube Studio's download page click on "Paste URL". This OneDrive downloader will automatically paste the copied URL.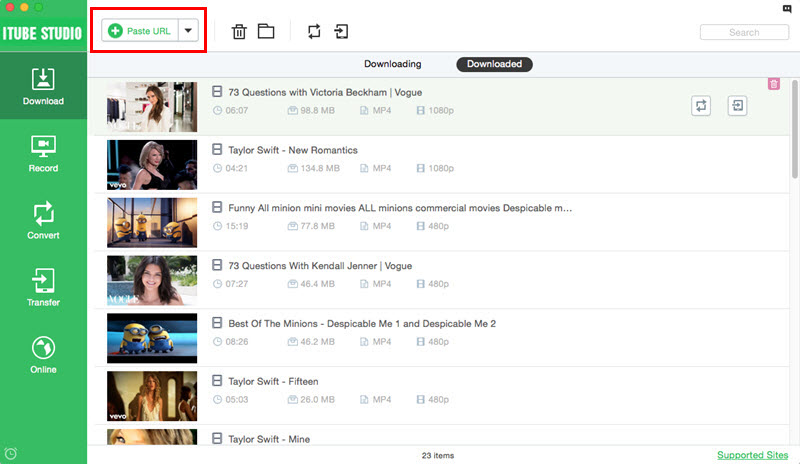 Step 3: Download media files from OneDrive
Click on Download and it will begin the download process. When the download is finished, you can play the downloaded files with the Media player plug-in of iTube Studio. Or you can go to the destination download folder and play the files with the media player of your choice. You can even share it with others.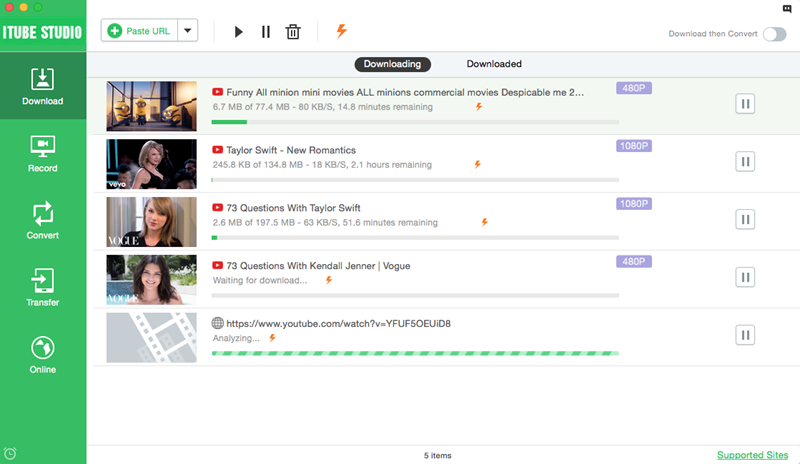 Video Tutorial on How to Download Online Media Files
Part 2. Part 2. How to Download Files from One Drive Directly
OneDrive like any other cloud storage service allows users to upload their files and folders to make a backup of the files. You can also download the files and folders that you store on OneDrive easily. You can either download files one by one or you can also download the entire folder as a compressed zip file. Follow the steps to download files from OneDrive to Mac and Windows PC.
Step 1: Sign in to OneDrive
First, you need to log in to your OneDrive account using your email and password. Visit the OneDrive and click Sign in. Enter your Microsoft ID and password and click "Sign in". The account that you use for OneDrive can be same to the one you use for Microsoft's others services and apps.
Step 2: Select files to download
Now when you have successfully logged in your OneDrive account, click on "Files" in the left sidebar to open the list of files stored on your OneDrive. Now check the ones that you want to download. If the files that you want to download are in a folder, open the folder and then select the files.
Step 3: Download files from OneDrive
After you are finished selecting the files to download, click on the download button displayed at the top. Alternatively, you can right-click on the selected files and click Download on the popup menu. When you download one file, the files are downloaded s it is but then you download multiple files, they will be compiled in a zip file first before downloading.
Cloud Storages such as OneDrive are a good way to backup your important files and documents safe in one place. You can easily retrieve the saved files easily by logging in to your OneDrive account and downloading them as you have learned in the previous section. You can store pictures, audios files, videos, compressed files and documents on over the OneDrive cloud storage. But downloading directly from cloud storage can be a very slow process. So you would need a downloader to download files faster from cloud storage such as OneDrive. iTube Studio Best Video Downloader will always be your ultimate choice!