Photobucket is a media storing and sharing site, offering a place to keep backups of all your photos and videos and ensure those precious memories are never lost. Once uploaded, you can share them to your friends and family via Facebook, Twitter and other social media. Downloading Photobucket videos can be extremely useful, rather than streaming your friends or families' videos each time you wish to view them, you can have them on your hard drive and watch them whenever you want.
Part 1. How to Download Photobucket Videos on Mac
The best tool available for downloading videos from Photobucket is iTube Studio, an easy to use software package that comes with a wealth of features that produce the best results. With an easy workflow for downloading from Photobucket or any of over 1000 other streaming sites, as well as comprehensive conversion features than ensures that whatever video you download can be turned into the perfect format for the device you want to watch it on. With download acceleration to ensure you get your videos quickly and smoothly, and the ability to handle videos in up to 4K resolution, it offers the solution to all your video downloading tasks.
How to Download a Video from Photobucket on Mac
Whilst it has a wealth of features, iTube Studio is incredibly easy to use, to download videos from Photobucket and convert them into a format to suit your mobile device takes just a few steps, as described below.
What You Will Need:
A Computer;
iTube Studio for Mac/Windows
Time Required:
Around 3 mins (Variable depending on the video file size)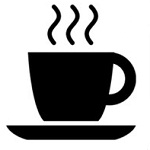 Difficulty:
Easy
Step 1. Start the Photobucket Download
Open your browser and navigate to the Photobucket video you wish to download. When you play the video, you will find iTube Studio for Mac has placed a Download button right inside your browser.
Step 2. 2 Options to download Photobucket video
Option 1. Press the Download icon which has already appeared on the top left corner of the video.
Option 2. Copy the video URL and click the Paste URL button in the primary window of iTube Studio.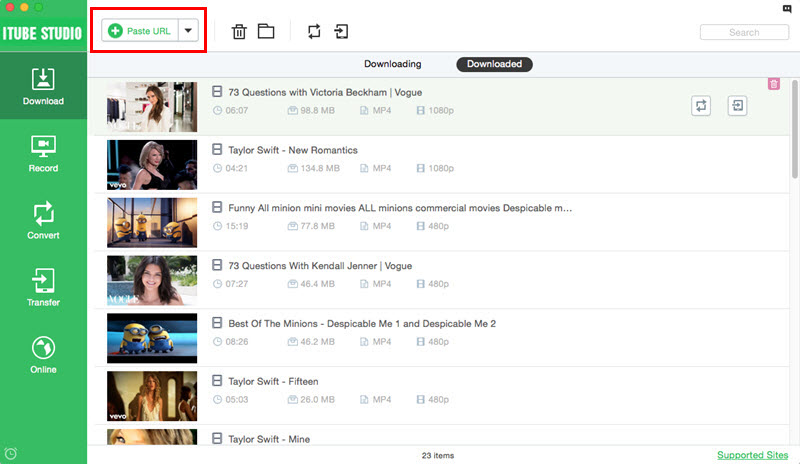 Step 3. Convert the Downloaded Photobucket Videos (Optional)
Once downloaded, you can find the video under the Convert tab. If you want to enjoy the downloaded videos right now, you can double click the video to play with the built-in player. You might also like to watch them on your portable devices, like phones, iPod, PSP and so on. You can do that by converting the downloaded Photobucket videos into other formats. Just switch to the Downloaded tab on the left and click the Convert button on the right of each downloaded. A window will show up for you to choose the output format and make settings. When everything is done, click "OK" to go.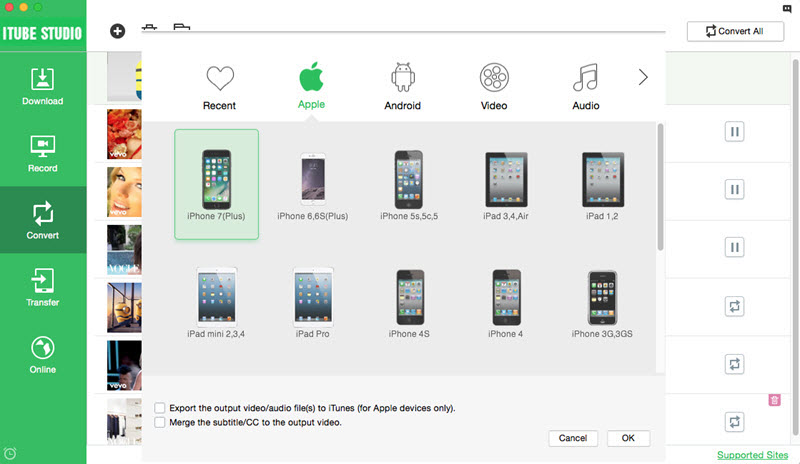 Part 2. Introduce Top 3 Websites like Photobucket
Photobucket is not the only option for you for photo and video backups, there are some alternatives to Photobucket as we outline here.
#1. Flickr
Flickr is part pf Yahoo, and represents a great alternative to Photobucket, although tends to be focused a little more towards the photography enthusiast, it also includes the ability to share photos, print and build contacts. Learn how to download videos from Flickr >>
#2. Imgur
This site is primarily focused on sharing, with a gallery page that shows the most popular images uploads, that is the most often shared, and is a good way to get images to become viral and spread around the world. It lacks the print store of others, however it does have a very easy to use interface that works really well.
#3. Shutterfly
Shutterfly is a great place to store your photos, but this one revolves around the paid printing services, and lacks some of the sharing facilities of others here. The printing features are second to none however, and include single image prints, cards and even books or photos, everything you could possibly want.
What is Photobucket and How to Make Full Use of Photobucket
Photobucket is one of the most popular image sharing sites today. And currently, it has expanded its service to include video hosting as well. The site boasts of over 10 billion photos and videos uploaded by its active members, with that number growing by the minute. The thing that's great about this website is that it can upload all your images effectively, with their full size and resolution remains intact.
Photobucket also allows for instant upload from almost all devices, including mobile phones and tablets. There is also a photo editing software also available from the site. Sharing one's videos and images become so much easier with Photobucket and its many services.
Tips on Using Photobucket
#1. It's possible to download photos and videos from the site too. Although most of the site's users upload videos and photos to Photobucket, it is also possible to do the reverse – download them. If there's any video that you particularly like, you can enjoy it offline by downloading it using compatible software.
#2. Edit photos before sharing. Make your photos extra special by adding a few interesting elements to it. Why not add a mustache on your selfie? How about putting borders to your pictures? Explore all the options available in Photobucket's free editing software and make the full use of it.
#3. Upgrade your account when needed. Free members are given limited storage space and bandwidth. If you're not interested in upgrading your free account into a paid one, be sure that your usage falls well within what was allotted. Otherwise, your shared items won't display properly.