With the need for private video downloads, developers of many download applications are incorporating a number of features to guarantee download protection. This new trend is improving the way users privately interact with their downloaded videos in the respective video downloader software. Currently, it is safe to assert that it is indeed easy to download private Vimeo videos by using a private app or browsers. Fortunately, there are many such programs in the market and the choice depends on your need and circumstance. However, it is important to look for the best tool that perfectly suits your need. Go through them and choose the best tool.
Part 1. How to Download Vimeo Private Videos Easily
- Why Need a Video Private Downloader?
Well, if we talk about the private vimeo video, they are not just normal videos to download. There's a password always waiting that pops up before you play them, in other words videos are password protected. Here are a few problems that you may face:
Sometimes the system firewall or the browser add-ons/plug-ins may prevent the video to download smoothly.
They may observe the message saying "Oops! Something broken. Please try again later!"
Since, the private Vimeo videos are grounded on the RTMP protocol except Safari, none of the other browsers supports downloading this kind of video.
Downloading videos from Vimeo and sharing it violates Vimeo policies. To block numerous illegal attempts to download vimeo videos, a highly secure & encrypted video streaming is taking care of all these.
- How to Download Vimeo Private Videos Fast and Easily?
iTube Studio Video Downloader for Mac (or iTube Studio Video Downloader for Windows) is arguably the best private Vimeo video downloader app that guarantees safety of your downloaded information. This smashing Vimeo downloader tool has proven time and again as a reliable top-notch tinker tool as far as video related issues are concerned. Indeed iTube Studio can be summed up as an all-in-one tool thanks to its numerous amazing capabilities. Having tested the awesome features for this particular software, I would simply describe it as an unmatchable tool. This private Vimeo downloader makes video downloads from Vimeo absolutely easy. If you are out there looking for a perfect Vimeo video downloader app then hesitate no more and try iTube Studio to have your testimony too.
iTube Studio - Easily Download Private Vimeo Videos
New feature that allows users to protect their download information by using a password, ensuring that only the authorized person can access the files.
Support to download videos from Vimeo and many video-sharing platforms such as YouTube, VEVO, DailyMotion, Facebook, and other 10,000 sites.
Download videos on high quality HD resolution such as 4K UHD, 4K, 1920P, 1080P, 720P, 480P, 360P as well as many other resolutions.
Surely handle multiple download of videos as you can simply download as much as you want with just a simple click.
Easily create a video library with downloaded videos, save the download history, organize videos, as well as delete the unwanted videos.
Convert dwonloaded videos from one format to another video or audio format. This Vimeo downloader supports over 153 different formats.
High quality video recording is made easy as it can record even videos from those sites that cannot allow download of videos.
How to Download Vimeo Videos with Private Mode
Step 1: Turn the Private Mode on
Launch the iTube Studio Vimeo Downloader on your computer. When the program opens, identify the 'Lock' icon located at the top bar of the iTube Studio program. Click this icon and give a password for your private mode. Among other settings of your choice include 'Do not show thumbnails of private videos' and 'Save Private videos as hidden'.
Step 2: Download private Vimeo videos
This programs provides several ways of downloading Vimeo videos. The first option is to download from the URL. Click the 'Download' button in the primary interface of this software. Visit Vimeo site and search the respective video you would like to download and copy the URL code. At the top bar of the program is a tab labeled 'Paste URL'. Paste the URL of the video you just copied from Vimeo and monitor the download process on the status bar. For multiple videos, paste multiple URL codes.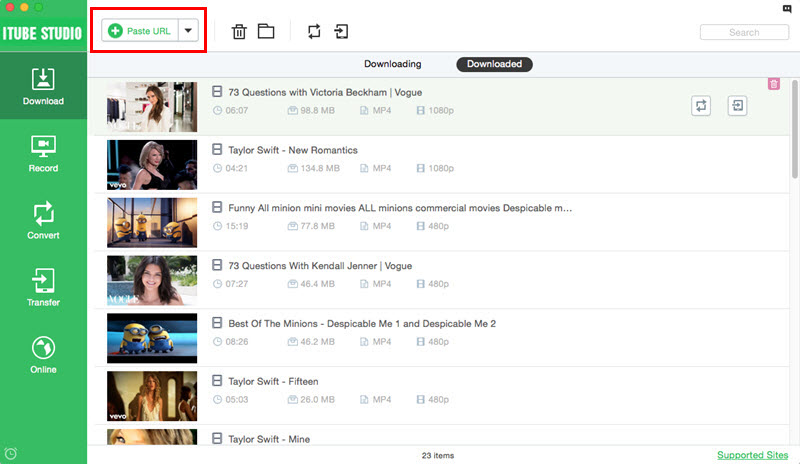 Another option is to use the program's built-in browser. Here, locate the 'Online' tab and open the Vimeo site directly. Open the video to be downloaded and click the 'Download' button, which automatically appear at the bottom of the respective video. The Download extension could also be applied to browsers like Chrome, Safari, Firefox, etc.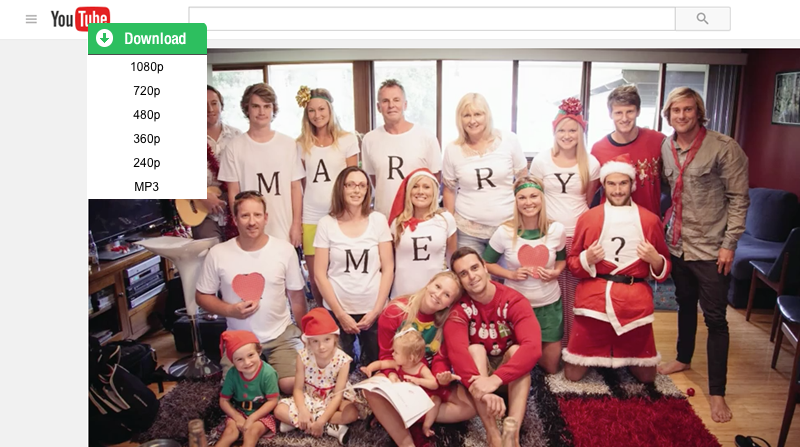 Step 3: Find downloaded private Vimeo videos in Private List
Go to the 'Downloaded' tab to see the list of private downloaded videos. Click on the Private List folder and supply the right password in order to access the folder. You can use the respective icons to either add the private videos to the Transfer List, Conversion List or even play the video by clicking the thumbnail in the display bar.
Whenever the private mode is turned on, you will never find the downloaded videos of Private List within your local folder. This would help in providing total protection to your download information. However, turning off the Private Mode would enable you to view the downloaded private videos in your local folder.
Notes: iTube Studio would automatically download most of the private site videos into the Private List. For very few ignored videos, just add the videos manually by the Add to Playlist icon shown in the picture, so that you can keep your private video protected by the password.
Part 2. Download Private Vimeo Video Directly Without Downloading Software
Private Vimeo Video is based on the RTMP protocol and a Safari support is crucial in downloading such kind of video.
Step 1. Open the Safari Browser on your computer, browse the video to be downloaded and enter the password.
Step 2. On top of this video, click the Download button to commence the download process.
However, the paste URL or Drag URL method might be invalid when download private Vimeo video. You can either opt to download private Vimeo videos directly or using a downloader software to easily download private Vimeo videos without hassle!