TED is an organization that posts short, powerful talks (usually less than 18mins long) online for free distribution. It allows you to download a TED Talk from the website in MP4 or MP3 format but with many limitations. If you want to download TED videos in batch or download TED videos to more formats, you need to get a TED downloader. In this guide, we will introduce you to the best solution to download TED videos, TED TV or TED talks for enjoying on iPad, iPhone or iPod.
The Easiest Way to Download TED Videos in Bulk
iTube Studio for Mac (or iTube Studio for Windows) is the highly recommended tool we use to download TED Talk videos. It helps you to download video from YouTube and other 10,000+ video sites in one click. Honestly, this wonderful and innovative TED downloader is designed to make downloading of all sorts of audios and videos from any source and conversion to iPad, iPhone and iPod as easy as a breeze.
Why Choose This TED Downloader:
Download from 10,000+ video sites with original quality.
Record videos and music from any unable to download site.
Download multiple TED videos in high quality.
Download YouTube to MP3 and download YouTube 4k HD.
Convert videos to any video and audio formats.
Preset for iPhone, iPad, iPod, Android or any other devices.
Transfer TED videos to iPhone, iPod, iPad and Android.
Steps on How to Download Ted Talks
Downloading TED Talk and Videos to your iPad, iPod and iPhone will never be a problem with the help of iTune Studio.
Step 1. Install and Launch the TED Downloader
When you finish downloading the downloader, you can just set up it on your computer with the help of built-in installation. After that, the program will launch automatically.
Step 2. Download TED videos or TED TV in One Click
Find the TED videos or TED TV you want. Open the video and you will get a "Download" button on the video window. Click the button to download video directly.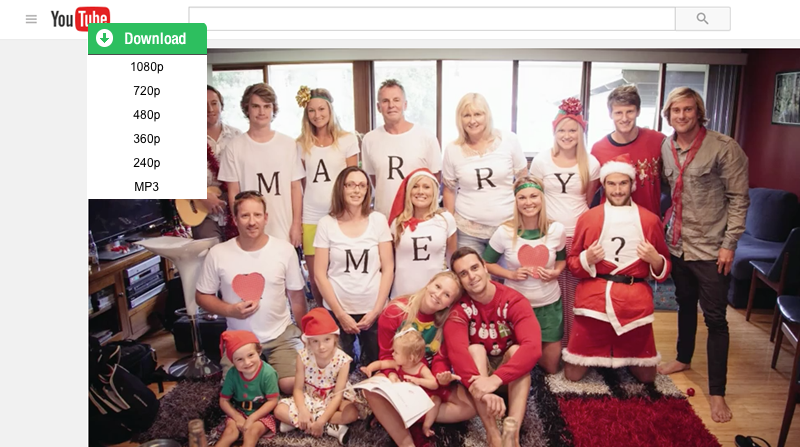 You also can download the video using the URL. Simply drag and drop the video URL to the program or copy the video URL and click the "Paste URL" button on the main interface, your video will be downloaded immediately.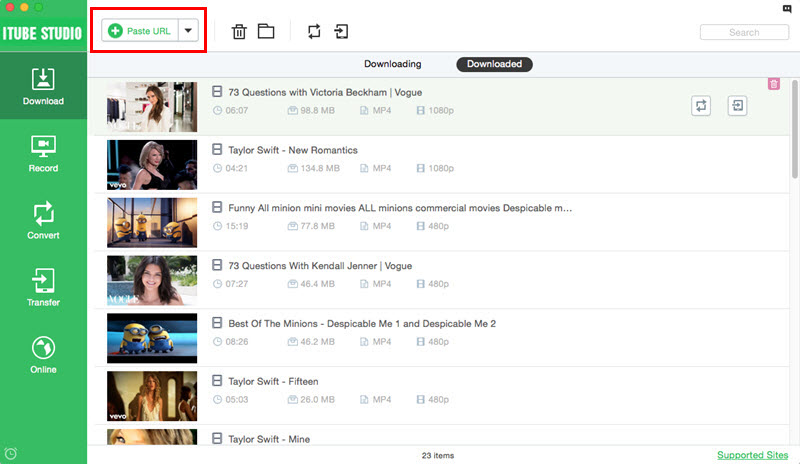 Step 3. Convert TED videos for iPad, iPhone or iPod
Go to the "Downloaded" menu to view the downloaded videos. And add the videos to the convert list for conversion.
Open the "Convert" menu and click the "Convert" button beside the video. Now you can select iPhone, iPad or iPod under the "Devices" tab to set the output format. The converted video will fit well with your devices.
Everything You Need To Know About TED
The full meaning of the word TED is Technology, Entertainment and Design and majority of the TED talks on this platform fall within the aforesaid categories. Now TED has widened its spotlight to include ideas from other fields including cultural academic and scientific topics. TED app allows you to watch oodles of videos featuring talks from famous and well remarkable people on your iPad, iPhone or iPod touch. TED is an official application that will enable you to access speeches that cover wide range of subjects.
TED, driven by their slogan "Ideas worth spreading", is a nonprofit nonpartisan media organization that posts short, powerful talks (usually less than 18mins long) online for free distribution. The organization began as a conference back in 1984 where Technology, Entertainment and Design elites came together. The main conference is still held annually since 1990. It was held yearly in Long Beach as at 2014 and up to date in Vancouver, BC, Canada at the Vancouver Convention Center. The talks are also live streamed throughout Asia, North America and Europe.
Initially the conference primarily focused on technology and design owing to its Silicon Valley origins. Richard Saul Wurman, an architect and graphic designer initiated the TED movement and organized the first conference with Harry Marks in 1984. It featured presentations by the renowned mathematician Benoit Mandelbrot as well as demos by Philips & Sony and Apple on their products; compact disc and Apple Macintosh computer respectively. The first conference turned out financially unsuccessful. It took six years for a second TED conference to be organized that is in 1990. After which the event received significant recognition as well as new attendees thus it was moved from California State University Monterey Bay to Long Beach, CA in 2009. The organization today covers almost all topics ranging from science to business to art and in over 100 languages. TED has had quite a number of prominent personalities on its roster of presenters including Al Gore, Bill Clinton, Bono, Bill Gates, Larry Page and Billy Graham among others.
Chris Anderson, former computer journalist and magazine publisher, is the current TED's curator. He officially took over the role in 2002 after having acquired the organization through his nonprofit, The Sapling Foundation in Nov 2001 for £6m. Some of the organization's most notable programs and initiatives include TED Prize, TEDx, TEDGlobal and TED Fellows. The TED Prize was first introduced in 2005 where up to 2010 three winners got $100,000 and a wish to change the world. The prize money was increased to $1 million in 2013. TEDx on the other hand are independently run TED-like events that be held by anyone who obtains TED's free license agreeing to follow set principles. One may seek commercial sponsorship or charge admission fees to cover their cost however, TEDx events are primarily nonprofit.
Lastly, attendance and membership fees have varied throughout the years due to several reasons. The annual membership package usually includes networking tools, club mailings, conference DVDs and most importantly attendance of the conference. Charges for the upcoming 2017 conference stand at $17000 per attendee. These revenues in addition to licensing fees, corporate sponsorships, and book sales help run the organization.