Any serious music fans know where to find the best classic and latest cool videos. VH1 Videos is ranked up there when it comes to quality music videos and celebrity gossip. For the uninitiated, this is the home of MTV Base. You can also watch full episodes of your favored TV shows from VH1 videos. However, you have to contend with concomitant advertisements which will interrupt you as you watch. So if you want to download VH1 Videos, so that you can play your favourite videos with ads and playback offline, this tutorial can help you make it.
Part 1. How to Play WMV Videos on iPhone/iPad/Android Devices
There are thousands of videos that you can watch on VH1, but you need to bear annoying ads. Apart from that, you have to make sure your network connection is good. The best solution is, therefore, to download VH1 videos using iTube Studio for Mac (or iTube Studio for Windows). This tool allows you to download videos from VH1, Facebook, FC2, Niconico, and 10,000+ more sites. And you are able to convert downloaded VH1 files into preferred formats.
Why Choose This VH1 videos Downloader:
It is an all-in-one tool which can works as a video downloader, a converter or a transfer.
It can batch download videos and you can download videos with 3X faster speed.
You can convert downloaded or local videos to any format you want.
After you converted your videos, you can directly transfer the video file to Android or iPhone devices.
How to Download VH1 videos
Here is a demonstration on how to download videos from VH1 using iTube Studio.
What You Will Need:
A Computer;
iTube Studio for Mac or Windows
Time Required:
Very fast (Variable depending on the video file size)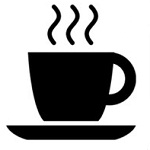 Difficulty:
Easy
Step 1. Run the VH1 Video Downloader
Download the VH1 video downloader. Then follow the prompts to install. The program will launch spontaneously.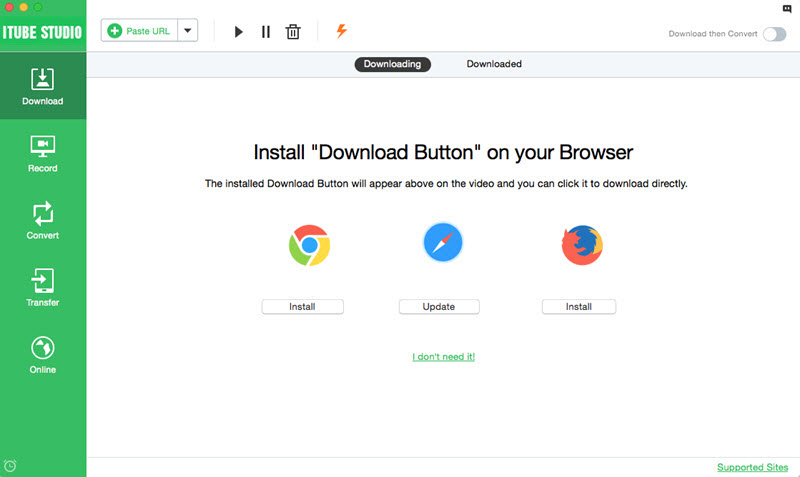 Step 2. Download VHI Videos with a Simple Click
Go to your browser and find your favorite VH1 video. When you play it and you will see a "Downloaded" button on the upper left hand corner of the video window. Simply click on this button and the file will be downloaded.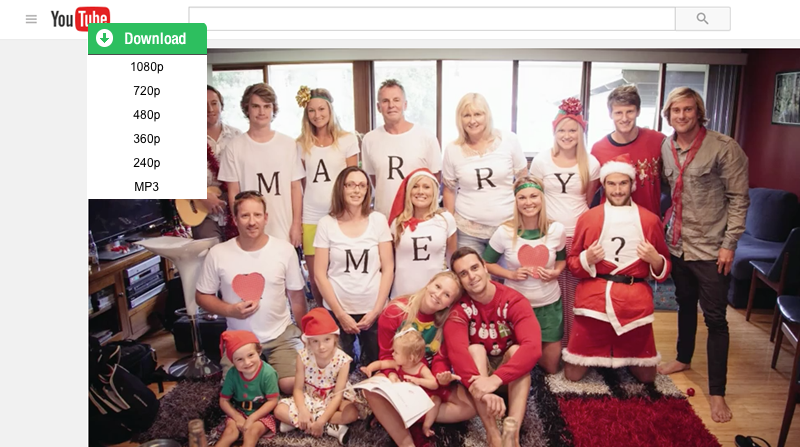 There are two other methods of downloading VH1 videos. You can copy the VH1 video URL and click the "Paste URL" button on the main interface of the program. Alternatively, you can drag the video URL and drop in the iTube Studio main interface. The VH1 video will be downloaded immediately.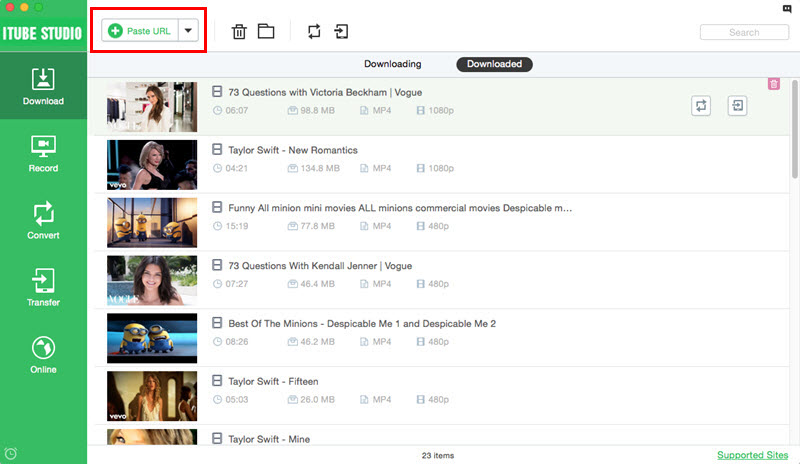 Step 3. Convert VH1 Videos
iTube Studio has an innovative feature through which you can convert a VH1 video you have downloaded into a format compatible with various devices. In the "Downloaded" tab, you can click the "Add to Convert List" button beside the video list to put the video into "Convert" menu.
Then navigate to "Convert" menu, find your video from the list, a "Convert" icon will show beside your video. Click this icon and select the format you prefer and follow pertinent prompts to finish VH1 video conversion.
Part 2. More Tips about VH1
VH1 is a popular cable television network; based in New York. It is one of the networks under Viacom Media.
Most VH1 videos cover the following areas:
1. Celeb news and gossip.
2. Behind the music scenes.
3. Celebrity reality shows.
4. Movie discussions.
Focus on the entertainment scene makes it popular among the youth. Upon inception, in 1985, things were different. VH1 was meant to attract an older following. Things have since changed. It now competes with MTV for the youth. The TV network can also be accessed online. They have an official website. All their videos are available there. However, you only get to stream content, not to download. Videos are encrypted. They rarely play after download.
1. Dealing With Videos That Will Not Stream.
VH1 videos play on pop-ups. First, enable pop-ups on your browser. Another problem could be the browser. Keep the browser updated. The more recent, the better. You should also have a look at your security settings. Sometimes, the computer perceives videos as threats. Such videos cannot be allowed to load.
2. Top- Notch Video Streaming.
Videos may, at times, take forever to load. The problem is usually your computer settings.
a) Turn off hardware acceleration.
You will find the option on the control panel. Find it under settings and advanced.
b) Turn off video acceleration.
Only for users of Windows Media Player. Go to Tools Menu, then Options, then Performance. Click on video acceleration. Turn it off.
c) Adjust Buffer Settings.
Only available on Windows Media Player. Go to the Advanced icon under Options. Select Streaming Media. Click on Change. Now set the buffer settings very high. Your videos will not buffer as they play.
3. Downloading Videos.
Do not even bother trying. Downloaded the videos will not play. They are highly encrypted. Instead, use screen recording tools. It is a sure way to get VH1 videos. Be sure to record videos at full screen. The recorded videos will be much more clear.