"Is there any way to directly download Vimeo videos from Chrome for editing?" If you want to download videos from Vimeo on your browser Chrome, Firefox, or Safari, here is the best solution for you. Whether the Vimeo download button appears on the Vimeo video or not, you can download Vimeo in Chrome easily with the help of the Vimeo downloader for Chrome. Read on and learn more.
The Best Vimeo Downloader for Google Chrome Web Browser
The highly recommended Vimeo downloader for Chrome must be iTube Studio for Mac (or iTube Studio for Windows). It allows you to download videos from Vimeo on Chrome browser in one click rather than having to go through more than one web page in order to get the downloaded file.
Why Choose This Vimeo Video Downloader for Chrome:
You can save videos from more than 10,000 websites.
It can convert video to any format you like to fit for your mobile devices.
And the built-in media player lets you watch the video clip with HD quality.
You can also conveniently manage and schedule your task with the video library and task scheduler.
Step-by-Step Guide on How to Download Vimeo Videos in Chrome
The step-by-step guide for using this Vimeo downloader for Chrome outlines how to download Vimeo videos from Chrome once the program has been installed.
Step 1. Install and Launch the Chrome Vimeo Downloader
You can easily install the iTube Studio Vimeo downloader on your computer by dragging and dropping the program file to the "Applications" folder. And then install the iTube extension in Chrome browser. Now you can start downloading Vimeo in your Chrome.
Step 2. Download Vimeo Videos with Chrome
After iTube Studio for Mac has been installed, you will then be able to download any video found online including Vimeo. Open Chrome and then play the video you want to download. When you mouse over the video window, you will see a "Download" button on the top left corner. Simply click it to add the video to the download queue.
Step 3. Convert Vimeo Videos (Optional)
After downloading the videos, you can view the video in the "Downloaded" tab under the "Download" menu. If you want to convert Vimeo video formats, you can add the videos to the "Convert" menu by clicking "Add to Convert List".
And then go to the "Convert" menu and click the "Convert" button to select your desired output format to start the conversion.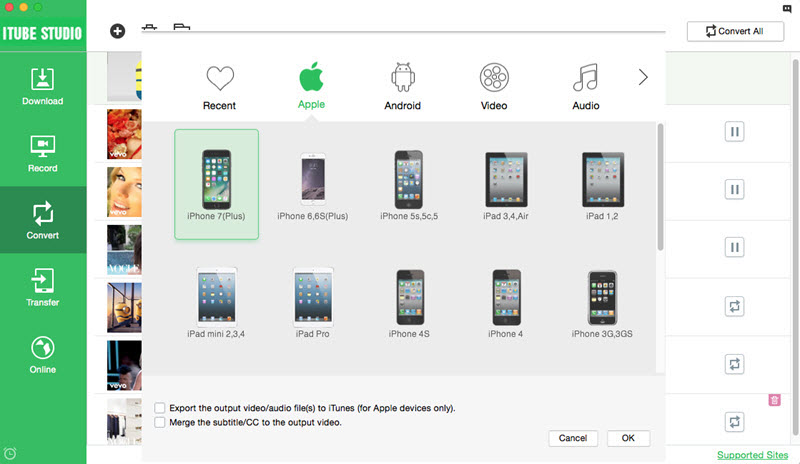 Tips about Vimeo Download
A popular video sharing site, Vimeo offers a widely assorted collection of high-quality films, videos and animations from all over the world. The added beauty is that you don't necessarily need an external video downloader or converter service to download Vimeo content; some videos come attached with Vimeo download links, allowing you to directly download them with Vimeo's built-in video downloader. Below is a guide on how to directly download Vimeo videos.
Step-by-step guide to download Vimeo videos directly.
-Simply register a basic Vimeo account and log in.
-On entering the site, search and find the videos you seek to download.
-If the video is directly downloadable, a 'Download' button will be dispalyed in the toolbar below the video. Click on it.
-Select your preferred video quality, format and resolution.
-Now wait as your video downloads and saves.
Requirements to download Vimeo videos directly.
-Vimeo Account : A registered account with Vimeo is a must requirement to download Vimeo content.
-Downloadable: Only videos with the 'Download' button displayed in the toolbar are directly downloadable.
-Supported Browser: Vimeo download is only possible with the following browsers; Firefox, Chrome, Opera, Safari and Internet Explorer.
Why you cannot download Vimeo videos directly.
-Connection: This is an obvious one. A switch off or unstable internet connect will certainly cost you a direct Vimeo download.
-Updates: Vimeo keeps updating their software, so just a compatible browser is not enough. If it isn't an up-to-date version, higher chances are you'll have trouble with direct Vimeo downloads.
-Firewall or Anti-Virus: Your firewall or anti-virus, or even proxy server, might be blocking your Vimeo download. Contact your proxy server for permission, or check on your firewall or anti-virus settings to allow direct downloads from Vimeo affiliated domains.
-Privacy: Vimeo's privacy policy allows members to disable downloading of their uploaded content. You won't see the 'Download' button in such videos, so you can't download them directly.
Common Problems with Playing Vimeo Videos in Chrome
For Google Chrome, users have experienced a wide variety of issues when attempting to watch Vimeo videos, as seen below:
Difficulty playing embedded videos.
This issue tends to arise when various businesses want to embed certain Vimeo videos on their own websites. At first, they assume the issue is how they have uploaded the video, until the test out other web browser and/or computer and realize that only the embedded videos in Chrome are experiencing difficulty.
No playback controls showing.
One user experienced this issue on a specific device, despite the Vimeo videos and all of their controls working perfectly on all of his other devices. Turns out there was additional software causing an issue that had only been installed on that device – removing the software solved the issue.
Hearing sound, but not seeing the video.
Typically, this issue deal with either Flash or HTML, or a mixture of both, as the code is not being read properly by the web browser, preventing the audio and video from playing at the same time.
Firewalls, add-ons, and/or plugins preventing video play.
Sometimes adding various elements to a browser can help it run smoother or be more applicable to your needs, but most do not take the time to read everything these additions will do for their browsers and miss settings that will hurt their experience, especially with Chrome.