What is Dropbox?
Dropbox is an online cloud backup service that allows individual and business organization to store important data. Dropbox let you store Photos, videos, document, and other important files. Basically, Dropbox is a freemium model but to avail unlimited storage, you have to pay around $15 per month. It is mainly used in business organization for file sharing and collaboration. The application of Dropbox is currently available for devices running on Windows, Mac, and Linux operating system. Mobile version is also available for Android, iOS, and Blackberry mobile phone.
Part 1. Dropbox: All Tips You May Be Interested In
How does Dropbox work?
Dropbox is coded with a set of an advanced algorithm that makes it better than others. It uses multiple layers to protect your data from unauthorized users. Here below are layers:
• Secure transfer of data
• Encrypt the data
• Network configuration
• Application-level controls
• User-level controls
You can access your cloud storage from anywhere at any time. Dropbox mobile application, website, and computer application makes it easier for you to access files remotely.
Dropbox storage pricing plans:
Dropbox is currently available in 4 editions Basic, Plus, Professional, and business.
Dropbox Basic: Basic is version is free of cost; it includes 2GB of storage space. You can earn more free space by referring friends. Only 500MB space will be credited to basic account user and can earn up to 16 GB. If you are plus or professional account user then, you will get 1 GB per referral up to 32 GB.
Dropbox Plus: It includes 1TB space with some additional features. To avail this service, you have to pay $9.99 per month or $99.00 annually. The price may vary depending upon the country to country.
Dropbox Professional: This is another package from Dropbox that includes 1 TB of storage space. Professional account price starts from $19.99 per month or $199.00 per year. The price of the package is depending on your country and subscription plan.
Dropbox Business: This plan is mainly meant for every small-scale and corporate giant. The price of this plan depends on the size of your business and numbers of employees. You can avail great discounts if you want Dropbox service for a nonprofit organization and education institutes.
Dropbox free space size:
If you want to get free space then, you can create Dropbox basic account. The basic account includes 2 GB of free storage space. One can earn more space by referring Dropbox to friends and colleagues. Moreover, one can contribute to Dropbox community forum to earn more storage space.
You can also earn more free space in Dropbox by using referral bonus and contribute to Dropbox community forum.
Dropbox for Business:
Dropbox for Business is a built-in part of Dropbox. Business organizations can use Dropbox services to store and backup their important files to avoid accidental data loss. There are two plans are available for business to include Standard and Advanced. The standard version includes 2 TB space per user with collaboration tools. In the advanced plan, you will get unlimited storage space with sophisticated admin and other inbuilt features.
Dropbox pricing for Dropbox Business & Dropbox Personal:
Dropbox personal includes three plans Basic, Plus, and professional. The basic account is free of cost where Plus and professional accounts are paid subscription starts from $9.99 per month and $19.00 for a professional account. On the other hand, Dropbox business plans are starts from $12.50 to $20 for the Advance plan.
Differences between Dropbox Business & Dropbox Personal:
Dropbox business is cloud storage service mainly designed for business organization. It includes numerous of features that enable the business owner and employees to organize their stuff online. In Dropbox business, business owner or manager can get admin control to handle their employees.
Dropbox personal is designed for individuals to store photos, videos and other important data on cloud storage. In person, you will get 2 GB of free storage space and increase the storage space by availing subscription.
Part 2: How to Upload Files to Dropbox and Share Files on Dropbox
How to upload photos or other files to Dropbox?
First go to Dropbox site and login to your Dropbox account, then click on the "Upload" button at the top of the screen.
A dialog box appears, from where you have to click on the Choose File and select the file that you would like to upload.
Finally, click on "Start Upload" button to start uploading process.
If you are using Dropbox on desktop app or Mobile app then, there is no file limit. You can upload file size up to 20 GB on Dropbox. By default, 2 GB free storage space is allotted to per account.
How to share Files on Dropbox?
Sign in your Dropbox account in Dropbox, float the cursor over the file or folder that you would like to share.
Click on the "Blue" button namely Share, then type email address of the person who can edit and view the file.
Choose "Can edit" from the drop-down menu, enter a message if you want and hit on "Share".
How to Use Dropbox on Android or iOS?
If you are an Android user then, you can download Dropbox from Google Play Store at free of cost. iOS user can download it from Apple App store. Here we take Dropbox for Android as example.
Firstly, download Dropbox from the Google Play Store and then launch Dropbox on your Android devices.
Tap on "Plus (+)" float button at the bottom right of the screen to upload the file.
Tap the blue down arrow and Choose "Delete" to remove the file from Dropbox.
Part 3. How to Delete Dropbox Files or Delete Dropbox Account Permanently
How to delete Dropbox files?
Open Dropbox and enter sign in details to log in.
click on the eclipse (…) to the right of the file that you would like to delete.
Hit on "Delete" button.
How to delete Dropbox account permanently?
Open Dropbox in any browser and sign in your Dropbox account.
Before deleting your Dropbox account, you have to cancel your all active subscriptions plans.
Tap on your "Name" and click on "Settings", then select "Accounts" and then "Delete my Dropbox".
Enter Dropbox password to confirm followed by choosing a reason for leaving, finally, hit on "Delete my account".
Part 4. Comparisons between Dropbox and Dropbox Alternatives
Dropbox vs. Google Drive:
Google Drive is a cloud storage service designed and developed by Google Inc. You can take a backup of documents, files, pictures, videos, audio and save them online on the Google Drive. It is like an online briefcase or hard disk where you can safely secure your files. One can access Google Drive from your PC, tablet, or Smartphone from anywhere. In Google Drive, the user will get 15 GB of cloud storage space for free. On the other hand, Dropbox offers only 2 GB free storage space.
Dropbox vs. Evernote:
Evernote is a cloud-based service that enables the user to store files online in the cloud. The working of this cloud service is same as Google Drive, Dropbox, and others. In the basic account, the user will only get 25MB of Note Size but in Dropbox, you will get 2 GB of free cloud storage space.
Dropbox vs. OneDrive:
OneDrive is another alternative to Dropbox, it is operated by Microsoft which is mainly popular for Windows OS. Here, you can store your data such as Photos, videos, and other important files to avoid accidental data loss. Earlier this service was also known as SkyDrive, Windows Live Folders, and Windows Live SkyDrive. Getting engaging with this service, you will get 5 GB of free cloud storage space. In Dropbox, only 2 GB is available for a basic account but, you can earn more by referral bonus system.
Dropbox vs. iCloud:
iCloud cloud storage services from Apple Inc. is launched in the year 2011. This service is only available for Apple users to store data such as audio, video, images, and other important documents. Once you store the files, you can access them from the iCloud app or via the iCloud website. iCloud is basically a freeware that offers 5 GB of free space to its user, more than Dropbox.
Dropbox vs. ShareFile:
Sharefile is here to help your workers to easily share and sync any files with the cloud storage service. Engaging with this service, you can track and manage everything safely and securely. Sharefile subscription plans start from $16. On the other hand, Dropbox plans starts from $9.99.
Part 5. How to Download Media Files from Dropbox
Are you facing problem while downloading a media file from Dropbox? iTube Studio Video Downloader for Mac (or iTube Studio Video Downloader for Windows) is an ultimate video downloader that enables the user to download the file from the internet. This powerful tool has a wide range of features that make it better than others. Alternatively, its web browser integrated feature allows the user to download the video directly from the YouTube in a single shot without opening an iTube Studio. Currently, this video downloader is compatible with more than 10,000 websites.
iTube Studio - 1 Click Download Any Online Video from Any Page
You can download media files from cloud storage. It supports Google Drive, Dropbox, OneDrive, Sharefile and many other cloud storage services.
Fastest video downloader with the capability to download any kind of video. It can download 4K UHD, 4K, Full HD, HD, and any other resolution.
If you are looking for video downloader with batch downloading feature, iTube Studio can download from multiple URLs together in 1 click.
There is only few video downloader support more than 10,000 video platform, iTube Studio is one supporting YouTube, Instagram, Twitch, Vevo, MTV, etc.
If you want an only audio file from YouTube video then, switch to iTube Studio. It can download MP3 file directly from online video sharing website.
Another main reason behind the popularity of iTube Studio is that it also works as a converter to convert audio or media file into another file format.
Engaging with iTube Studio, you can download media files in Private Mode with a password set to keep your files in privacy.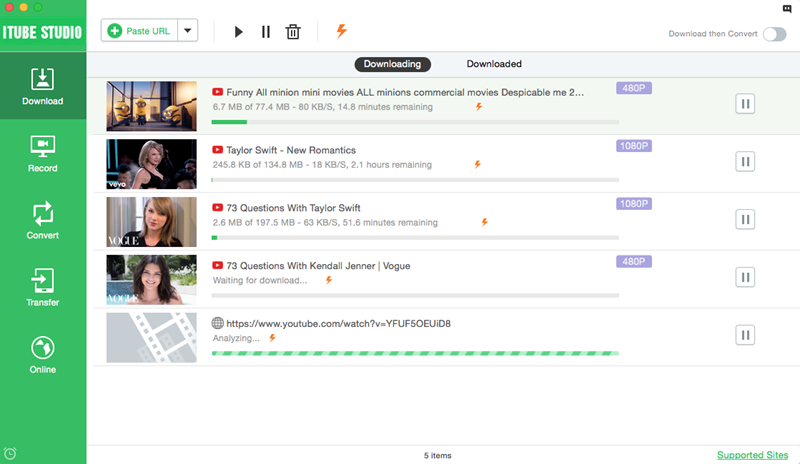 Video Tutorial on How to Download Media Files from Dropbox