What is Google Drive? What is Google Drive used for?
Google Drive is a cloud file hosting service from Google, which is developed and launched by Google and offers free file storage up to 15GB for all users who sign up for a Google account. Other than this, users can also buy premium plans to extend the limit to 100 GB - 30 TB. It enables users to upload and store files on the cloud and access them later. You can access the Google drive through the website or from the separate app. The app is available for platforms like Android, iOS, Windows, and MacOS devices. Users can keep their uploaded files as private or even share them with others users or publicly.
Part 1. All Tips about Google Drive
Google Drive App for Mac and Windows PC:
Google Drive app is free to download for Mac and Windows PC. You can download the Google Drive app by visiting the Google Drive website. Follow the below steps to download the Google Drive app for Windows and Mac.
Go to the official website of Google Drive. Click on the "Download" button at the navigation bar.
Now find and click on the "Download for PC" button.
Click "Agree and Download" at the terms of service prompt. It will start download and installation process on Google Drive app for Windows or Mac.
Google Drive Pricing and Free Size Limit:
Users get a free storage of 15GB lifetime Google Drive storage on signing up for a Google Account. This storage stores all synced data from Google PC and mobile apps you use like Gmail and others aside from the files that you personally upload. If you run out of storage, you won't be able to upload new content and the emails sent to you will be returned to the senders. So it is always necessary to keep some space for new files by deleting unnecessary files. You can also buy monthly storage plans starting at $1.99/month for 100GB.
Other storage plans are:

1 TB - $9.99/month
10 TB - $99.99/month
20 TB - $199.99/month
30 TB - $299.99/month
What is Google Drive for Business:
Google Drive for Business is the business version of the Google Drive. It is an integrated part of the G suite, a set of cloud computing and productivity tools for business. Google Drive for Work or Business or G Suite was formerly known as Google Apps for Work. Google Drive for Work provides business needs apps integration and shared storage for your employees. Moreover, in Google Drive for Work, you get 1TB free storage for ventures with less than 5 users and unlimited storage when your team is bigger than 5.
Google Drive consumer or personal version and Google Drive for Business or work, both are same in the fact that they use the same Google Drive cloud computing platform. But there is also a major difference between Google Drive for Personal & Google Drive for Business.
Price: Google Drive consumer version is free to use. Users get 15GB of free storage when they sign up for a Google account. This storage can be expanded with paid plans up to 30TB. But Google Drive for Business is not free. It charges a monthly fee of $10 for each user.
Storage: Consumers get free 15GB storage space on signup which can be expanded up to 30TB with a monthly subscription to Google Drive for personal use. But Google Drive for Business gives 1TB of storage to each user when numbers are less than 5. If users are five or more, then the storage is upgraded to unlimited.
Support: There is an expert team of technicians available to help you if you encounter any problem using Google Drive for Business, but there is no support available for consumer version users. They can get help from online forums and help pages.
Admin controls: To carter to the needs of businesses, Google Drive for business has incorporated advanced admin controls and auditing tools to track what's been shared among users. You can also add or remove new users or groups. These tools are not available on Google Drive for personal use.
Is Google Drive secure? How to Make Google Drive Private?
Whenever you talk about entrusting your personal files to a file hosting service, the question regarding security and privacy of the data arises. The worry is understandable as you upload your personal files on the servers and hosting service can get access to your data. But Google Drive does not work like that. It is a secure cloud service that keeps your personal data private unless you choose it to share with others. Data that you upload to your Google drive is private by default. But if you had previously shared a file with others and want to stop sharing it anymore, you can change it to private by following the below steps.
Open the Google drive and click on "My Drive", then select the file and click on "Share".
At the Share with others dialog box, Click on "Advanced". Under the "Who has access" option, remove every person the file is being shared with.
Click on "Done" to save changes. Now you have made the file as private.
Part 2: How to Sync Mac or Windows PC to Google Drive
Google drive sync means syncing your Google Drive's "My drive" folder with your PC on which you have set up Google Drive. Google Drive app or now Backup and sync app let you easy syncing between your computer and Google Drive. Just download and install the Backup and sync app on your windows or Mac PC and you can start syncing your Drive easily.
Follow the below steps to sync your Windows or Mac PC to Google Drive:
Go to the download page of Google Drive and click on "Download" button to install the Backup and Sync app on your Mac or Windows PC.
Run the app when the installation is complete, you will need to log in to your Google account.
Next choose the folders on My Computer that you want to sync. Go through various options provided to sync a specified folder.
Choose the photo and video upload size. Check the checkbox on Google Photos if you want to upload your photos and videos to Google photos and click "Next".
Now yselect which folders to sync from Google Drive and finish syncing. The process can take up some time depending on the files stored in the sync.
Move the file to Google Drive folder if you want to upload it to Google Drive.
Part 3. How to Upload Files to Google Drive
It is very easy to upload and store files and folders on Google Drive from any device. You just need an internet connection for it to upload the files to the cloud servers and your files will remain protected until you delete it from Google Drive yourself. Images, documents, text files, videos, excel and other various types of files can be uploaded to Google Drive. Below you can find a step by step tutorial on how to upload files to Google Drive:
Go to Google Drive in a web browser and Login with your Account.
Click on "New" at the top left, then select "File Upload" from the menu displayed after clicking New.
Browse to the destination folder where your file is located.
select the files that you want to upload and Click "open". The files will be uploaded to Google Drive.
You can also drag and drop the files that you want to upload directly into the Google Drive window. The uploading process can take some time depending on the speed of the internet connection and file size. The maximum size of the file that can be uploaded is 5TB.
Part 4. How to Download Files from Google Drive
Google Drive lets you upload and store your personal files and folders on the cloud. You can later access your files from anywhere around the world by just logging in to your Drive account. You can store any type of files like Documents, media files like- images, videos, excel files, word or PowerPoint files etc. You can store and later download the files to your device from your Google Drive.
Google drive is one of the best cloud computing and file storage services that are very easy to use. Users can either share their files or keep them private. A user with whom a file is shared will get a link to the file. But signing up every time you need to download files from your Google drive can be troublesome unless you have the iTube Studio Video Downloader for Mac (or iTube Studio Video Downloader for Windows).
iTube Studio is a superb video downloader that lets you download online streaming videos from the most popular sites like YouTube, Daily Motion, Facebook, MTV, Vevo, Vimeo, Yahoo, etc. You can even make your downloaded files as private by setting a password in the private mode. You can use this video downloader to download online videos as well as cloud storage media files from the most popular cloud services like Google Drive, Dropbox, One Drive, etc. The videos are downloaded at 3X faster speed and you can also play the media files with a built-in media player.
iTube Studio - Free Download Any Online Video from Any Page
Support to download online videos from 10,000+ popular video streaming sites like YouTube, Yahoo, Vimeo, Facebook, etc.
You can not only download the video files but also record videos from websites that don't allow downloading of video in high quality.
Also acts as a converter to convert your videos to any format of your choice. You also get the option to convert your video files to preset formats.
Support a large variety of iOS and Android device or Game Consoles on which you can share your downloaded media files.
Download multiple videos such as YouTube playlist, category, channels simultaneously in batch at 3X faster speed.
You don't need a third party media payer to see the downloaded videos as it has a built-in media player which you can use to play downloaded as well as local videos.
Built with a Private Mode allowing to download videos in private which to much extent protects your video privacy.
How to download Google Drive videos
Step 1. Run this Video Downloader for Google Drive
Download iTube Studio Video Downloader from the button above and install it on your computer. When the installation is complete, launch the video downloader.
Step 2. Download Video from Google Drive
Just copy the URL of the target file from Google Drive, then at the iTube interface, click on "Paste URL" button. It will automatically paste the URL of the file.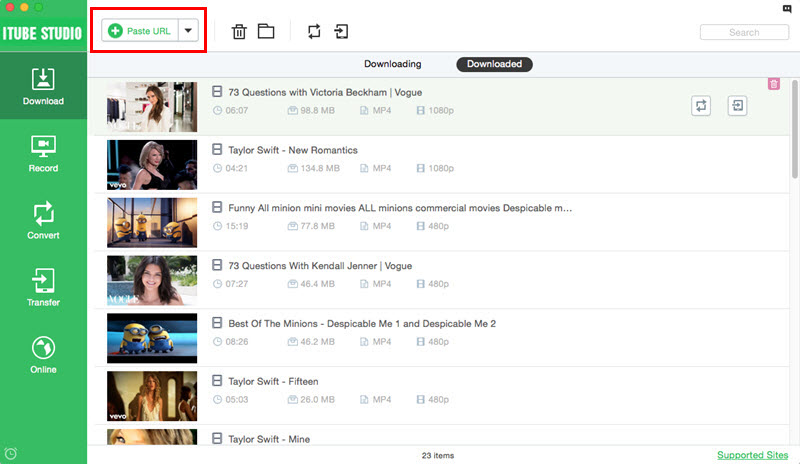 Click on "Download" to start the download from the URL. Once finished, access the downloaded files in the Downloaded tab. You can also play the files directly in iTube Studio.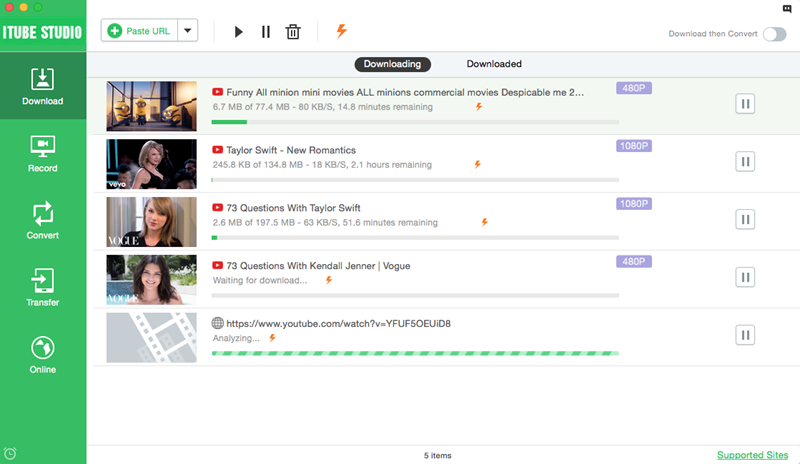 Video Tutorial on How to Download from Google Drive