OneDrive is a cloud storage and file synchronization service from Microsoft. Formerly known as SkyDrive, OneDrive is a part of the Microsoft's online services suite. OneDrive users can upload and store important files on the cloud and save them to a safe and secure place. OneDrive can be used to make a backup of their personal files as well as their windows settings. OneDrive offers 5GB of free storage space for new users that can be extended up to 1TB with premium subscriptions. You can use your Microsoft account to sign up to OneDrive. Also, it is very easy to edit documents due to an integrated Word Online application.
Part 1. All Tips about Microsoft OneDrive You May Be Interested in
What is OneDrive for Business:
OneDrive for Business is an organizational cloud storage that lets an organization assign a storage space to its employees. It lets the employees in an organization manage and share on work documents and files with their colleagues. OneDrive for business is managed by the Organization and can either be hosted or installed directly on an organization's servers.
Differences between OneDrive for Personal & OneDrive for Business:
At first, you won't find any difference in OneDrive personal and OneDrive for Business. But even though they both have the same OneDrive in their name, they aren't the same. OneDrive personal is a consumer version of the cloud storage platform of Microsoft. It offers 5GB of free storage space for new users. The storage limit can be extended up to 1TB by buying monthly subscriptions. OneDrive personal allows users to store their documents, images, videos, and other important files and retrieve them at a later date.
Whereas OneDrive for business is a far complex system that the personal version. It is a cloud storage that is managed by an organization and allows its employees to share files and documents on work. OneDrive for business isn't free to use like OneDrive personal and you would have to buy a license to use it. OneDrive for business also uses the SharePoint platform to allow companies provide a storage space for their employees. It also has some advanced authoring and administration tools that are not required in personal version.
OneDrive Size Limit:
Users can upload and store files with size up to 10GB on OneDrive. OneDrive offers 5GB of free storage space for free users. Users can also buy additional storage up to 50GB for $1.99/month and up to 1TB with office 365 for $69.99.
Aside from buying subscriptions, you can earn additional frees storage up to 10GB by referring OneDrive to your friends. Each successful referral will get you 0.5GB of free space. So with just 20 referrals, you can upgrade your free storage to 15GB.
Comparison of OneDrive with Other Cloud Storages:
OneDrive vs. Dropbox: OneDrive is cloud storage service from Microsoft whereas Dropbox is cloud storage service from Dropbox, Inc. OneDrive provides 5GB of free storage which can be extended up to 15GB with referrals. Moreover, users can also buy additional storages starting at $1.99/month. Dropbox, on the other hand, allows 2GB of free storage. Users can earn free storage up to 16GB by referrals. You can also add up to 1TB space with a monthly subscription of $10. File Size restriction is same for both OneDrive and Dropbox i.e. 10GB.
OneDrive vs. Google Drive: Google Drive is the cloud storage service from the Google. Google Drive gives 15GB of free storage to new users wherein OneDrive only offers 5GB. But users can earn free storage up to 10GB with referrals which take the both Google Drive and OneDrive at the same position. You can earn more free storage on Google Drive. You can use the same Microsoft account to be used to sign up for other Microsoft services including OneDrive, Outlook, and Xbox live. Similarly, Google Drive allows using one account to be used for all Google Services like Drive, Gmail, etc. OneDrive allows easy editing of documents online. Google Drive also allows online editing but you would have to import the documents for Google Docs supported format first.
OneDrive vs. iCloud: iCloud from Apple provides 5GB of free storage to its users which can be extended up to 50GB, 200GB or 1TB with paid plans of $0.99/month, $3.99/month, and $9.99/month respectively. This cloud storage from Apple is only available for Apple user, meaning you can't use iCloud on Windows, Android or other platforms. Microsoft's OneDrive is available for a variety of platforms including Windows, Mac, Android, and iOS.
Part 2. Troubleshooting on OneDrive Common Issues
1. Can't connect to OneDrive
This error is not only found in OneDrive but on other cloud services too like Google Drive. Your PC has internet connection but when you open OneDrive it fails to start.
Solution: You can solve this error by going to the task manager and end the onedrive.exe task. Then reboot your computer and this should be fixed.
2. OneDrive can't upload this file
There are many causes for this error. First, there was a problem with the OneDrive during upload or the network may have stopped for a while midway uploading the file. Secondly, this can also occur if you try to upload a file to a shared folder on which you don't have permission to edit. You would also encounter the error if you don't have any storage space left to upload the new file. The last cause may be if you weren't signed in to OneDrive.
Solution: If the error was caused due to first two causes, you can just try to upload the file again. These are temporary problems that can be solved by uploading again. Also, make sure that the folder to which you upload files is the one that you have permission to edit or you yourself own it. Then you can also try to sing in with your OneDrive account.
3. Missing files or folders
If you can't find some files and folders on your OneDrive folder on your PC, it can be because they weren't synced properly.
Solution: To restore the missing files and folders, restart the sync process. You can also run the Administrator to reset your OneDrive. It will also re-sync your OneDrive. You can also check the missing files in the Recycle bin folder of OneDrive.
Part 3. Free Download Files from OneDrive
OneDrive is one of the best cloud storage services that allow you to upload and store your important files and folders. The files that can be uploaded to OneDrive can be documents, images, videos or other important files. OneDrive allows you to access your files from anywhere, on any device. But, when it comes to downloading files from OneDrive or other cloud storages, it can be very tedious and time-consuming. But you can use a cloud downloader to download files faster and efficiently from OneDrive and iTube Studio is one such downloader.
iTube Studio Best Video Downloader (or iTube Studio Video Downloader for Windows) is a downloading tool designed and developed by Aimersoft aimed to make downloading files easier from online sites. You can also use this tool to download files from cloud storages such as OneDrive, Dropbox, Google Drive, etc. iTube Studio is mainly a video downloader that allows users to download online videos. iTube Studio can be used to download videos from YouTube, Hulu, Vimeo, Yahoo, Instagram, Facebook, Dailymotion etc. A total of 10,000 sites are supported for downloading. Aside from downloading, it also has many other tools like a record, convert, transfer, etc. to make file management easier and convenient.
iTube Studio - 1 Click Download Media Files from OneDrive with URL
Download online videos in high quality from over 10,000+ sites including the most popular sites like YouTube, Vimeo, Dailymotion, Hulu, Facebook etc.
Directly download any online video to MP3 format. Furthermore, you can also rip audio from videos easily and way faster than another downloader.
Multiple files can be downloaded by just entering the corresponding URLs in the download tray.
You can also convert multiple files to other formats or even presets for mobile devices easily.
Transfer downloaded files to Android and iOS devices has become way easier than it used to be.
Equipped with a video recorder which allows to capture any live sessions or online videos from any page.
Private Mode to protect your video downloading information with a password known by yourself only.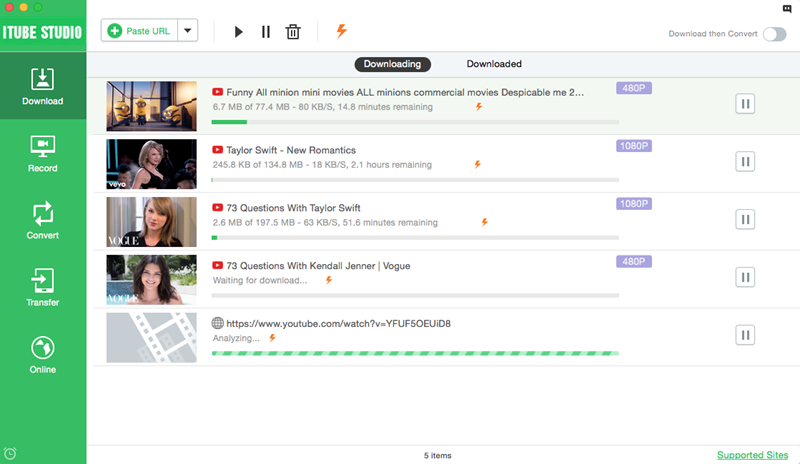 Video Tutorial on How to Download Online Media Files