The mobile Safari browser appeared in conjunction with the release of the first iPhone in 2008, as part of the iOS operating system. As with all subsequent versions of iOS, Safari is an integrated part of the operating system itself, a new version of Safari usually appearing as a component in a new version of iOS, however the feature development has been implemented roughly in line with the desktop version and aside from some mobile specific features versions on the two platforms are comparable.
Why Choose This Safari Video Downloader:
iTube Studio for Mac is best Safari video downloader and converter.
This fabulous program can not only help you save videos from a variety of video sharing sites in Safari, but also can convert the downloaded video files to video and audio format so as to fit for different devices.
All you tasks can be finished in one single click.
If you are a Windows user, Safari video downloader for Windows is your ideal choice.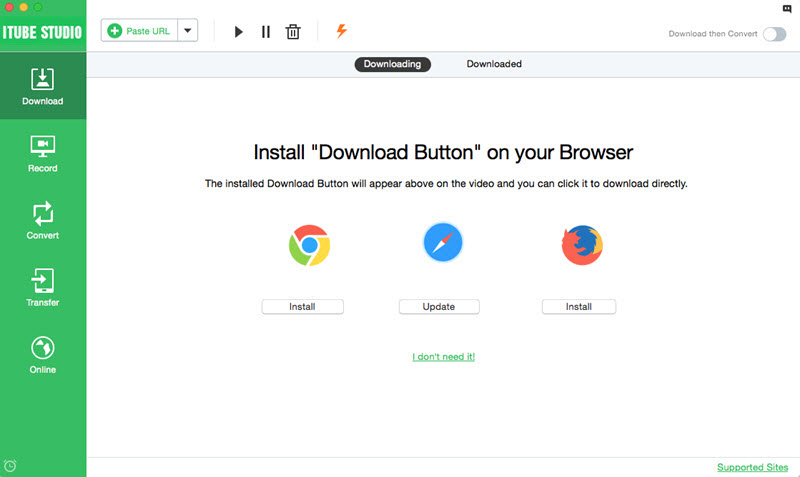 Part 1. The 3 Best Alternatives to Safari Browser on Mobile Devices
1. Google Chrome
| | |
| --- | --- |
| Introduction | Available for both iPhone and iPad, this is perhaps the number one competitor for Safari on the iOS platform, it offers the same, minimalist interface as it's desktop version and a broadly similar feature set to the other browsers here including Safari. Chrome is also available on Android devices. |
| Pros | In terms of stand-out features however, it is the ability to sync with its desktop or other mobile Chrome install registered to your Google account that really sets Chrome apart. With this feature, you can sync not only bookmarks, but passwords, history and even search shortcuts, every install of Chrome you use, whatever the platform, you can sign into your Google account and have those same settings on each one. This is a level of integration far beyond any of the other options, including Safari itself, and is what would make Chrome the main alternative to Safari on iOS. |
| Cons | However, if you do not use Chrome elsewhere, and have no intention of starting to do so, then without the benefit of the sync features, perhaps Chrome does not offer anything that would make you choose it over any of the others here, indeed, if you take the ability to carry your settings from one platform to another, Chrome struggles to compete with Safari's feature set. In short, if you use Chrome already, it is a great tool, if you do not use the Google environment, it has little to offer that cannot be found elsewhere. |
2. Atomic
| | |
| --- | --- |
| Introduction | Available on iPhone and iPad as well as iPod Touch, Atomic is a well featured browser that includes full tabbed browsing, a fully integrated downloader that will extract zip files and so on. |
| Pros | The ability to save web pages locally for reading and security settings that allow you to delete cookies, history and searches automatically upon leaving the app. It also includes a built in ad blocker for a better browsing experience. The light version is free, with the full version costing $1.50, it has won several awards and offers a viable alternative to Safari, especially on devices running older versions of iOS. |
| Cons | The only downside is that it looks somewhat dated compared to the other browsers discussed here. |
3. Dolphin
| | |
| --- | --- |
| Introduction | Another browser available for both iPad and iPhone, this one has am advanced feature set in terms of browsing features including gestures, tap to share any item directly to social media and tabbed browsing. Dolphin web browser is also compatible with Android. |
| Pros | It does bring a nice set of syncing features, including extensions for Chrome, Safari and Firefox that allow it to sync bookmarks cross platform to browsers with the extension installed. |
| Cons | There can be some stability issues with it under some circumstances, however, and this is always worth remembering when choosing your browser. |
Part 2. Get Safari on Apple TV, iPad, iPhone
Safari comes as part of iOS, and so is always present on your iPad and iPhone, and although it has never been released for Apple TV, you can use Safari through your Apple TV device with a bit of planning. Using an iPad 2 or later, iPhone 4S or later, or iPad Mini, you can use Airplay to mirror what is on your device screen directly to the Apple TV to display it on the larger monitor.
To stream Safari to Apple TV, both devices, the Apple TV and the mobile device you are using, must be on the same network. Then you simply swipe up on the device to get settings and tap Airplay. You can then select mirroring for the Apple TV device you wish to use. Now, whatever is on your mobile device's screen will be displayed by Apple TV. It isn't perfect, but it does get your Safari browsing onto the larger screen.
Part 3. Tips and Tricks for Using Safari on iPad
Safari is easy to use, but there are a few shortcuts that can help make the user experience better.
1) One of the best ones is to go back a page, you simply swipe from the left side of the screen to the center, and to go forwards you swipe from the right edge.
2) Another great tip is when typing in web addresses, hit the "." key to bring up a list of domain extensions like .com and so on to type in with one tap. The domain extensions presented will vary depending on your local at the time.
3) Safari Reader really makes the browsing experience better, and its ability to build reading lists for you to read through later, even offline, is one not to be ignored.
4) If you close a tab by accident, holding the "+" sign will reveal a list of recently closed tabs to allow you to reload the one you wanted.
These tips will make your browsing experience quicker and smoother, and make for a more intuitive way to use the app. Learn more tips and tricks on iPad Safari >>
Part 4. Learn More about Safari Mobile Browser
The first version of Safari to appear on iOS was based upon Safari version 3, and it appeared in iOS version 1, and shared an identical feature set to its desktop counterpart, and this version of Safari is available on all devices that run iOS, currently that includes iPhone and iPad of all flavors as well as the iPod Touch.
Development as followed the same progression across both platforms, with the iOS version have certain specific features, such as pressing on a photo for 3 seconds initiates saving that image to the photo album and bookmarking links to web clips on the home screen. In addition, there are some device specific features, iPad users have enjoyed tabbed browsing in Safari for several years, but this has not possible if using an iPhone or iPod touch until the introduction of iOS 7 and the included Safari 7, this is likely due to screen and memory size limitations of the earlier iPhone devices.
Today, Safari offers tabbed browsing for all, with the ability to sync tabs across several devices via iCloud meaning you can continue a browsing session wherever you left off no matter which of your Safari equipped Apple devices you pick up, this works with the desktop version as well, and this latest version of Safari can even sync bookmarks with your Google Chrome or Firefox browsers on the windows platform.
Throughout its development Safari on iOS has seen several important security updates to ensure it remains the most secure mobile browser available to Apple users, whilst the continued addition of features to aid accessibility and refining the browsing experience on the smaller screens have ensured it remains the foremost mobile browser in use today. For iPhone, iPad and the iPod Touch, Safari is available as part of the operating system with any update; it is not available on other platforms or as a separate download.