4K is definitely the evolutionary step that followed Full HD (1080p) and HD ready which has become the standard resolution for delivery of digital contents across the world via TV, online streaming as well as in digital disks formats. Netflix 4K video is a sharper, crisper, and higher resolution motion picture available in the Internet. It was not until 2015 when the 4K Television became a realistic proposition for consumers. This resulted in the increased demand for higher resolution pictures and huge reduction in 4k television prices. However, big technology players are still in the fight on what has to be supported/included in defining the 4K set.
4K on Netflix Free Download
iTube Studio Netflix 4K Video Downloader (or iTube Studio for Windows) is a perfect tinker tool for Netflix video downloads. This is because of the excellent capabilities, which ultimately translate into amazing experience. Owing to this fact, iTube studio has amassed an ever growing multitude of devotees across the globe. Of course Netflix 4K Videos are no doubt one of the most popular excellent quality videos available. Many users around the world have tested this superb tool and have a good testimony on how useful this program is. Once you have iTube studio Netflix 4K Downloader, then worry no more on issues relating to 4K video downloads.
iTube Studio - Download Netflix 4K to Mac or Windows with Ease
Download videos over more than 10,000 video sharing platforms such as YouTube, Myspace, Spotify, Break, and Metacafe among others.
Record Internet video from those sites that cannot support video downloads such as Netflix, Vimeo, and Hulu among others.
Conversion of both downloadable and recordable video to over 150 different media formats as well as directly to preset for mobile devices.
Batch download of multiple internet videos all at the same time with a speed 3 times faster in terms of speed.
Total no-brainer tool featuring a user-friendly interface and you just do 1 click to download your videos and playlists.
Support download of HD videos such as 4K UHD, 4K, 1920P, 1080P, 720P, 480P, and 360P among others.
How to Record 4K Netflix for Free
Step 1: Open the Video Recording Mode of this Netflix 4K downloader
Launch the iTube Studio on your device and visit Netflix to select the video you would like to record under "Online" category or any of your browser. Open this video and go back to the program home window. On the main interface of iTube Studio, select the "Record" tab and then click the "Record" button. The recording window will be displayed.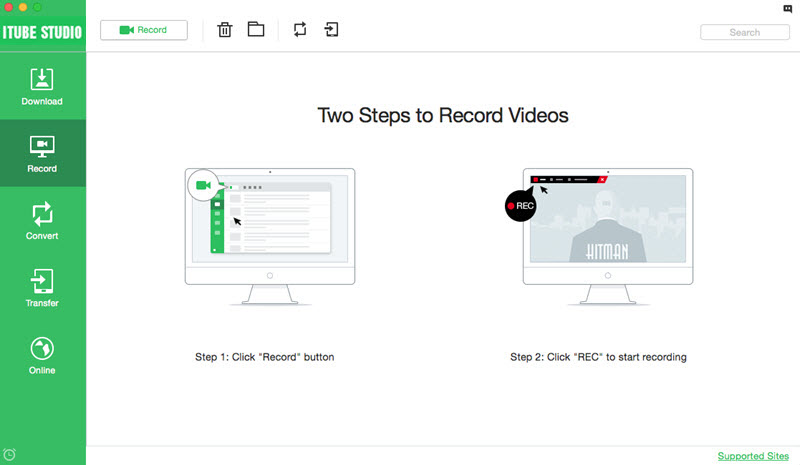 Step 2: Download 4K on YouTube
To select the recording screen, you have two options. You can choose to drag and slide the recording window frame to confirm the video screen of your choice. Alternatively, you can make use of the Capture Area to manually customize the video recording screen. If you want to do a full screen video recording, just click the arrow beside the recording frame icon. From the drop-down menu that appears, select the Full Screen option.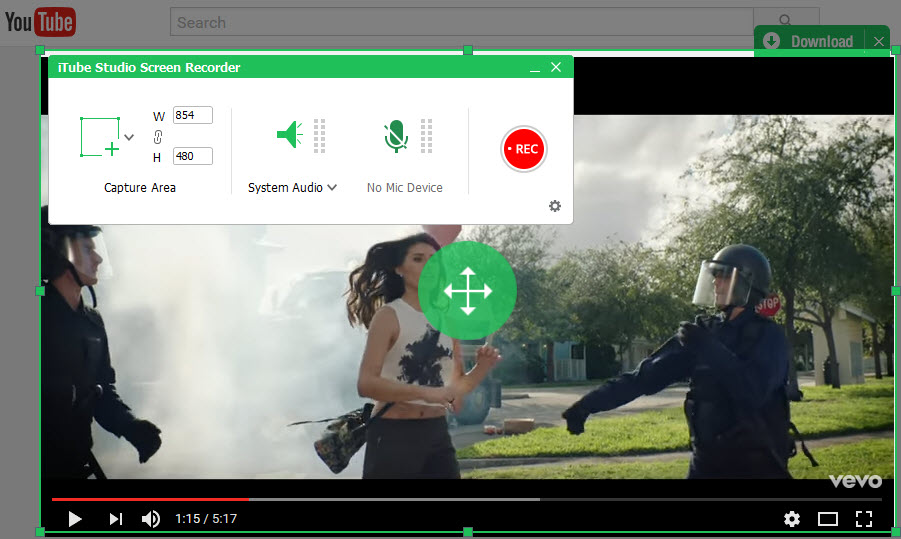 Step 3: Choose the Record Settings (optional)
To open the settings window, click the Gear icon located at the bottom right corner of the recording control panel. Once the settings window is open, make the necessary adjustments to make your recording experience amazing. Such adjustments include the frame rate, quality, destination, and recording duration among others.
Step 4: Begin Video Recording
Once you are satisfied with the settings, click the button labeled "REC" to commence the video recording process. To end the process and save the video, just click the Stop button or the combination of Ctrl and F6. When the recording process is through, close the video recording window by clicking the X button. You can locate the recorded video in the Record Menu.
Netflix 4K: All Tips about 4K on YouTube You Should Know
The need for 4K content is rapidly on the rise and Netflix is definitely a major library for this high quality content. Televisions have been the most common way to watch 4K content, but every generation of smartphone, smartwatch, laptop, and tablets have tried to feature staple improvement to the spec sheet depending as generations. In fact, 4K is slowly becoming the new must have feature for smartphones.
Netflix 4K Shows:
Since 2014, Netflix has been producing its original shows like The Crown, Orange is the New Black, Marco Polo, and Stranger Things in 4K. Other program selections include Luke Cage, all seasons of Breaking Bad, Daredevil, and Jessica Jones among others. It should be noted that not all Netflix is now in 4k because you can stream 4K content from Netflix. It is common for Netflix not to announce new contents on its service. Titles are always rotated in and out every month, but the best way to find out whether new titles have been added is to use your Netflix Account to search.
Netflix 4K Devices:
If you would like to stream movies and TV shows from Netflix, there are a number of TVs and other devices tailored to support 4k streaming with Netflix. These TVs include Hisense, Panasonic, LG, Vizio, Insignia, and Philips among others. You can also watch on Windows computers that run the Microsoft Edge browser or the Windows 10 app. This would be possible if you have a 4K display, Intel's 7th generation core CPU as well as the latest Windows updates.
Netflix 4K Price:
Watching this content on your respective device would cost you $12 for the Netflix Premium plan each month. This subscription enables you to on no more than 4 phones or tablets. To comfortably enjoy watching this content, a stable Internet connection is a primary requirement. It is highly recommended that the connection speed should be at least 25mbps. Otherwise, you would experience difficulties in streaming these media files from Netflix.