Netflix Ultra HD is a resolution that provides high quality pictures of about four times better than the normal HD. There are many devices that support Netflix Ultra HD streaming, but must be able to run the latest firmware for ultra HD playback. This service requires a plan of $11.99 paid each month to your Netflix Account. However, a steady Internet connection is a crucial factor in order to experience the best services. The recommended speed is 25mbps or higher. Subscribe to this service and enjoy the excellent video streaming the program offers. In this article, you will learn how to download Netflix ultra HD using a Netflix downloader.
Part 1. Ultra HD Netflix Download to Watch Anywhere
iTube Studio Netflix Ultra HD Video Downloader (or iTube Studio for Windows) is an excellent software that provides the easiest way in which you can record and download online videos from an array of amazing and popular sites. These sites include Facebook, VEVO, YouTube, DailyMotion, Spotify, and Metacafa among others. iTube studio lets you access videos of outstanding quality such as Netflix 4K, and Netflix Ultra HD just to mention but a few. The variety of features and capabilities makes this Netflix Ultra HD video downloader a perfect choice for virtually every user. Many users have tested this application and their testimonies are overwhelming. If you have spent most of your time curating through an unending list trying to find the best Netflix Ultra HD video downloader, then cease the search since iTube Studio software is the best tinker tool.
iTube Studio - Best Ultra HD Netflix Downloader for Mac and Windows
For sites such as Netflix, Vimeo, and Hulu among others where you cannot download videos, this program would let you record internet videos with ease.
Convert both downloaded and recorded video to multiple formats; over 150 media formats to be precise including doing directly to preset for mobile devices.
Perform batch downloads of multiple Internet videos of your choice with a faster speed of about 3 times faster compared to other programs.
Intuitive interface that makes the tool a total no-brainer. Users can navigate through their respective processes with ease and without the need for an expert.
Allow the user to download HD videos such as 4K UHD, 4K, 1920P, 1080P, 720P, 480P, and 360P among others.
Built-in media player, which allows the user to comfortably play both downloaded or recorded Netflix Ultra HD videos and desktop videos.
How to Record Netflix Ultra HD Videos
Step 1: Launch the Netflix Ultra HD Dowloader and Choose the Video Recording Mode
On your Device run the iTube studio ultra HD downloader and go to Netflix. Select and open the respective video to be recorded and then go back to the program. Remember this software has a built-in browser from which you can access online video sites. Locate the Record tab on the program's main interface and hit the Record button to display the recording window.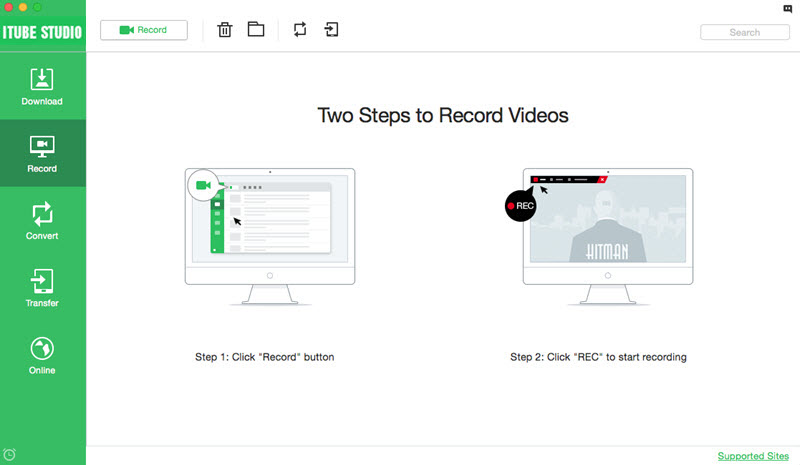 Step 2: Select the Ultra HD on Neflix Recording Screen
This program gives you two options when choosing the recording screen. One is to drag and slide the recording window frame to confirm your screen. The other option is to manually customize your screen on the Capture Area. Full screen recording is also available. To perform this setting, click the arrow beside the recording frame icon and choose the Full Screen option from the drop-down list that appears.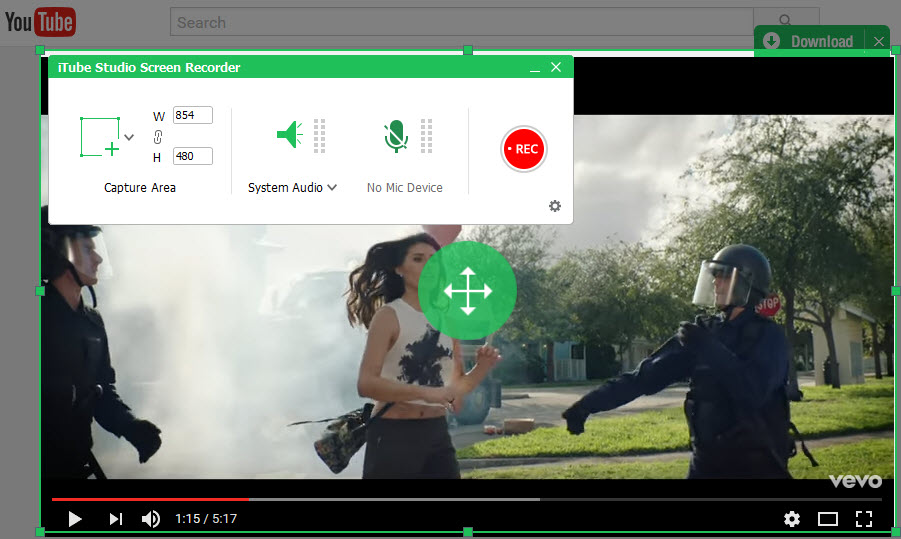 Step 3: Choose the Record Settings (optional)
To experience amazing video recording, you can choose to adjust the record settings. Click the Gear icon to open the settings window. You can then adjust the frame rate, quality, recording duration, and destination among others.
Step 4: Start to Record Netflix Ultra HD Videos
Click the "REC" button to begin recording your video. If you want to stop and save the video, just click the Stop button or alternatively press the Ctrl+F6. Click the X button to close the recording window and find your video in the Record Menu.
Tips on Netflix Ultra HD
Netflix ultra HD content is an excellent enhancement featuring a vast library with better picture quality. To access this service, you will have to upgrade your Netflix account to $11.99 each month. You can then simultaneously watch up to 4 screens provided a stable internet connection of about 25mbps or higher is available.
Once everything is set appropriately, your Netflix Account should show Ultra HD resolution with a label. It should allow you to slide through a list of titles in the category of New Arrivals, Trending Now, and Recently Watched.
Part 2. Latest 5 Netflix Ultra HD Movies
#1. Guardian of the Galaxy vol 2
James Gunn directed the popular 2017 American superhero film. In this comic play, the guardians travel throughout the cosmos to help Peter Quill learn about his mysterious parentage. The price ranges from $14- $23.74.
#2. Deadpool
This is another stellar superhero 2016 American ultra HD movie that is based on marvel comics. Tim Miller directs the movie. This play features Wilson as he hunts for the man who gave him mutant and scary abilities. Deadpool offers improved visual details. The ultra HD is priced at around $39.
#3. X-Men: Apocalypse
This is a 2016 American based superhero film. Bryan Singer directed it. In the play, the ancient mutant plans to wipe out the modern world and take over. This makes the X men to attempt to stop him and defeat his team comprised of renegade mutants. It comes with Ultra HD Blu-ray with no loss to visual fidelity and costs around $20.
#4. Batman v Superman: Dawn of Justice
This is a 2016 American superhero film directed by Zack Snider. The criminal mastermind Lex Luthor manipulates Batman into a battle with Superman. It has a resolution of 2160p and is priced at around $17.47.
#5. The Amazing Spider-Man 2
The American superhero film directed by Marc Webb was released in 2014. This film features the marvel comic character Spider-Man. The ultra HD presentation of this film is achieved without a compromise in the film appearance. The film price goes up to $20 in Amazon.