Vimeo is a streaming site that has large content that you can watch online. If you are person who loves quality and loves to watch your favourite movie in HD then Vimeo has a lot quality content. With Vimeo you will not just watch movies in high quality but in ultra HD also known as Vimeo 4K. In this article we will introduce you to the best 4K video downloader for Vimeo and also top ten 4K movies to check out in Vimeo.
Part 1. Download Vimeo 4K Movies Easily
It is with no doubt that iTube Studio Video Downloader for Mac (or iTube Studio for Windows) is the best video downloader software to download 4K movies from Vimeo. iTube Studio 4K Vimeo Downloader not only supports download of Vimeo 4K videos but also videos of different quality as 1080p, 720p, 144p, 360p and 144p from over 10,000 web sharing sites. Its user interface is also great making it easier to download 4K video files online.
iTube Studio - Download 4K Vimeo in 1 Click
Why Choose iTube Studio Vimeo 4K Downloader:
Offers 3 different easy ways in which you can download 4K Vimeo videos or movies from other 10,000+ sites.
Support to batch download multiple Vimeo videos or download YouTube playlist and music with 1 click.
Also serves as a media converter that converts download Vimeo into other videos, audios and device formats.
Transfer dowloaded Vimeo 4K files to iPhone, iPad, iPod, Android phones and other portable devices.
3 times faster speed to download any kind of resolutions in Vimeo compared to other 4K downloaders.
Private Mode to keep your video download information under protection with a password known by yourself only.
Download Vimeo 4K Videos in Steps
Once you have installed the iTube Studio 4K Vimeo Downloader, you can open it and download the Vimeo 4K movies using any of these methods.
Step 1. Run this Vimeo 4K Downloader
First download and install this Vimeo 4K Downloader on your Mac or Windows PC, then run this 4K Vimeo downloader to its main interface.
Step 2. Download 4K Vimeo by Extension, URL or Recording
When you have added the iTube Studio extension, go to Vimeo and search for the 4K Vimeo video that you want to download. Once the extension detects its link click on "Download" green icon and the 4K video on Vimeo site will be downloaded.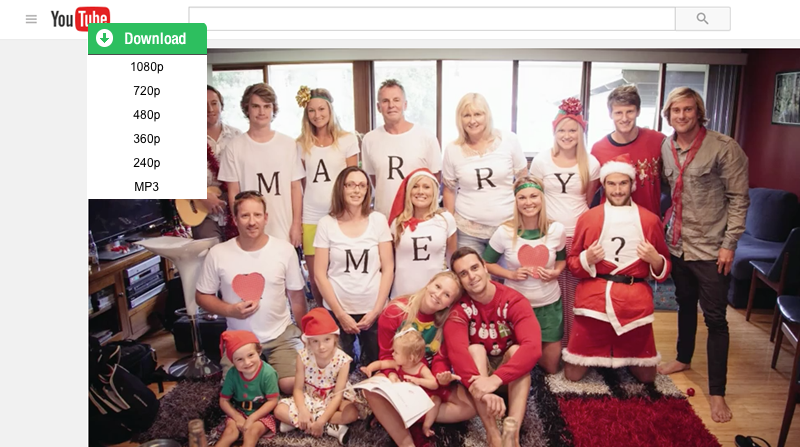 Or you can download 4K Vimeo by URL. Click on "Download" button on the left panel. Copy the URL of the 4K Vimeo Video on your browser and paste it on "Paste URL" button. Click on "Download" once the program detects the link and 4K movie will be downloaded.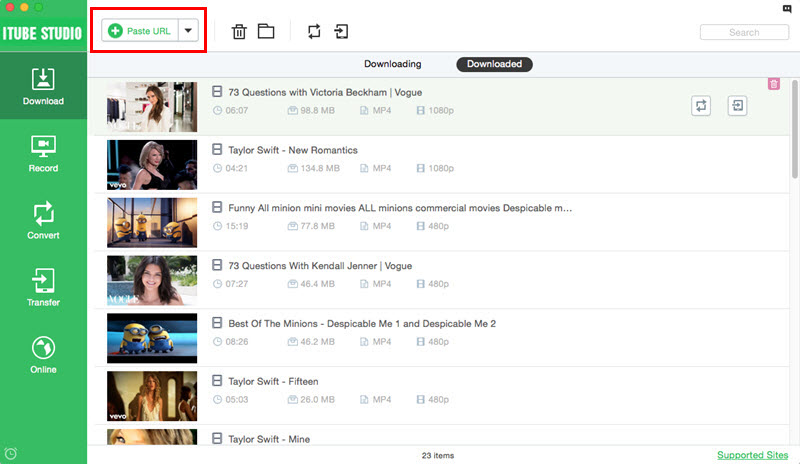 Another way is to download 4K movie from Vimeo by recording. Click on "Record" button and by now you should have opened the 4K video on your browser. Next click on "Start Recording" to make the settings such as recording area, which is full screen for this case. After that, click on "REC" button and the iTube Studio will record the 4K movie on Vimeo as you play it.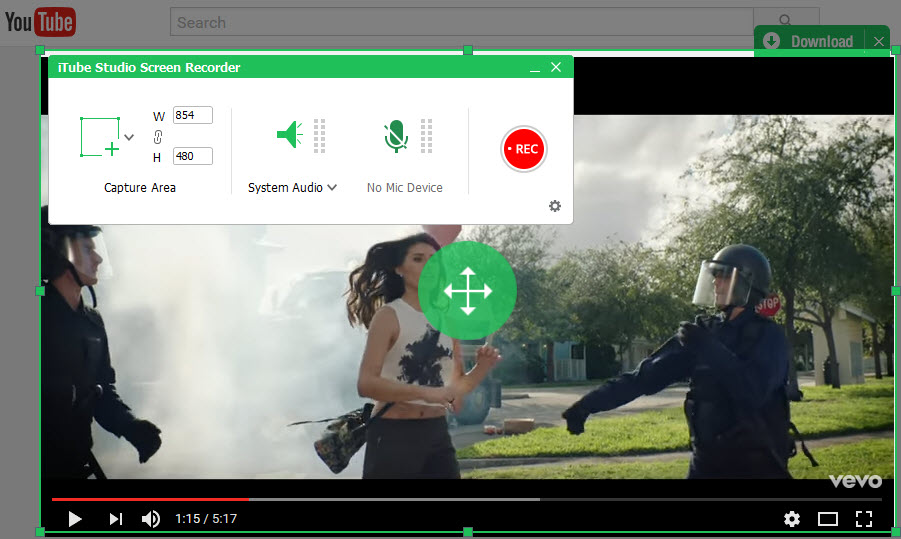 Video Tutorial on How to Download 4K Vimeo
Part 2. 10 Popular 4K Movies on Vimeo
Now that you have learned about the best 4K Vimeo downloader, what are some of the 4K content that you can download on Vimeo? In this section we have listed ten popular 4K movies on Vimeo that you can check.
1. Moto 9
If you are sports lover then you must check on Moto 9 movie. It is a movie that takes you through the worlds thrilling places.
2. Dhruva
This is a 2016 full movie about a police officer that takes down the most corrupt citizen. You are wondering how he did it? Check out the movie. The passion and zeal of this policeman is just amazing.
3. Proximity
Proximity is another 4K documentary movie about world's surfing icons and the upcoming surfers. The icon surfers and the young surfers are paired and the movie takes us though on how they relate with each other.
4. Waves of Time
This is a romantic movie that was directed by Nico Briegel. In this short movie, Nico Briegel takes through the fast changing world times through Kate who falls in love with an elderly guy Jack.
5. Amandine
Bruno Noaro wrote and directed this movie. This movie is about Amandine, a cheerful girl who rescues Eva in one of her evening bike rides. The setting of the movie is in the countryside in the 60s.
6. Prey
Prey is another 4K movie that you should check out on Vimeo. Joshua Sheesan presents a character who fight with his alternative version. Freaking right? This movie was released in 2017.
7. Frink
Vimeo also has this 4K thriller movie that you can entertain yourself with one of those fine evenings. Frink is about a family that relocates to isolated part at the top of the mountains. When darkness creeps in James mind is transformed and the wife notices it. Watch the movie to see what happens next.
8. Small Town Boy
Small Tow Boy is drama romantic movie that was written and directed by Harry Cummins. This movie is about a young boy who is torn apart to chasing his career goals and his lover. What do you think he did? Well you can just watch the movie and affirm your answer.
9. Almost Real
Daniel Muntean is a movie about himself being with Andriana Oborocean. He wakes from the dream but he never sees her. This movie takes us through his life when he wakes up, taking his bike and moving from once place to another hoping to be with Andriana Oborocean.
10. Shift Paradigm
You can also check on Shift Paradigm a movie written by Gregory marks and produced by Ben Andrews, Collin Joseph Neal, Sean Patrick Burke and Gregory Marks. Shift Paradigm is about a man who dwells in park bench and encounters a business woman. The two have a deep conversation and get to talk about their past. Out of this open and candid conversation they embrace the virtue of forgiveness.
Vimeo has a lot of content being released in ultra HD quality that you would love to watch them on your computer. iTube Studio is a software that comes in handy that supports download of 4K movies from Vimeo and other 10,000 sharing sites. Use this software and enjoy a whole new experience.