With Vimeo videos you can download and convert them to different formats such MOV, MP4, AVI depending on your usage. You may want to play your downloaded videos on a media player like QuickTime player or even VLC, and one of the supported video formats is MOV. Therefore, in this article, we introduce you to a desktop Vimeo Converter to convert for example Vimeo videos to MOV as well as five free online Vimeo converters.
Part 1. Best Vimeo Video Converter
To convert Vimeo Videos on your Mac or Windows, you will have to install iTube Studio Vimeo Downloader for Mac (or iTube Studio Vimeo Downloader for Windows) program. This is a powerful Vimeo converter and downloader. With iTube Studio you will be able to download Vimeo videos and convert them to over 150 file formats like MOV, ASF, AVI, MP4, FLV and much more. Other than that you can convert your Vimeo videos to iPhone, iPad, iPod, Android phone and also to game console format. Moreover, this Vimeo converter is built with a turbo feature that converts and downloads files three times faster compared to other converters.
iTube Studio - Convert Vimeo Videos to MOV, MP4, WMV or Other Formats Easily
Supports download of video files from more than 10,000 sharing sites such as Vimeo, YouTube, Netflix, Spotify, Facebook, Metacafe, etc.
Downloads Vimeo video files of different qualities ranging from ultra HD to low quality according to your need.
Designed with a recorder that can capture any online video from any page including those unable to download.
Also serves as a media transfer tool that can move downloaded Vimeo videos from your mobile device to computer and vice versa.
Downloads multiple Vimeos videos simultaneously such as YouTube playlist at 3X faster speed.
Offer a Private Mode to fully keep your video downloading information under protection with a password.
How to Convert Vimeo Videos
Step 1: Download and launch this Vimeo converter in your Mac or PC
Open the iTube Studio Vimeo Converter Program and go to "Download" and install the correct extension for your browser Chrome, Firefox, Safari or IE.
Step 2: Convert desired Vimeo Videos
Once you have installed the extension, go to your browser and open Vimeo website and search for your Vimeo videos to be converted. The extension will detect the video and you will see a "Download" button. Click on the Download button to start the Vimeo video converting process.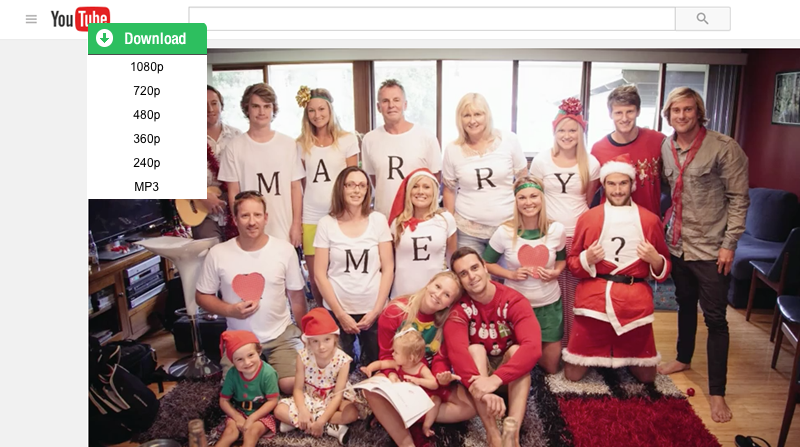 Another way is to copy the URL link from Vimeo and paste it under "Paste URL" option. The Vimeo converter program will detect the link and "Download" icon will be activated. Click on it and wait to for the video to be downloaded.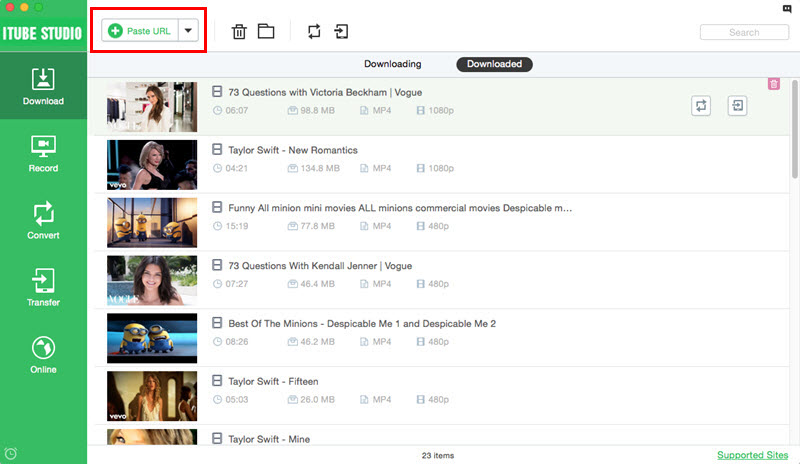 Alternatively, you can convert online Vimeo videos by recording. Open your desired Vimeo videos in any browser and then go back to the Vimeo Converter, turn to the Record category on the left panel, and then click the Record button. Once adjusted the recording screen, hit the REC icon to start recording Vimeo videos.
Tip 1: Convert Vimeo by Download then Convert Mode
If you have a desired format for Vimeo videos to be converted, you can firstly choose an output format by Download then Convert button, and then follow the two methods mentioned above to convert Vimeo videos.
Tip 2: Convert Downloaded Vimeo Videos into MOV, AVI or other formats
On the Vimeo converter program home window and click on "Download" category and then click on "Downloaded" tab. You will then add the downloaded videos to convert list by the Conversion icon in the video display bar. Next, turn the the Convert category on the left panel, and click on "Convert All" and select "Video" option. You can choose MOV, AVI, MKV, WMV or any other format. Finally, click on "OK" and the Vimeo Videos will be converted.
Part 2. Top 5 Vimeo Converters Online for Free
1. VimeoinMP4.com
An easy to use Vimeo online converter is VimeoinMP4.com. This website allows you to convert your Vimeo videos to MP4 format. Once you have located the Vimeo Video all you need to do is to paste URL link and download the video in MP4 format. This site works perfectly not only on all browsers but also mobile phones.
2. VimeotoMP3 Online
This Vimeo converter online also comes in handy when you want to download your Vimeo videos to Audio and Video formats. It supports audio formats like WAV, OGG, AAC, FLAC M4A whereas the video formats include MP4, MOV, 3GP, AVI and WMV just to name a few. Other than several supported formats you can also choose the preferred output quality. However, this site has a lot of ads.
3. VideoConvert.com
VideoConvert.com also allows you to download and convert your Vimeo video files. This online Vimeo converter supports audio formats like MP3, WAV, M4A and AAC. On the other hand, the supported video formats are MP4, FLV, WeBM, and others. It user interface is friendly and has no ads. Moreover, this Vimeo converter is fast and output Vimeo videos that are of high quality. Furthermore, it is multilingual and it support 11 languages.
4. Vimeo-to-MP3
You can also check out on Vimeo-to-MP3 converter when you want to convert to MP3 or MP4 formats. The beauty of this site is that, you can choose to download videos in high quality or standard quality. It also works with other video sharing sites like YouTube and Vine. It is also fast and easy to use. This Vimeo to Video converter has advanced settings options that allow you set the start and end of the video that you want to convert.
5. KeepVid
KeepVid is a free online Vimeo converter that allows you to download and convert files to MOV format. Once you click on "Download" button, you will be able to choose output format of your Vimeo video. Moreover, KeepVid supports other video sites like YouTube, Vine, Dailymotion and much more. Besides KeepVid supports over 20 languages thus can be used by different speakers.
At this point you now know how to convert all your Vimeo videos to audio or video formats. You can use iTube Studio Vimeo Converter, the best media converter that is super fast or use the online media converters.