"How can I watch Netflix on TV for free?" "Is it possible for me to watch Netflix movies on TV without a Netflix app on TV?" Many people would like to open Netflix.com on your Mac or download the Netflix application for your Mac OS to rent movies, purchase TV shows, watch football games and more. Why not watch Netflix movies on TV or Apple TV with your familise. Well, no worry! Below tips will help you to save $99 to watch Netflix on Apple TV and home TV.
The Best Way to Download and Watch Netflix on TV
iTube Studio for Mac (or iTube Studio for Windows) is the highly recommended Netflix downloader to help you to record videos from Netflix, Hulu, Metacafe, iTunes, BlockBuster, CNN, Vimeo, and more in high quality. And it can convert the downloaded videos to all popular video/audio format and preset for Apple TV and other devices. So you can transfer and watch the Netflix contents for free on your TV.
Why Choose This Netflix Downloader:
It supports to download online videos from more than 10,000 video-sharing sites.
You can record videos in high quality, unable downloaded videos and tutorial videos with ease.
It offers a 3X faster speed and experience for downloading videos.
You can convert video to video format like MP4, AVI, WMV, MOV, etc in one click.
Batch download functionalities are available help download multiple videos at the same time.
You are able to transfer downloaded videos to your iPhone, iPad, and Android devices.
Steps to Record Videos from Netflix
Step 1. Download and Install the Netflix Downloader
First, the application needs to be installed on your Mac. Dragging the installation file to Applications to install the program. Then please launch it on your Mac.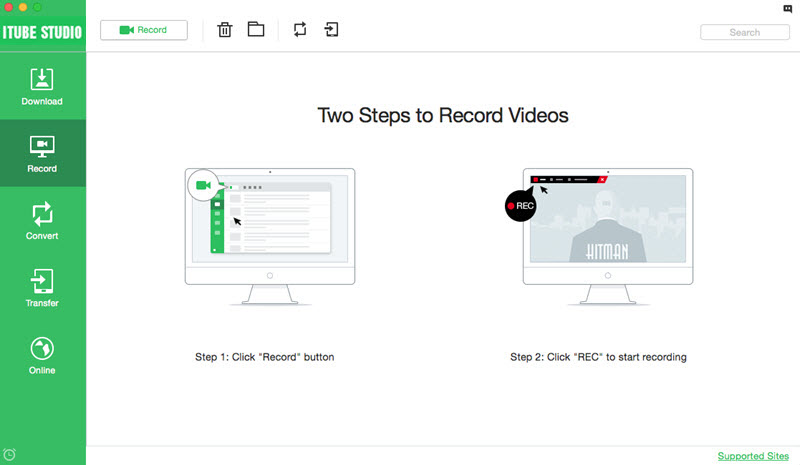 Step 2. Trigger the Video Recording Mode
In the main interface of iTube Studio, open the "Record" menu and click the "Record" button to open the recording window. And then open Netflix.com on your Mac in any browser. Find the video you want to record and play it.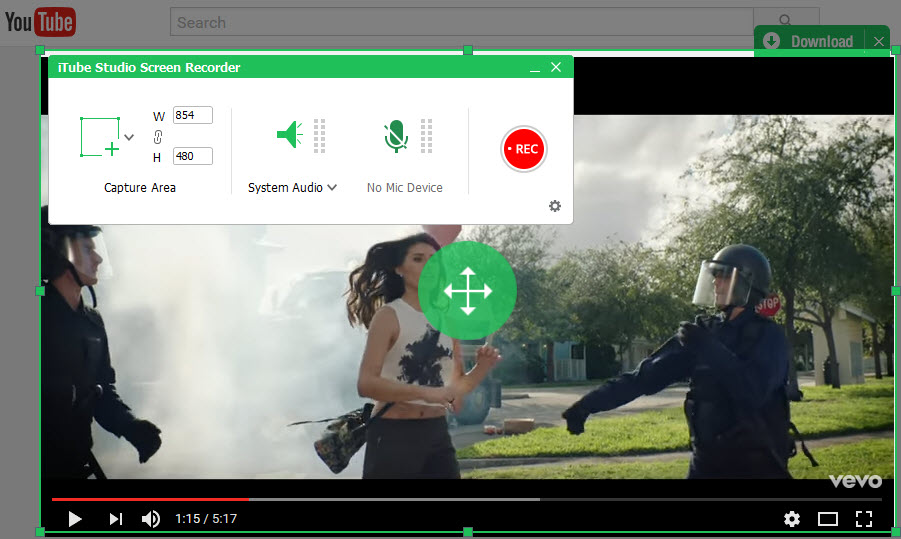 Step 3. Record Netflix Videos on Mac
In the recording window, you can select the size of recording screen or set the recording duration by yourself. Then check your setting and click the "REC" button to start the video recording.
How to Download and Set up Netflix on TV
Step 1: Connect your laptop or PC with home TV using an S-video cable: S-composite cable is the easiest way for you to send images from PC to TV. If you do not have one at home then pick one from Radio Shark or Amazon.com。
Step 2: Turn on the PC and start control of NVIDIA: The NVIDIA is a controller that is going to help you send signals to the next monitor ( TV). Ensure you set it to dual display.
Step 3: Turn on television and push video feed button so as to find the PC feed: Here, you will be in a position of seeing what is displayed on the PC on your TV
Step 4: Connect the external loudspeakers to your PC: The speakers add stereo effects and boost the volume. Ensure the playback device is a real asset to the outer speaker by using the audio or volume control. If not, then just unplug and reconnect until the speakers are recognized by the PC.
Step 5: Start a Netflix movie/ video like normal: Ensure the signal of the video is sent to the TV screen. The sound will be sufficiently amplified by speakers for users enjoyment.
Step 6: Get the popcorn ready and start enjoying your favorite movies!
How to Watch Netflix on TV
Netflix is arguably the best streaming service for high quality TV series and movies at a fair price. Using a more global bandwidth, it is bigger than any other streaming video service around. Having built itself as the king of online streaming, there is something more convenient that it also offers. You can now watch media from Netflix on your home TV. If you still haven't joined this streaming revolution, here is how to watch Netflix on TV.
How to watch Netflix on TV
There are many ways through which you can watch Netflix media on your home TV, and this is much easier when you own a smart TV. This is because most smart TVs are able to connect to a network and run various streaming apps.
If you are lucky to have one, all you have to do is connect your smart TV to the network in your home through either Ethernet or Wi-Fi. You will just plug the Ethernet cable into your TV and router.
If the router is wireless, you will open the Network Menu from your smart TV then select home network and enter your password. After you have connected your smart TV to your network, select the button on the TV that is used to open apps list and select Netflix. If you can't find the Netflix app, you will have to download it from your smart TV's App Store. When you have opened Netflix, you will be asked to log in with details of your Netflix account. You will use your TV remote to navigate through the Netflix interface and also find the movies and TV series that you want.
If you don't own a smart TV, you can also connect your PC to your TV through HDMI output, DVI output, or VGA port. After choosing the connection type that you prefer to use, connect your PC's output to one of the inputs on your TV. After that, turn on your home TV and then select the input that your PC is connected to. If you don't see any picture or video on your TV, you will have to tell your PC to output media to your TV through pressing the ''Window'' button plus the ''P'' button simultaneously and then selecting ''Duplicate'' or ''Second screen only''. After you have set up everything, you can now open Netflix from your PC's browser. You will be asked to sign in and after signing in you can click any video that you want to watch. If all the devices are connected properly, you should be able to watch the selected video on your home TV.