Are you one of those who is fond of listening to music? Or the one who is typically after every other music album? If yes, then you must be aware of the difficulty which one faces during downloading YouTube music, and more often it is just not possible. If you constantly question is it possible to download free music from YouTube, then the answer is yes. We are happy to let our users know that there are various available YouTube music downloader softwares to help you download free music from YouTube. Here we will introduce several cost-free and easy to use downloaders for YouTube music.
Part 1: How to Download Free Music from YouTube
Free YouTube Downloader is a completely free downloader software which is designed for YouTube music and videos, which comes with many features which enable the user to enjoy their favorite music and videos in real-time. This YouTube music downloader makes the downloading-game really simple and strong, with Free YouTube Downloader you can now enjoy the fast download of any YouTube videos, YouTube Channel, YouTube Chart and much more. The software is free to use and it is programmed to automatically detect the video opened from any browsing window by displaying the download button over the videos which makes it extremely easy for the user to download.
Guide on Free Download YouTube Music
To download free music from YouTube via Free YouTube Downloader, the user gets an opportunity to use it in 2 different ways.
Step 1: Download and install Free YouTube Downloader
First download and install the Free YouTube Downloader in your Mac or Windows PC, then launch the YouTube music downloader.
Step 2: Download YouTube Music in 1 Click
1- Download with a Single Click. The Free YouTube Downloader displays a Download button on each and every video opened from any browsing window. All the user have to do is to click on the download icon and get the favorite music from YouTube downloader very easily.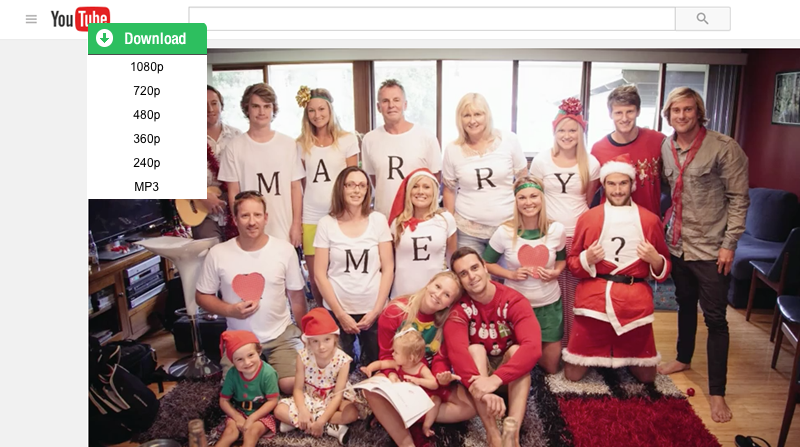 2- Download YouTube music with URL. You can enjoy the free download by simply copying the URL of your favorite video and pasting the URL of the YouTube music on to the software. All this makes the downloading extremely easy and simple.
Free YouTube Downloader is a free video downloader specialized for YouTube. If you are really looking for a YouTube music downloader software which can give you more options along with the simple downloading favorite music, then we recommend iTube Studio to you. iTube Studio video downloader is considered as the pro-version of the Free YouTube Downloader and it gives the user the access to a lot of other features too. With iTube Studio video downloader, you can enjoy downloading 4K and full HD videos. The downloading speed is three times more and it also lets you download, convert and record any video.
Here we list several key features of iTube Studio Video Downloader, you can either choose the Free YouTube Downloader to download any music or videos from YouTube or try iTube Studio to fully download any video from any online video site.
iTube Studio - Free Download Music Video from 10,000+ Sites
Downloading videos from YouTube and other 10,000+ sites at 3X faster speed.
Convert downloaded YouTube music to other audio and video formats, or presets for devices.
Support batch downloading for multiple videos simultaneously with a smart Time Scheduler tool.
Equipped with a video recorder which allows to capture any online video from any sites.
Offer a Private Mode allowing to download videos in secret with a password known by yourself only.
Part 2. Recommend 5 Newly Released Album on YouTube
If you're fond of music and have been looking for newly released albums then the information mentioned below will definitely provide you with some ideas.
#1: Wolves by Selena Gomez & Marshmello
Song was released on October 25th, 2017 and is written by Selena, Ali Tamposi, Brain Lee, Marshmello, Andrew Watt, and Louis Bell. According to Selena, the song is very cool and one of her favorites. The song is produced by Marshmello and Andrew Watt.
#2: The Boy Who Cried Wolf by Passenger
The song was released on July 28th, 2017 on Black Crow Records. It is the eighth studio album which is written by songwriter and a singer Passenger. The song belongs to a traditional folk genre.
>
#3: Songs of Experience by U2
The Songs of Experience is produced by Jacknife Lee and Ryan Tedder. It will be released on December 1st, 2017. The song will be themed to have a collection of all the letters written by Bono to his close friends and family. The song's nature will depict "brush and mortality".
#4: After Laughter by Paramore
This song belongs to pop-rock genre and it was released on August 29th, 2017. It is written by Hayley William and Taylor York and has been produced in collaboration with Justin Meldal-Johnsen and York. The title of the song is self-explanatory and depicts the reality of today's world.
#5: Let Me Go by Hailee Steinfeld & Alesso
The song was released on September 8th, 2017. The song is produced by Alesso and the featuring artists were Florida Georgia and Andrew Watt. The song belongs to a pop genre and is been written by Ali Tamposi, Brian Lee, Alesso, Watt and Jamie Lidell. It was released via Republic Records.