YouTube is a popular site where you can watch, upload, and download all kinds of videos. Since Valentine is here again you may want to download Valentine music videos from YouTube to prepare your Valentine's Day. This article shows how you can easily download Valentine music videos from YouTube. Moreover, it also introduces you top music videos to play on Valentines.
Part 1. How to Download Valentine Music Videos from YouTube
iTube Studio Valentine Video Downloader is a powerful video downloader that enables you to download videos to your Mac or Windows PC. In addition, iTube Studio displays a download button at the top right of your video when you play it on your browser.
Main Features of iTube Studio Valentine Music Video Downloader:
Download music videos from YouTube and 10,000+ other online media sharing sites at 3X faster speed.
Support batch download for YouTube music videos at the same time, or one click download YouTube playlist or channels.
Convert downloaded YouTube music video to other video or music formats, or even directly to presets for mobile devices.
Transfer downloaded or converted YouTube music video to portable devices like iPhone, iPad or Android devices, etc.
Inbuilt online browser which allows to watch YouTube music video and other online sites with ease.
Time Scheduler which help manage your downloading process smartly like shutting download automatically when download completes.
Download Valentine Music Videos on YouTube in Easy Steps
What You Will Need:
A Computer;
iTube Studio for Mac/Windows
Time Required:
Very fast (Variable depending on the video file size)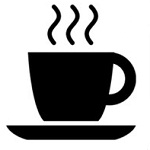 Difficulty:
Easy
Step 1: Install and launch this YouTube Music Video Downloader
First of all, download and install iTube Studio Music Video Downloader on your Mac or Windows PC, and then run the program to its main interface.
Step 2: Download Valentine Music Video in 2 Easy Ways
Now you can play the Valentine music video on YouTube and move the mouse on the video and a "Download" button will appear at the top right of the video. Click on "Download" button to start downloading. If you are using Mac OS, the download button shows up at the top left of the video, click on it to start downloading.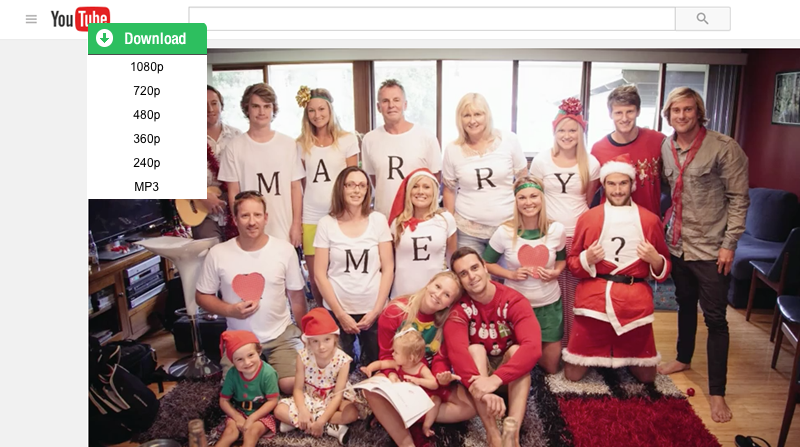 You can also download your valentine videos via video URL. Here you simply copy the URL of the videos you want to download then resume back to iTube Studio and click on "Paste URL" button to begin downloading.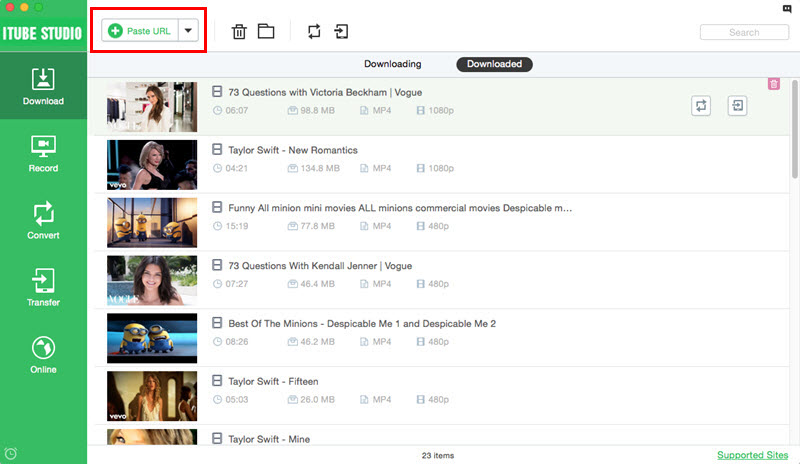 Part 2. Top 5 Most Popular Valentine Music Videos on YouTube
#1. All of Me by John Legend
This is a popular Valentine song by an American artist John legend from his fourth studio album. Dave Tozer and John Legend produced it. It was released in the year 2013. It is a dedication to Legend's wife Chrissy Teigen. The song delivers a message of true love and total care for one's partner.
#2. XO by Beyonce
This is a song by an American singer Beyoncé from her fifth studio album. It as was released in the year 2013 as a lead single from one of his album. Beyonce that the song focus on helping those who have lost their loved ones.
#3. She Looks So Perfect by 5 Seconds of Summer
This is one of the popular Valentine's Day video by an Australian band 5 Seconds of summer. The song was released on February 23, 2014.the song talks about young romance is several ways. This is one of the romantic songs full of love impact.
#4. Thinking Out Loud by Ed Sheeran
'Thinking out loud' is also a popular and sweet Valentine song by a singer and songwriter Ed Sheeran. The song was released on 24th September 2014 as the third single from the album. It is a lovely song where Ed Sheeran describes about a love that lasts forever.
#5. Beautiful by Mariah Carey feat Miguel
Beautiful is a romantic song by Mariah Carey and Miguel. Miguel and other songwriters including Miguel and Mac Robinson wrote the song. 'Beautiful' was released on 6th May 2013 as a lead single from Mariah Carey's fourteenth studio album. The song describes on romantic feelings one has on the other and that love is great and true. This has then made the song to be one of the popular Valentine's Day video.