YouTube Red is a paid subscription allowing YouTube fans to download and enjoy some YouTube videos without ads. While you have to pay a monthly fee to enjoy YouTube Red service and the videos or movies will disappear if you leave US. So it would be better for you to get a powerful video download and save YouTube Red permenently. This guide will show you the easiest way to download YouTube Red on Mac (10.13 macOS High Sierra included).
How to Download YouTube Red Videos to Mac
iTube Studio YouTube Downloader for Mac is the best program to download YouTube Red videos to Mac. It is the most efficient application that offers 100% safe solution to download YouTube Red to Mac. iTube Studio for Mac is a unique program that offers the user the ability to download any online video in the browser by just clicking the download button, or download YouTube videos from URL. (And iTube Studio YouTube Downloader for Windows is also available.)
Why Choose This YouTube Red Downloader:
Download videos from YouTube, Dailymotion, Facebook, Netflix, Hulu and 10,000 more sites at 3X faster speed compared to other video downloaders.
Directly download then convert videos to over 153 audio and video formats including iPhone, iPod, Android, iPad, phones, and many more.
Export the downloaded and local videos to iTunes library or transfer to iPhone, iPad, iPod and Android devices.
Record any online video or live sessions from those "unable to download sites".
Directly download media files from a sharing link without log into your account.
Private Mode to download videos with a password protected which keeps the videos totally away from others.
Guide on How to Download YouTube Red Videos to Mac
Step 1. Download and Install the YouTube Red Downloader
Download and install the iTube Studio on your Mac in case you do not have it already. After installing, this YouTube Red download program will launch on your computer automatically.
Step 2. Download YouTube Red to Mac
Launch your Safari browser and go to the YouTube site, youtube.com. The "Download" button will feature on the top left corner of the video after it is detected on the webpage. Upon clicking the download button, the YouTube download wizard will perform the rest for you until the video is completely downloaded. In case you haven't found the Download button, click here to find more info about how to install a Download button to your browser Safari or Chrome.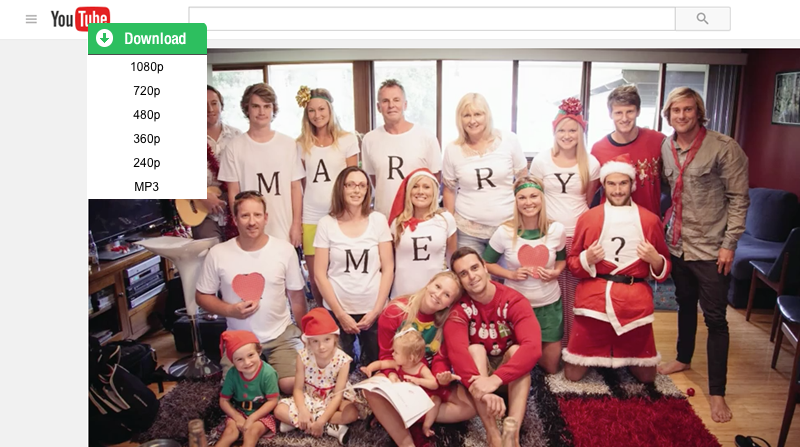 Alternatively, you can also copy the video URL and the click the Paste URL button in the primary window. The program will capture the video and will start downloading it immediately. You can insert up to 1,000 URL links to download all the videos simultaneously, just seperate each one with Enter button, this YouTube Red video will do the rest for you.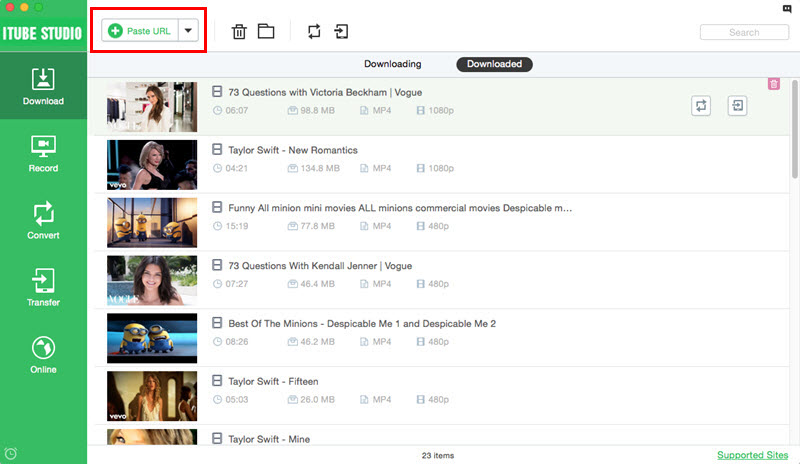 Step 3. Convert YouTube Red to Other Format
This YouTube Red downloader for Mac allows you to convert the videos to other format. You can check the downloaded YouTube REd videos in the "Downloaded" tab. To convert the video, first add it to the convert list.
And then go to the "Convert" menu and click the "Convert" button beside the video list. You will open a pop-up window with format options. Now select your desired format and start the conversion.
iTube Studio for Mac is the best program to down online videos from different sites that stream music and videos. It is fast, reliable and safe program to use. It gives you the ability to enjoy watching and playing as well as downloading high-quality YouTube Red videos all the time. Why not give a shot?
Tips About YouTube Red Videos
YouTube Red is a new interesting service from YouTube, which allows you to hear your favourite music from YouTube without any advertisements. This amazing service by YouTube was originally introduced in November 2014 and it's available in certain countries (US, New Zealand, Australia, Mexico, Korea). Since then it provides you also with offline and background playback of videos on you mobile, as well as access to a number of serieds and films. The serivce was revised about one year later (October 28th, 2015) and focused in offering all its users a number of other services, such as free of add access to all YouTube videos, as opposed to just music. This amazing service offers you the following advantages.
Great Offline Possibilities
You can download the videos you like to your tablet or phone and you can watch them without any interpretations. There are also some great features that you can use. Keep in mind though that some features, like commenting or liking on an offine video, are not available when you are offline. Moreover, if you wish you can save your preferred videos and playlists and you can watch them while you are no connected to the Internet.
Use of Google Play Music
If you like Google Play Music, you have the chance to upload many songs (up to 50,000) and you can stream them from any device any time you like. By using YouTube Red, you can get also hear Music to Google, which gives you some amazing possibilities. For example, you can stream any song you prefer from Google Library of Music without the interruption of advertisements, you can download a number of songs and favourite music for offline playback or you can even create radio stations.
Amazing Music Mobile Apps
You can check the YouTube Music on your mobile; a great app, that offers you amazing possibilites. Actually you can hear all the music that is available on YouTube channel and you can find easily and stream the songs you want whenever you want them. With a YouTube subscription, you can enjoy your favourite music on your mobile with no ads, you can play your preferable music while walking or jogging, you can just download and backup some of your greatest songs. In addition, through these apps, you can also play your favourite songs in the background.
Experience Great Music with No Ads
The most important feature of using YouTube Red is that allows you to experience you favourtie music wih no ads. The truth is that advertisements can be really annoying, especially if you have to wait about one minute to see all the ad, in order to watch a YouTube video clip that lasts for about 30 seconds.