Kindle Fire has compactness and a rugged design and takes the fancy of many people who like to enjoy video streaming experience. It is not a secret that Kindle Fire only supports videos in the MP4 and VP8 formats. So how to play YouTube on Kindle Fire becomes the main problem for most Kindle Fire users. In essence, you do not need to worry about this issue, we here provide several ways to make it easy to play YouTube on Kindle Fire.
Part 1. Top 4 YouTube Video Players for Kindle Fire
If you are fascinated by YouTube videos and want to download your favorite videos from YouTube to Kindle Fire for playback, you might encounter such situation that the video file cannot be supported by Kindle Fire. As we all know, Kindle Fire only supports videos in MP4 and VP8 formats, while the online videos you downloaded from YouTube are normally in FLV. So, what can we do? Don't worry. I will introduce you some fabulous tools to help you play YouTube on Kindle Fire.
iTube Studio for Mac (or iTube Studio for Windows) is the best YouTube player on Kindle Fire allowing you to download videos in Kindle Fire supported formats. It will give you the privilege of downloading YouTube files from thousands of websites at no cost. The fact that it supports many formats makes iTube Studio second to none in playing YouTube on kindle fire. And it comes with built-in converter lets you to convert the YouTube to Kindle Fire or other devices supported format. Just take a try.
Key Features of iTube Studio:
It supports to download videos from more than 10,000 video sites in one click with 3X faster speed.
This software supports to download HD videos including 4K UHD, 4K, 1920P, 1080P resolution videos.
It also supports to convert your videos to any format to play on other media devices.
You can record online videos in high quality if you can not download them directly.
2. FREEdi YouTube Downloader
FREEdi YouTube Downloader can convert YouTube files into different formats like MP4, AAC and MP3 where audio extraction is necessary. Additionally, this downloader can manage multiple downloads of several videos at the same time.
3. TubeMate YouTube Downloader
TubeMate is by far the most famed and fastest software for playing YouTube files. It is very fast and efficient in downloading, saving and sharing video files. Multitasking is another advantage of this software because you can continue browsing over the web while downloading is still in progress.
4. Bigasoft Video Downloader Pro
You can have batch downloads of videos using Bigasoft Video Downloader Pro Whether you want to download playlists or HD videos from YouTube, it will offer you the best user experience.
Part 2. How to Play YouTube on Kindle Fire with 3 Easy Ways
To play YouTube Movies on Kindle Fire, you have to invite a third-party YouTube application to download and save video for Kindle Fire. Here I recommend iTube Studio for Mac (If you are working on Windows platform, you can also use iTube Studio for Windows version for help). With the help of its preset function, you can directly download YouTube for Kindle Fire compatible format. In addition, this application supports to download online video from many other popular video-sharing sites like Google Video, Facebook, Dailymotion, Hulu, Vimeo and more, so it can let the users of Kindle Fire have a good vision experience.
Step-by-step Guide to Play YouTube on Kindle Fire
Step 1. Download and Install the Program
First and foremost, directly click the "Free Download" button below to get the application. When completed, drag the program to the Applications, you will get a pop-up window for installation menu. Just follow up the instruction to finish installing the program on your Mac.
Step 2. Confirm Preset for Kindle Fire
When the installation is finished, the program will launch automatically. In the top right corner of the primary window, click the "Download then Convert" button to open a dialogue to select an output format suitable for Kindle Fire. Then, you can click the "Video" tab and select MP4 as output format. Last, click the "OK" button for confirmation.
Step 3. Three Options to Get YouTube Videos for Kindle Fire
Now, you can open your Safari, Chrome or Firefox and input YouTube.com to find your favorite videos. When you play the video, you will have below three options to download the videos:
1) You will see a "Download" button appears on the top left corner of the video window. Just directly click the button to start downloading the video.
2) Navigate to the address bar of your browser and drag the video URL to the program, you will get the video added to the download queue immediately.
3) Copy the video URL and click the "Paste URL" button on the primary window of the program to process downloading. When you're done, you can transfer and play the downloaded YouTube videos on Kindle Fire directly. Just try it out.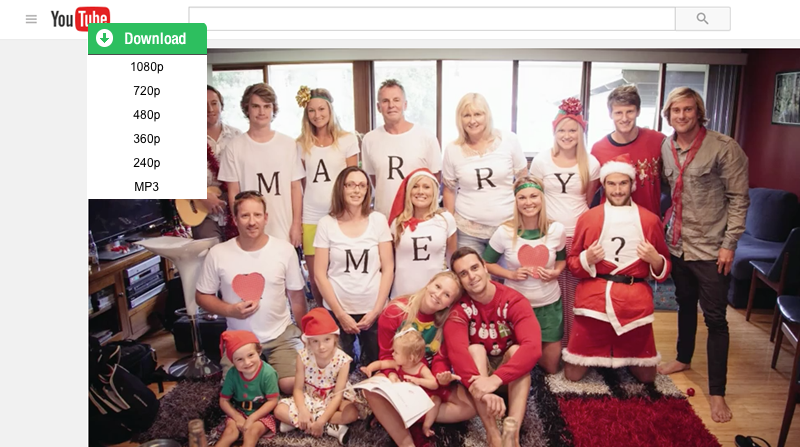 Part 3. 5 Common Issues on Playing YouTube Videos on Kindle Fire
Kindle Fire features a rugged, compact, and intuitive design. That's why many people use this device in order to enjoy live video streaming experience. The best part is - Kindle Fire allows you to play YouTube and enjoy your favorite audio and video contents online. However, people often face few Problems with Playing YouTube on Kindle Fire. Here will reveal 5 common issues on playing YouTube videos on Kindle Fire.
Problem # 1 : The biggest problem of using Kindle Fire in order to play Youtube contents is the associated difficulties of web browsing. Most of the users face endless issues while using this device for browsing the internet. Needless to mention, YouTube requires a stable & uninterrupted internet connection or network connectivity. But, when you use Kindle Fire in order to access YouTube - either YouTube page loading fails or it loads with irregularly.
Problem # 2 : Kindle Fire has very limited accessibility over the mobile devices. Kindle fire may work pretty fine for desktop related operations. However, once you turn it to a mobile device and try to access YouTube - the performance is completely unreliable and unsatisfactory.
Problem # 3 : Many people have also reported that they frequently get an error message, for example, "An internal error occurred" - when they try to use the YouTube app on Kindle Fire. In such scenarios, the users won't be able to enjoy YouTube on Kindle Fire.
Problem # 4 : It's a pretty well-known fact that, Kindle Fire has some overheating issues. Likewise, if you use this gadget in order to stream live video or audio contents from YouTube - it may get overheated. This incident of overheating also causes the tablet to randomly shut down. Thus, it results in a truly annoying experience.
Problem # 5 : A few users have reported that - sometimes no sound actually comes through the speakers or headphones while they are using this device in order to watch movies or enjoy music from various online websites including YouTube.
Part 4. How to Get YouTube App on Kindle Fire
There are many times when you get that Kindle Fire version you have in possession is not compatible with YouTube. That means you cannot play such files but there is a simple way in which you will be able to get YouTube app on Kindle Fire. You have to go through the entire and necessary installation procedures so don't assume that it will be a very easy task. A little of your personal effort in getting everything done will be necessary.
This guideline will touch on key instructions that you can use to have the YouTube app installed to your Kindle Fire devices. Within some minutes, all the installation process will be through and there will be no need to cut the device. There is always the alternative of using internal browsers to access YouTube but you will have to do with its slowness. To cushion yourself from such frustration, make sure you have followed the following instructions and install the YouTube app to your kindle fire.
Begin by downloading and installing an explorer file that will make it possible to access YouTube files with easiness. If the explorer has been downloaded from an unrecognized source, it will only be wise that you alter settings to make it compatible. After that, proceed to download the YouTube app you want to use for playing files on Kindle Fire. Make sure you go for the latest apps. Once downloaded to your computer, install the app and then launch it to be sure it has been successfully installed.
Your YouTube app might not offer you maximum benefits as there are many limitations on what privileges you will enjoy. All in all, your video files will play well on Kindle Fire.
[Tips] What Should You Know about Kindle Fire
Kindle Fire has been in the market for close to three years now having been announced in September 2011. Its outstanding feature has been the multi-touch colored screen that measures 7-inches and is constructed using the IPS technology. It can be used to stream television shows and movies over the internet with ease as well as read books in the e-version. Kindle Fire is an extremely resourceful online application for playing YouTube.
A year after its introduction into the market, Kindle Fire received some upgrades to a new generation which came with affordability. Users were able to pay less for the Kindle Fire application than their initial offered price. Some of these upgrades that are enjoyed to date include high speed and increased storage space of up to 1GB. Furthermore, the new generation version of Kindle Fire is powerful and user-friendly when playing YouTube video files. Many people usually wonder why it's important to play YouTube on Kindle Fire.
There are many reasons for that which overrides those of other competing applications. Affordable price is one big reason why Kindle Fire should be preferred for playing YouTube videos. It offers an opportunity to save cost and still provide quality results. Ideally, the most expensive Kindle Fire will probably be the cheapest iPad. Kindle Fire is well compatible with many formats for video files which are an added advantage. Even if your video is not playing, you can convert and have it stream fine with Kindle Fire.