As a PlayStation 3(PS3) and YouTube fan, you may always use PS3 YouTube app to make better use of the PS3 controls with an improved user interface and option to pair the app with mobile phones to use as a remote control. But many users have encountered PS3 YouTube not working errors and your world comes into a screeching halt. The PS3 YouTube app is not an exception. Figuring out the issue and finding out a way to crack it is not always a walk in the park.
For free and easy download, you can use a reliable software such as iTube Studio for Mac (or iTube Studio for Windows). This free YouTube downloader is free and perfectly safe without the annoying ads, with no waiting and without an internet connection. This smart downloader also provides settings such as Shutdown, Sleep or Exit programs allowing you to leave your computer on to download videos.
Why Choose This YouTube to PS3 Downloader:
It allows you to download 3x faster videos.
It allows you to download YouTube videos with a single click.
It provides you with settings like Shutdown, Sleep or Exit Program.
It comes with a built-in browser so you can watch and download YouTube videos in one place.
Part 1. Troubleshooting on PS3 YouTube Not Working
Below are commonly reported PS3 YouTube not working problems that may annoy even the most patient user along with suggested solutions that may prove to be useful even to the "technically challenged" among us.
1. Cannot sign in to YouTube account using PS3 - your PS3 provides a code to type into the computer to connect to the device but is not accepted.
Solution: To enjoy PS3 YouTube app, you must be logged in using your YouTube account before you pair your device. Your PS3 and computer must be online at the same time to do this. If it goes into a loop, e.g. it keeps on giving you a new code instead, exit the YouTube app. You might also want to reboot the game console. Another workaround is to try using a different browser on your computer.
2. PS3 YouTube App freezes- the app functions fine up until you try to play a video, and it freezes after a few seconds while some videos will not play at all.
Solution: The fix is fairly simple. From the PS3 menu, delete YouTube profile data and reconnect to account using the app. More often than not, the app just needs to do some cache clearing/updating.
3. YouTube PS3 videos are zoomed in by default - this is when the videos are too zoomed that videos appear to be cropped and the logos, subtitles and other details on the screen are cut off.
Solution: The issue likely lies with the TV. This occurs as the TV attempts to reduce the noise by cropping out the edges of the screen. For some reason, this is turned on by default and can be quite frustrating. It differs depending on the brand of the unit but there should be an option for "over scan" or "aspect adjustment" in the video or advanced settings.
4. Cannot upload videos in YouTube PS3 - keeps getting an error that the video cannot be uploaded.
Solution: Sometimes it is not always about a problem with the app or the console, if revoking access to the PSN on the Google security or uninstalling and reinstalling the app prove futile, there is always the fact that the PlayStation Network is severely congested that prevents some features from operating normally. The same principle holds when you are uploading a video using a computer browser. There are times when the network is choked that you need to find a different time of the day like late in the evening when there are fewer people connected to upload the video. This will also help diagnose if the issue is caused by PSN, your local network or your internet service provider.
5. "Suggested Videos" not available up on PS3 YouTube app - searching for videos at random may prove to be difficult and will have to designate a specific category.
Solution: Hitting the subscription limit for the app sometimes causes this issue. Try getting rid of unnecessary subscriptions from your account and see if the section is still there. Now, contrary to what some users believed, the Suggested Videos was not removed from the app. The selection was in fact reduced into a single line now renamed as "Recommended Videos for You" which you may need to scroll up or down to locate. However, it automatically updates with new content each time you scroll over it unlike the previous one.
Like any other application, PS3 YouTube not working issues are quite common. It might not always be critical and glitches are always bound to happen which will eventually get patched. We do not need to be rocket scientists to find a solution. We just need to know where to look. YouTube for one is a great source of information and numerous videos providing useful tips and resolutions. You can even download these videos for free and file them for future reference.
Part 2. How to Free Download YouTube to PS3
If you want to download YouTube to PS3 with the right format, you can use iTube Studio for Mac (or iTube Studio for Windows) to download and convert YouTube videos to PS3.
How to Download YouTube videos for PS3
Step 1. Download and Install the Application
It is easy to install the downloader with the new drag-and-install method. Just double click the installation file. The program will be installed in your PC soon.
Step 2. Download YouTube Videos for PS3 for Free
There is more than one way to download free YouTube videos.
1) Download Button: This great downloader can automatically detect the video and a download option will be made available. You just need to simple click on the "Download" button and select your desired resolution.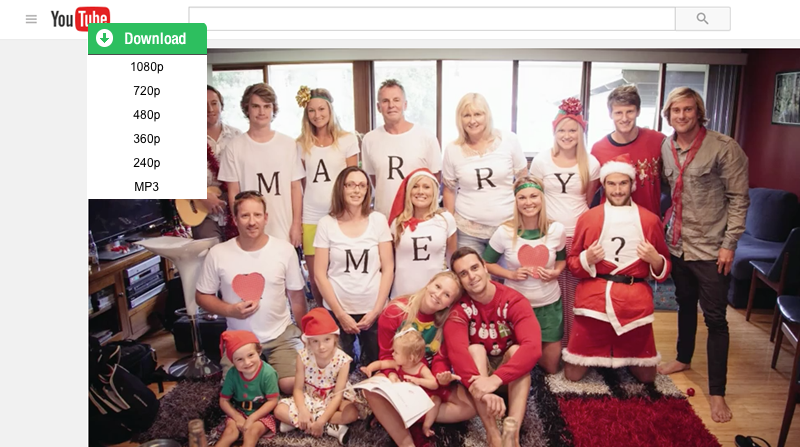 2)Copy and Paste: Copy the YouTube URL and then click "Paste URL" in the main interface of the program.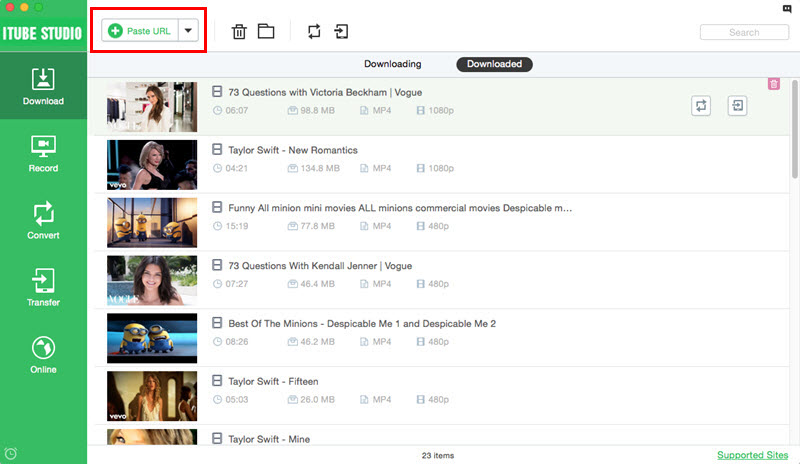 If the downloaded YouTube videos is not compatible with PS3, you can go to the "Downloaded" tab to click "Add to Convert List" icon to send the video to "Convert" menu to convert the video to PS supported format.