As one of the best video hosting sites, YouTube allows its users to enjoy educational, motivational, music and funny videos. For convenience, many users would like to download YouTube app and enjoy YouTube videos on the go. However, YouTube app not working on Android, iPhone and iPad always happen for different reasons. Here will provide the tips and solution for YouTube app not working.
Why Choose This YouTube Video Downloader:
It is an easy YouTube video downloader which can download videos with 3X faster speed.
It supports to download from 10,000+ video sites including YouTube, Facebook, BBC, VEVO, Dailymotion and more.
It can set your Mac or Windows computer shut down or sleep when you batch download YouTube videos.
It is also an excellent video converter, you can convert downloaded YouTube videos in 153+ media formats.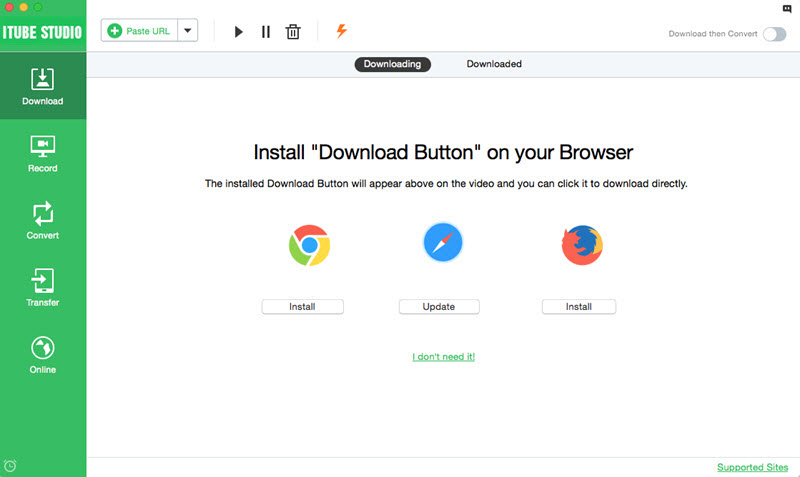 Problem 1. Internet connection
First check your internet connection. Web video is a heavy bandwidth consumer and for this reason, you will need a fast internet connection for you to be able to watch any kind of video. Without a fast internet connection, you may end up spending hours while waiting for a video to buffer.
If you live or work in an area where there is a slow internet connection, try downloading iTube Studio for Mac (or iTube Studio for Windows) that saves YouTube videos instead of having to watch them online.
Problem 2. Reboot your Android or iOS device
Low memory or other applications that are running on your device may influence the YouTube performance. Restarting your device will close these applications and thus fix these YouTube app problems.
Problem 3. Browser cache and cookies
The folder for your temporary internet files also known as the browser cache may be full thus making you unable to use YouTube. To revive it, you will need to empty the browser cache.
On an Android device, open the default browser then open menu. Touch the privacy and security section then touch clear cache and select OK. After this, touch clear all cookie data then select OK.
For an iPhone or iPad, on your home screen, navigate to settings then to safari. Touch the clear cookies section. Also select clear cache to empty the browser cache.
Problem 4. Regularly check for the latest system updates
Your YouTube application may be faulty because you have not updated your device. If you want your device to work at optimal performance, you need to ensure that you have the latest system updates.
On an android device, go to settings, about phone then to system updates and select Check now. This process will check for and install the latest system updates.
On an iPhone or iPad using iOS, navigate to the settings, then to general and finally to Software Update.
Problem 5. Presence of third party add-ons
Add-ons are applications used by internet explorer to interact with different web contents such as games and videos. Sometimes, they affect the performance of YouTube. Some examples of these add-ons include web accelerators, adblocks and download plugins. Disable these add-ons to avoid slowing down or disabling your YouTube performance.
Problem 6. Firewalls
Firewalls are usually used to keep a network secure and also to control outgoing and incoming network traffic. Problems with YouTube videos that are not loading may be caused by third party firewalls such as comodo.
If you have such a firewall installed, try to have it disabled and then reload your browser and check if the YouTube videos will play. If they do play, you may either choose to permanently uninstall the firewall or add YouTube to the authorized websites.
Problem 7. Use an alternative browser
In a case where your default browser is not playing YouTube videos, try downloading a different mobile browser like Google chrome.
Problem 8. Update chrome on your device
If you are using the Chrome application on an iPhone, iPad or android device, try to get the latest Chrome version for you to play Videos.
For an Android device, visit the Google playstore application then view your downloaded apps by touching the playstore icon that reads "My Apps". The Applications that have available updates will be labeled "Update" and if there is an update available for Chrome, select it. You could also choose to set your device in such a way that it automatically updates your applications.
For an iPhone or iPad, on your device, open the App Store. Touch Updates on the bottom right hand corner. If there is a chrome update available, select it. Your device will then update the chrome application.
Problem 9. Enable the JavaScript
Sometimes, your video may require the JavaScript for it to play.
On an android device, you can turn on JavaScript by opening the Chrome menu and select settings. Under "Advanced" select site settings. Click on the box that is next to JavaScript. Exit then reload the YouTube video you are trying to watch.
On an iPhone or iPad, if the video is embedded into a webpage, try to open the video on YouTube website instead. Alternatively, you can set up chrome such that it will always open any youtube.com URLs using the YouTube app on your device. In order for you to do this, open the chrome menu then select settings, google apps and set the YouTube app to ON.
Problem 10. Install Adobe Flash Player
Nearly all YouTube videos require the Adobe flash player plugin for them to be watched on any browsers. The Chrome versions that are modern usually have this plugin preinstalled and update it regularly. However, if you are using other browsers, make sure that you install the latest version of Adobe flash player and have it updated regularly. If you are having problems with flash player, usually YouTube will inform you about them and also offer to install its latest version.
For Android devices, you can manually install the flash player. You will first need to allow your device to install apps from other sources instead of google play. Download flash for android application downloader from adobe. After the download is complete, pull down the notification area then touch the file to have it installed. To confirm, select "install" on the next screen.
Problem 11. Try Using a Different Network
If you are not able to play the YouTube videos on a 3G or 4G network, try to connect your device to a Wi-Fi network. If you are able to watch the videos on a Wi-Fi network and not on your usual wireless network, contact your network provider to find out if there may be any service issues in your area.
If this YouTube app problem persists, you can put a post on the YouTube mobile and device forum to get help. Here, you will need to mention your phone's make, model, wireless carrier, when the problem started and steps you have taken towards trying to revive the YouTube app.