It seems that YouTube has become an indispensable part of our entertainment life. There is no doubt that we have all experienced the following experience: The YouTube videos keep buffering when you just start watching it. So, to understand what causes YouTube buffering and find the right to stop YouTube videos from buffering is very important for us. And normally, the poor network would be the main reason that YouTube videos keeps buffering. In this article, we will show you a few ways to solve YouTube video keeps buffering.
6 Ways to Solve YouTube Buffering Problem
When you watch a video from YouTube, there are times it takes too much time to load. And while watching, buffering happens which might also take a lot of time. This YouTube loading problems would be frustrating especially if you cannot understand anymore what you're watching. There are several ways to minimize or stop YouTube from buffering.
Method 1. Increase in Internet Speed
Increase in Internet speed is the best way to avoid YouTube buffering problem since the reason why a video buffers is because of the large amount of data it transfers to your computer. Aside from paying for an expensive plan that gives you higher Mbps, there are other ways to increase your internet speed.
One way to increase your internet speed is to decrease the bandwidth reserved for Windows.
Method 2. Change Video Quality
Since YouTube selects the best video format for your browser, it will send you a format that will consume more bandwidth. That will make your internet slower. You can opt to lower the quality of the video since higher video quality means higher bandwidth usage.
Or simply click on the settings and change the quality. Though, this will surely be a last resort for people who have HD monitors or large screen monitors.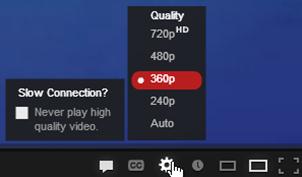 Method 3. Download YouTube Video for Watching
Some people enjoy watching movies or videos over the internet, particularly in YouTube. But if you don't have a fast internet connection all the time, it would be great to download and play offline to avoid YouTube buffering problems. There are a lot of applications out there that one can use to download YouTube videos. The perfect application is iTube Studio.
Method 4. Close All Other Activities or Web Browser Tabs
When you watch YouTube videos and the videos take a lot of buffering, make sure to close all other applications especially those increasing internet usage such as downloads and network games. It is not enough to close the windows of the applications. You should properly exit these programs to solve the YouTube loading problems.
Also, other devices connected to your Wi-Fi are also contributing to the increase of your internet usage, especially those devices in network games, file sharing via peer-to-peer software like uTorrent, video conference like Skype, and other activities which could increase the use of your bandwidth.
Method 5. Update Flash Player and Video Card Driver
Your video streaming software, often Adobe Flash Player, should be the latest version alongside with your updated video card driver. These two should also be compatible with each other.
Method 6. Optimize Hardware and Internet
Sometimes, YouTube video buffering problem is also caused by the slow performance of your device because of the clutter in your hard disk. Some unnecessary programs might be running background. There are available free optimizer applications which can help speed up your internet and even the installed programs on your device. These optimizers also clean, repair and protect your device and internet connection from errors that could make performance slow.
Some of the free PC optimizer applications are CCleaner, PC Manager, Ashampoo WinOptimizer and a lot else. There are also paid PC optimizer applications such as Advance SystemCare, SG TCP Optimizer, Power Suite Pro, and more.
But if you are not sure how to do it, it would be best to ask help from someone who is knowledgeable. For a wrong move might slow down your computer or worse, to crash.
Streaming is watching videos as they are broadcast. That means watching the video directly from the internet without saving first on your device. YouTube is one of the most popular in streaming. Using YouTube increases your download data, and your internet usage. Add the fact that since YouTube determines the best video format for your browser, it may send you High-definition contents which requires more bandwidth.
iTube Studio - Video Downloader to Solve YouTube Buffering Problem Forever
Key Features of iTube Studio Video Downloader:
3X faster download YouTube videos and VEVO in high quality.
A download all button enables you download the whole YouTube playlist.
Download either by pasting or dragging the URL of the video or by the download button that appears on the browse
You can delete or import your desktop videos to the downloader for management.
Double click the downloaded YouTube videos, you can play it with built-in player.