Almost every YouTube user may want to have the YouTube video play with captions, because subtitles or captions are a great help for users to understand the video content. But not all YouTube videos have captions. Worse there are YouTube videos which have captions but are having issues.Here are some of the issues or problems on YouTube captions or subtitles not working properly.
iTube Studio for Mac (or iTube Studio for Windows) is a program that allows you to download ALL high-quality videos from YouTube, at a supersonic speed and instantly save them locally on your PC. It provides you with a wide range of settings including Shut Down, Exit program and Sleep. And it allows you to save your favorite YouTube videos easily, including the 4K UHD YouTube videos. It is an application that is easy to use. This means you do not need to be an expert computer user to use this program.
Why Choose This YouTube Downloader:
It allows you to download any YouTube video with a single click.
It supports a wide range of video formats.
It downloads all your favorite videos at lightning speed.
It can automatically detect all YouTube videos opened in browsers and even download them.
Part 1. 5 Common Issues on YouTube Captions Not Working
a. A black box instead of the caption
This is usually a temporary problem because this YouTube bug is actually an internal issue. You can try to delete your Browsing History, Cache and Cookies. And afterwards, shutdown and reboot your computer.
Captions are not part of the video, it is an accessory from different set of servers attached with the video. That is also the reason why there are no captions at all after downloading a video.
b. Captions in YouTube videos do not showup in Mozilla but show on Chrome and Internet Explorer
Try to reload web pages bypassing the cache in order to refresh the possible corrupted or outdated files. Press down the Shift key then left click on the Reload button. In Windows or Linux, press the Ctrl key, the Shift key and the R key together or simply press the Ctrl key and the F5 key all at once. When you are on Mac, just press Command key, the Shift key and the R key together.
You can also clear your cache and cookies. And remove add-ons or plugins and enable them one by one to identify which might be causing the problem.
c. CC button returns "no captions available"
When you get this message, and you are sure that the YouTube video you are watching has subtitles, probably you are running an outdated Flash Player. To fix this, uninstall your Flash Player and get the latest version instead.
d. CC button problem
You know that there is a subtitle in English of the YouTube video you are watching. But clicking on CC, it gives you a Chinese subtitle and does not give option to choose. Worse, the CC button disappears.
Refresh your browser. If this does not work, try to watch the YouTube video from another browser.
e. Captions are not appearing
You know that the video you are watching has a caption. But even when subtitle is on, no caption appears.
Clear your browsing history, your cookies and your cache. And then refresh your browser page. If the caption still does not appear, try to watch the YouTube video on another browser. If captions still did not appear, try to disable add-ons and plugins. One of these add-ons or plugins is probably blocking the file format of the caption you want to use. Remember that captions are not part of the video and are totally different files.
Enable the plug-ins or add-ons one by one and check which one of these is blocking the file of the captions.
Part 2. How to Free Download YouTube with Caption
Some people enjoy watching movies or videos over the internet, particularly in YouTube. But if you don't have a fast internet connection all the time, it would be better to download and save for later use the videos you want to watch. This way, you can save time from YouTube video buffering or, worse, not loading at all. Now we inroduce you to use iTube Studio for Mac (or iTube Studio for Windows) to download YouTube videos easily.
Step-by-step Guide to Download YouTube videos with Caption
Step 1. Download the YouTube Downloader
Firstly, you can go to iTube Studio official website to download and install this YouTube video downloader to your Mac, after the installation, please launch it and you will go to the main interface as the image below.
Step 2. Download YouTube Videos in 2 Ways
Method 1. Download Button. Visit YouTube.com on your Mac browser, find your favourite video and open it, you will find a "Download" button on the left top of your video. Just click this button, the YouTube video will be downloaded on your Mac.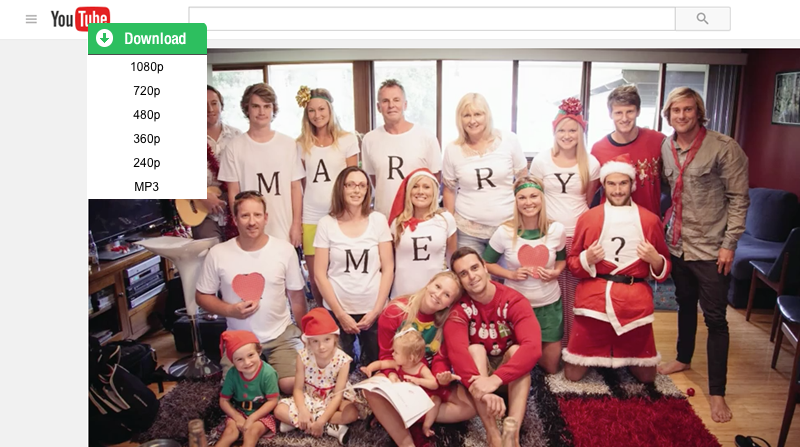 Method 2. Download with URL. Or you can download YouTube video with the URL. You just need to copy the video page URL in the address bar, then open iTube Studio and click the "Paste URL" button on the top of the software window. In this way, the video will be downloaded to your Mac easily.