"Is there any way that I can download YouTube from Chrome browser directly?"
"Can I get a YouTube downloader for Chrome to download videos from YouTube?"
Many YouTube users who like to use Chrome to stream videos also want to directly capture videos from the browser. As we know, it is not a difficult thing and we will introduce you top 10 best YouTube downloading software for Chrome to help you to download and enjoy video wothout interruptions.
Part 1. Top 10 YouTube Download Tools for Google Chrome
Using the extensions in Chrome to download your favorite song is a good way to save your favorite songs from YouTube.You can start exploring them right now as I am listing some of the most distinctive ones. Let's see some options you can choose from and start downloading immediately from YouTube and other video supported websites.
It just requires one click to download YouTube videos for free with iTube Studio for Mac (or iTube Studio for Windows). And you can download videos from YouTube and more than 10,000 different websites. You can download the video in selected resolution, including 4K.
Key Features of iTube Studio:
It can help you convert videos to a variety of video and audio format.
It also offers presets for iDevices, game consoles, smartphones etc. It will make downloading and converting videos on Mac (including macOS Sierra and EL Capitan) easy and simple.
You can watch the downloaded YouTube videos with the built in media player.
You can also schedule your computer to automatically shut down or go into energy-saving state after the download is finished.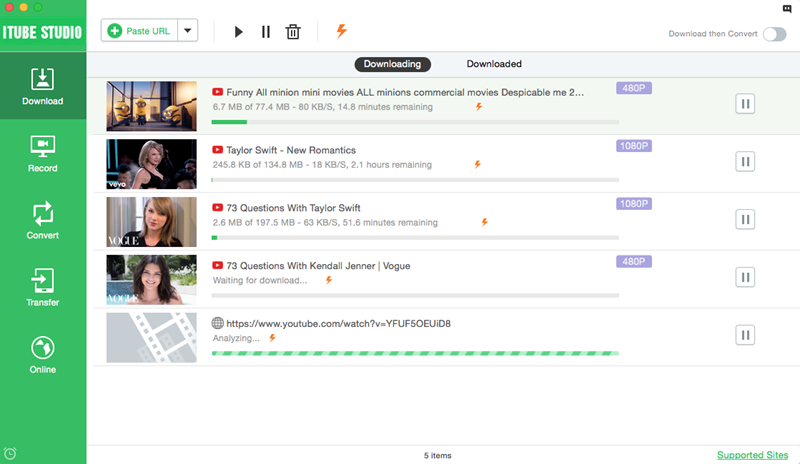 2. YTD Video Downloader
With YTD Video Downloader, you can search for any video you like in the interface or even enter a URL to let the downloading begin. The videos will be downloaded in .MP4 and .FLV format on your desktop. It not just works on YouTube, but also Vimeo and Blip TV too.This app continues to work on flawlessly on most of the best video streaming video sites.
3. FreeYouTubeDownloader
It is a small but quite effective application. It does not let you wait to download videos that you like on YouTube. The application has a simple design. It does not have many features but it is capable of giving what you want. The downloaded videos retain their original quality and everything about the application is easy.
4. Solid YouTube Downloader and Converter
This application lets you download the YouTube videos and convert them into formats like WMV, FLV, AVI and MP4.It can convert the videos downloaded from YouTube in different formats. They can be audio as well as video files of any format. The application is solid and it's easy to use.
5. Kastor All Video Downloader
Kastor All Video Downloader is software that allows you to download videos from YouTube, Vimeo, Dailymotion and a number of other video streaming websites. You can add video URLs as and when you like. It can filter up your searches and provide you results.
6. Download YouTube Chrome
This is an excellent extension you can use directly with Chrome. All you need to do is installing it from the website cited above. After the installation whenever watching a YouTube video, you will see the downloading options below. There are several formats you can choose from such as FLV, WebM, MP4. There is an Installation Guide you can follow if you haven't had experience with extensions outside Chrome store.
7. Ultimate YouTube Downloader for Chrome
It is another good YouTube downloader for Chrome which is also very easy to operate. When installed in Chrome Browser it adds a "Download" button which allows you to save videos from Youtube and other websites with a single click. It has other features added such as Skip this video AD, Repeat play, MP3 Converter support which is a great advantage.
8. Chrome YouTube Downloader
This extension will allow you to download YouTube videos by a simple click under the video. It supports a good variety of formats quality such as FLV, MP4, HD 720p, Full-HD 1080, MP4 (4K) and MP3. With this feature, you can have an excellent sound quality and easily enjoy the music you like offline.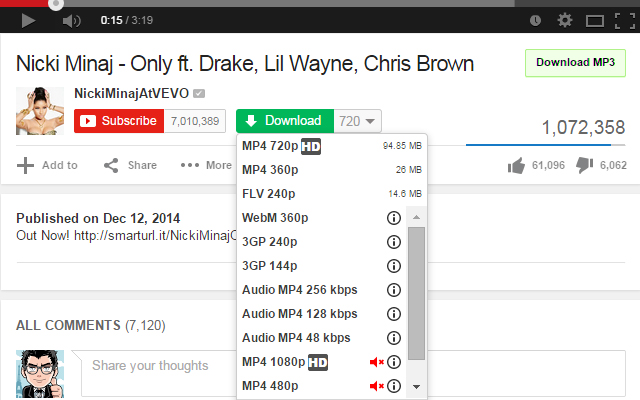 9. YouTube Video Downloader
It works in a similar way as the previous ones listed using a "Download" button under the video. The best part here is that you can convert a YouTube video to MP3 format and save it. When you are on a video page, you will see the button "Download MP3" under the video and click it will take some time to convert the video to mp3 format depending on the duration, but in the end, you will have on your Hard Disc. Also, you can benefit from the Embedded Video Support option.
10. FLVTO
Last but not least position is saved for FLVTO YouTube download addon for Chrome. It is easy to use, you can add it to all of your Browsers and choose from thousands of videos to directly download. Of course, they didn't forget to add a Convert to MP3 button which will do the job with one click under the video.
Part 2. Comparison of Chrome YouTube Downloader
Features
Cost (US $)
Max Resolution
Pros
Cons
iTube Studio
Free and $29.00(for Pro version)
4K, 4K UHD
Compatible with many sites;
Support downloading UHD videos;
Can convert videos to many formats;
Downloads YouTube to MP3;
Built-in player and task scheduler;
Fast and easy to use;
Lifetime upgrade and support.
None.
YTD Video Downloader
Free and upgradeable paid version available
1080P
Works well on XP;
Built-in player available.
Setup is virus infected.
Free YouTube Downloader
Free
1080P
Features fast download;
Provides enough support.
The downloading capability is limited.
Solid YouTube Downloader and Converter
Free and upgradeable paid version available
1080P
Supports batch work;
Works great for downloading high quality video.
It does not have any integration with web browsers.
Kastor All Video Downloader
Free
1080P
Supports lots of formats;
Compatible with many sites.
Does not download certain videos;
No support for simultaneous downloading.
Download youtube Chrome
Free
1080P
Easy to install and use.
No support to convert video format.
Ultimate YouTube Downloader for Chrome
Free
1080P
Works perfect with YouTube;
Support for many formats.
Not compatible with all sites.
Chrome YouTube Downloader
Free
4K, 1080P
Fast download.
Only support YouTube and Chrome.
YouTube Video Downloader
Free
1080P
Supports to convert videos to MP3.
It does not have any integration with web browsers.
FLVTO
Free
1080P
Supports Firefox and Chrome;
Support to convert to MP3 directly.
Not fast.
Verdict:
Among all these YouTube video downloaders, iTube Studio for Mac seems to be the most promising. It does limited cons. the best thing about the application is its resolution. Why stick to other applications when you can use a much better app that comes with the best features. It can make your video and audio downloading troubles go away.
Part 3. The Best YouTube Downloader for Chrome
iTube Studio is the most reliable, fastest and easiest YouTube Downloader for Chrome. It supports Google Chrome, Firefox, Safari and also other browsers for all video downloads from YouTube, Facebook, Vevo, Bash, liveleak, Vimeo, etc. It automatically detects the video opened with just a single click and it starts downloading as soon as the video starts to load. It also comes with a built in FLV video player for convenient playback. Just double click the existing video in the Downloaded list to play it. Now anyone can download any cool, funny videos, movie trailers, music videos, and viral videos using the YouTube downloader Chrome.
How to use iTube Studio for Mac to Download Videos in Chrome
Using iTube Studio for Mac for downloading videos in Chrome is easy. You simply have to install the software by double clicking the downloadable image of iTube Studio for Mac (Yosemite).
Step 1. Download YouTube Chrome Downloader
Click the big Download button below to process downloading. After YouTube downloader Chrome for Mac has been downloaded, you can go to installation steps and will get prompt information to finish installing.
iTube Studio for Mac will launch automatically after installation is done. (For Windows PC users, please download the iTube Studio for Windows.)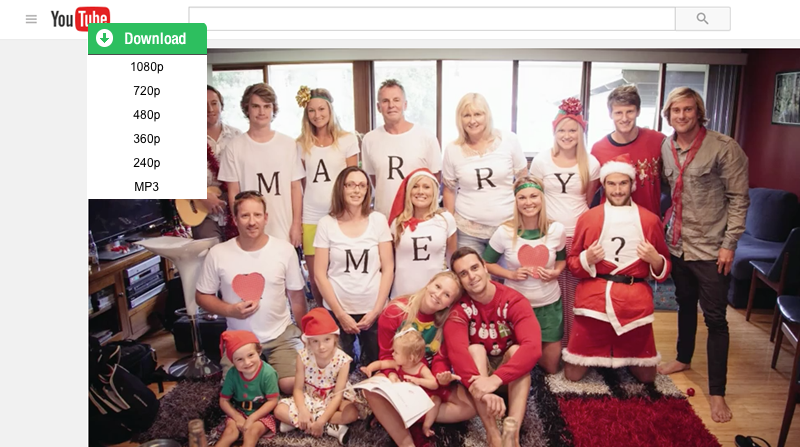 Step 2. Download Videos from YouTube on Chrome
If you are a Chrome user, you should install the iTube extension in browser manually. Firstly, you should go to download TamperMonkey browser extension by click "Extension Download" here.
Then you should install this extension for Google Chrome browse and add iTube extension userscript to TamperMonkey by clicking "Add Now". Follow the instructions, after you have installed iTube extension in Chrome successfully you can refresh the video page.
Open YouTube video on Chrome, Safari or Firefox, you will get three ways to download video easily and fast by iTube Studio for Mac:
A) When you play the video, a "Download" button will show up on the top left corner of video. Click it and the YouTube downloader wizard will do the rest thing for you.
B) Drag the video URL to the iTube Studio for Mac dock icon to start downloading.
C) Copy the video URL, and click the "Paste URL" button in the primary window of downloader to capture the video immediately.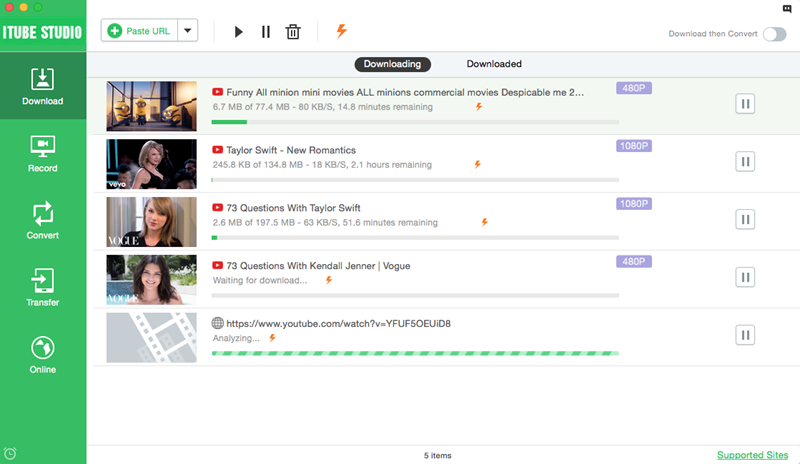 Tips:
This downloader provides function of multiple videos downloading. You can download all videos from YouTube playlist or channel. When you open YouTube channel or playlist, you will see the Download All button, just click to select the videos you want and click Download to get multiple videos.